jWAG (Jeweler Website Advisory Group) is the educational department of Jeweler Websites, Inc.

The concept for this website started in 2003 when Matthew A. Perosi, President of Jeweler Websites, Inc, started collecting valuable data about jewelry store websites. After 6 years of monitoring traffic, trends and data this website was born in 2009.

Too much data has been collected, and many valuable jewelry website optimization techniques have been refined and proven. But it's impossible to give this information to our customers on a one-to-one basis. It is impossible to publish a book of our findings because by the time the book went to press it would be out of date.... Even our attempted 16 page newsletters were outdated before they were distributed.

Matthew can often be seen in person at jewelry conferences and trade shows. You can see a list of past and upcoming appearances here.

Since seminars are difficult for everyone to attend, and since they only happen a few times a year, we've decided to pull together this website to offer our knowledge freely, regularly.

We invite all our customers to take advantage of this site. If you are not one of our customers you can still benefit from the free library of articles.

In addition to the specific jewelry website information we've also invited a few other business professionals to provide their similar jewelry business and advertising insights.

If you have any questions of information you would like to be reported, just ask.


Jeweler Website Advisory Group (jWAG)
Promote Your Page Too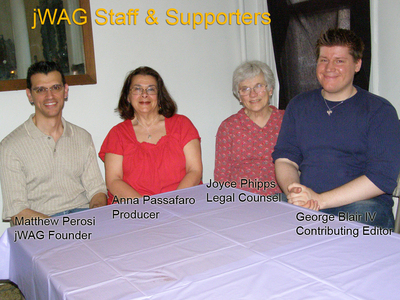 Matthew A Perosi - Founder, analyst, Daily Golden Nugget writer.

George Blair IV - Senior Editor

Anna Marie Passafaro - Producer

Joyce Phipps - Legal Counsel


Additionally, we'd like to say a general thank you to the countless jewelers who provide research data for analysis, as well as other industry professionals that provide valuable insights and feedback to our work.