London has a hot new designer - Katie Hillier. But, she's doing something a bit unorthodox: She's shaping gold and silver into animal shapes. It all started with a gold and diamond pendant, and now, according to
The New York Times
, "is expanding the brand one hop at a time."
Currently, she is working on accessories for Marc, by Marc Jacobs. She is also working on Victoria Beckham's new
handbag line
.
So how can you increase your bottom line with this?
• You all carry classic jewelry lines. Why not start carrying something out of the ordinary like Hillier's animal pendant line? Something like this appeals to every age group!
• If you already carry an animal pendant line, spruce it up a little. Create a "menagerie" in its own special case. Set up your own little forest just for your animal pendants!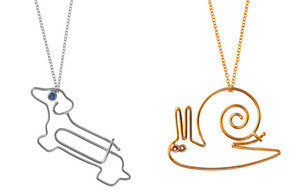 As the holiday season approaches, show something new and exciting to your clients. Make this holiday season something special!