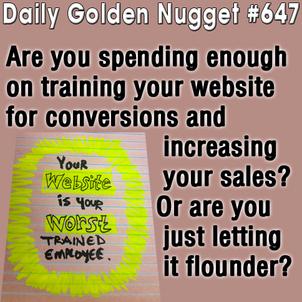 The Daily Nuggets from the last several days have covered the more advanced topics of tracking your visitors from social networks using the UTM campaign tracking built into Google Analytics. In yesterday's Nugget I also explained that those tracking tags create long, ugly URLs that should be shortened.
We're now 15 days into the New Year and I want to continue to arm you with what you will need to know in order to make 2013 a successful website year for you. That tracking is just the beginning. The path of website success ahead is lined with minefields of online marketing tasks that you won't learn at a jewelry trade show or in the typical seminar. The challenges you face will be trickier than melting beads to set your melee and you will want to give up!
Knowing where your website visitors come from is important, but ultimately when a customer walks through your front door it's doesn't matter what brought them in because now you have to use the good old fashion in-person sales techniques to close the sale.
In fact, let's talk about those techniques for a minute. What training do you give to your sales employees? At the time of this writing the Graduate Sales Associate course from AGS is $269, or perhaps you provide company-paid off-site training. Off-site training would cover travel, hotel, coursework, meal, and maybe even salary would be a large initial investment into a new employee. Regardless how you do it, without proper training, you would not allow a first-day sales associate to talk to a diamond buyer about the differences between I1 and VVS2.
Of course how would you recognize the diamond buyer when they walk into your store? No matter how someone is dressed, the next guy that walks in that door might only be interested in the Pandora Turtle Doves, or he could be trying to figure out what dream ring to pick for his perfect engagement moment. Only a trained salesperson would know how to guide him to the Hearts on Fire showcase and make that dream ring sale.
Bras Huisken, President of IAS Training, also teaches that there are
four basic areas where jewelry salespeople need to be knowledgeable
: Sales Techniques, Product Knowledge, Operational Knowledge, and Customer Service Skills.
I'm hoping that everything I've said here is remedial knowledge for a retail jewelry store owner, but now I need to turn things upside down on you with a little surprise... Your website is also an employee, and what kind of training do you give your website?
Your immediate reply might be to say that you add products to your site, that you add blog content, and that you have good photographs. Those are good responses to the question, if the question was "What salary do you pay your website?" but I asked about "training."
Salesperson training is what turns an in-store person into a "buyer." In the online world we don't usually talk about "buyers" but rather "conversions." Getting visitors to your website is one thing, just like getting people into your front door. Converting those website visitors into customers is something you need to "train" you website to do.
So how do you train a website to convert simple visitors into customers? And how do you tell if the visitor is worth a $100 Turtle Dove or a $4100 Adoration Dream Solitaire?
The answer lies in long term online strategies, conversion analysis, something called A/B Testing, and ultimately it also comes down to requiring your salespeople in-store to ask everyone how they found out about you.
So what's the cost of the initial training you give your salespeople? What the ongoing cost? Make sure you factor in costs of travel, hotel, meals, salary, etc. for all those times you send them to JCK, JA, or to a buying group. Now, are you spending that much on your website for online marketing an analysis? Forget normal website maintenance costs, I'm asking about marketing and analysis only.
If the answer is none, or you don't know, then sadly you are doomed. Sorry. Your website could be your most important employee, but you're letting them fumble while it tried to sell and IF.
Over the next few days I'll explain how to get stated with training your website and how to tell the difference between a valuable visitor and a worthless one, which all starts with the tracking I explained last week.
Until next time...