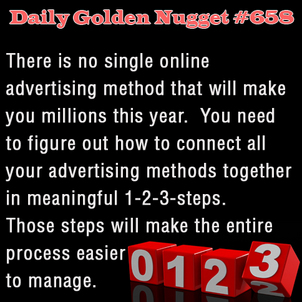 Yesterday I detailed the differences between online advertising in 2008, 2010, and then my suggestions for this year. Here's my unified advertising suggestion list again in case you missed it:
1. Offline advertising
2. Website landing pages
3. Email advertising
4. Google AdWords Remarketing
5. Advertising with Facebook sponsored posts
6. Google+ Page posts
7. Google +Local
8. Blogging using Google Authorship
9. Mobile Website
10. YouTube
11. Twitter
Let me explain what each of those 11 items actually means to me and how you can capitalize on them this year.
1. Offline advertising
I will assume that you have some form of local advertising in the form of direct mail, billboard, and newspaper ads. Some retail stores will create different ads every time they purchase ad space, and some will stick with a similar set of visuals and messages. What I'd like to suggest is that you use the same set of advertising images and the same message on your billboard, direct mail, and newspaper ads. You should continue to use the same ad in the newspaper for the same duration as the billboard.
2. Website landing pages
You can't always decide what landing pages Google will send your customers to, but when you control your advertising, you can tell your customers to go anywhere. The direct mail and newspaper could have a shortened URL to make them easy to type, or a QR code. You should consider using a unique and memorable domain name on the billboard and then redirect that domain name to the landing page. The landing page should have the same advertising images, same overall advertising message, but a lot more information. Leave the clutter out of your offline advertising and put it on the landing page. Make a new landing page for every billboard/newspaper/direct mail combination.
3. Email advertising
So here we need to take that same set of advertising images and message and create an email campaign that matches. I've seen two approaches to this that were equally effective. The first one is to send an email letting customers know that you just mailed them something. The email hints at the details and what the mailer looks like. The second approach is to send the email after the direct mail so it reinforces and reminds them of the message a few days later. With this second approach you will direct people to the special landing page.
4. Google AdWords Remarketing
Here's where things get interesting. You would use Google AdWords Remarketing on the landing page so you can continue to advertise to your customers long after they have forgotten about you. The "Remarketing" feature allows you to "haunt" users with your ads as they browse the internet. Those online banners would use the same advertising images that you have carried through the entire process so far. Here's the really interesting thing... you can pause Remarketing and start it back up again with new banner ads. So those people who visited your landing page in February will see your new March banner even without revisiting your page. You can "haunt" people with your ads for a very long time.
5. Advertising with Facebook sponsored posts
Growing your fan base through Facebook through natural, organic means is very tough. Facebook has completely blocked everyone's ability to reach the people who Like their Page. To reach more of your customers you should share the landing page to your Facebook Page, and then sponsor this shared message. Sponsoring is far less expensive than Ads, but also has a shorter reach. Although Facebook Ads would also work, only sponsored posts will appear on mobile. When users click to visit the landing page they will be secretly included in the Google AdWords Remarketing. Their desktop and smartphone both have the chance to be "haunted" by your Google banner ads. Change your Cover photo to match your current advertising.
6. Google+ Page posts
Okay this is easy. Simply share your landing pages to your Google+ Page. You should also include details about the ad that would make someone interested in clicking. Don't give away too many details because you want them to click and get tagged for Remarketing. Other than remarketing, sharing to Google+ will help with your search ranking. Change your profile photo to match your current advertising.
7. Google +Local
You need to have this account set up. There are ways to link your Google+ Page and your Google +Local accounts, but you should probably talk to a Google Local expert before you attempt that because it only works well for retail jewelry stores. Find ways to lead your customer to Google +Local and leave you a review.
8. Blogging using Google Authorship
Do you have a blog on your site yet? Set up your blog and proudly include your name in the byline. Make sure your name is correctly set up to use Google Authorship and you will reap serious search ranking benefits in your local area. Read my
authorship nugget
from August 2012 to find out how to set this up.
9. Mobile Website
I'm including this here simply because your customers do expect this now. Your website needs to be friendly on both mobile and on PC. Of course, if you use images on the home page of the mobile site they should match those offline ads too.
10. YouTube
If you plan to produce TV commercials to match your billboard then you need to share those to YouTube. Even if you're not planning on TV advertising you can still produce 30 second videos for people to enjoy. I do suggest creating 1 video for each set of advertising material I mentioned above. You could always produce the video after the rest of the advertising is launched and use it as a reminder follow-up.
11. Twitter
If you can build a following on Twitter and if you can develop your skills to interact with them you will have a real chance at generating business. However I'm simply going to recommend that you frequently share some details and the link to your landing page. When people click that link you will be able to tag them with Remarketing and show them your banner ads for a long time. Even if you don't have the time for Twitter engagements this technique will grow your audience.
That's my 2013 unified advertising plan. This could change at any time depending on how Google, Facebook, Twitter, and YouTube change. Make sure you always monitor and measure your results.