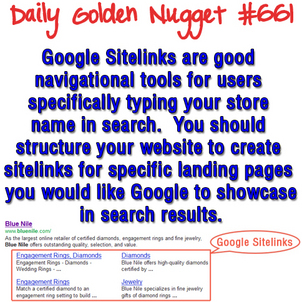 The topic of "Sitelinks" has come up in casual conversation a lot recently in my daily work and I realize that I've never specifically written a Daily Golden Nugget about sitelinks, including what they are and the strategy I use to create them.
Let's start with the basic explanation of a sitelink: In the Google Search Results, sitelinks are the hyperlinks to subpages of your website that often appear below your main search result listing in order to help users navigate more quickly through your website.
Google claims to create sitelinks randomly but they also seem to appear for popular and helpful subpages, like the main Product Catalog page, the Contact Us page, or the Directions page.
History of Sitelinks
The functionality of the sitelink has changed over the years. Some time ago they were commonly referred to as "indented links" that would appear in the search results when Google felt multiple pages from your site matched a search phrase. Then Google removed indented links and only showed subpage likes as blue underlined words under a single search result listing.
jewelry website SEO
experts constantly tried to game the Google system to create sitelinks because they would always make your search listing appear more favorable than others in the results.
Today sitelinks are most commonly seen when someone googles your store name or domain. As of today (and this could change tomorrow) sitelinks are rarely shown in the results for generic searches. Users need to be searching for phrases that explicitly name your store. When Google recognizes one of these explicit searches they well trigger the appearance of sitelink.
Several old references and books from the mid 2000's shown on the
Wikipedia Sitelink article
say that sitelinks are a good way to imply website authority and beat out your competition. This information is not accurate any more since Google doesn't include competitor information in the results when sitelinks appear.
With this in mind, you should view sitelinks as a way to help your customers navigate your site, and you should strive to achieve useful sitelinks.
Here's how I create Sitelinks
I've found an easy way to generate sitelinks, and sometimes Google will create more than 8 sitelinks for websites I work on. To make this easy to understand I'm going to use the example of the Contact Us page in the following steps.
Step 1:
Create the Contact Us page with the URL www.jewelrystore.com/contact-us.html
I suppose this could also work if you use .php or .aspx instead of .html, but I always use .html as an extension.
Do not use www.jewelrystore.com/subdirectory-name/contact-us.html as the file location. I've found the subdirectories to interfere with easy sitelink creation. You must also use hyphens instead of "contactus.html" or "contact_us.html."
Step 2:
Use "Contact Us" as the Page Title. Do *not* include any other information in your meta page title other than the same words. Keep your store name or any other keywords out of the page title.
Step 3:
Use the words "Contact Us" as the header of your page in the body content using the <h1> tag. Specifically <h1>Contact Us</h1>
I've found that the combination of these simple three things will easily generate Sitelinks according to the current way that Google is showing them.