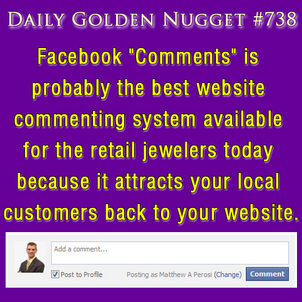 Every blogging platform comes with some type of built in commenting feature for readers to give their feedback, but built-in blogging comment systems also act as an island of user engagement. A few commenting systems have emerged that allow for easy social sharing of comments. Since 2011, I've noticed more and more websites that have deactivated their build in comment systems in favor of 3rd party systems.
As you plan the future of your blog, you should think carefully on how website comments could help your jewelry business and set up your blog for the best commenting system. I've seen a few reviews of 4 popular 3rd party commenting systems but the reviews seem to fall short of explaining how valuable engagements could be.
At the time of this writing the 4 popular blog commenting systems are: Disqus, Livefyre, Facebook, and Intense Debate. I've already seen and tested a beta commenting system for Google+ so I'll include that at the bottom of my list too.
* Disqus - http://disqus.com/
Within the jewelry industry this commenting system is probably best known for use on the JCKonline.com and INSTOREmag.com websites. This commenting system allows you to create a Disqus account, post as a Guest, or with any account from Google, Twitter, Facebook, Yahoo, or OpenID. The comments for your blog will appear at the bottom of your blog, but the comments also link from one blog to another, even blogs not on your website.
Comments from a single person are stored together so anyone can click a user's name and see all the other blogs across the entire internet that the person commented on. This is really good for building new visits to your website, but I have to assume (because I don't have real data on this yet) that these visitors are not worthy customers. The Disqus system feeds into human curiosity.
For all its popularity, Disqus seriously lacks the ability to post the comments to the social networks. All commenting is locked up within the Disqus system without any possibility for them to become viral.
Bottom line: Disqus is good for building new visitor traffic, but you better prep your blog with a lot of conversion tactics.
* LiveFyre - http://www.livefyre.com/
This commenting system allows you to create a Livefyre account, or log in with any account from Google+, Twitter, Facebook, LinkedIn, or OpenID.
Comments posted using this system have an easy layout for users to follow. It's also easy for users to identify which social account a previous commenter used. Each comment is also posted to the social network for each commenter, which allows each user to further engage one another.
The problem I see is that the socially posted comments do not link to the original blog. So this becomes social for the users, but it won't bring you traffic.
Bottom line: Livefyre is not a god commenting system for retail jewelers.
* Facebook -https://developers.facebook.com/docs/reference/plugins/comments/
For people logged into Facebook, it provides a commenting system that allows users to post comments directly on your website. Those comments will appear in the Timeline of the commenter, which means their friends will see it and they could be drawn to your website.
Additionally, if you are skilled at creating Facebook Apps you could tie your comment system into your Facebook Page. With the app integration, you not only have a chance at getting more likes to your Page, but you can also attract friends of those commenting back to your website. This is particularly important if you are sharing blog posts to your business page. The strategy here is that you can get your fans to read and comment on your blog. Their friends might then be interested enough to visit your Page and website.
Bottom Line: Facebook comments is a great way to build your local social engagement and your audience because it brings people from that social network back to your website.
* Intense Debate - http://intensedebate.com/
This commenting system forces users to log in with their WordPress.com account or create a new account. The look of the comment system can be controlled so it looks very much like the design of your website, whereas all the other systems are obviously some type of plug-in. The comment system is also easy for users to read and interact with, but it doesn't create social-to-website engagements.
Bottom line: Intense Debate is not good for retail jewelers. Your customers won't want to create yet another online account just to leave a comment on your blog.
* Google+ (no URL yet)
I'm mentioning this here because I was engaging with the first website to essentially "hack" the Google+ system to allow comments directly on their website. The Google+ comment system will require people to have a Google+ account in order to comment, similar to how you have to be logged into your Facebook account to use the FB comment system.
Comments on the website appear as public posts to your Google+ Stream along with a link back to the original blog website. Friends of the commenter can then reply to the comment directly on the website or in the persons Stream on Google+.
Bottom Line: Google+ comments will be another good way to build your local social engagement and your audience because it brings people from that social network back to your website.
My recommendations as of today are to use the Facebook Comment system. The Google+ system is also attractive, but it will be a while before actual buying customers are engaging retail jewelers through Google+. As far as I'm concerned, Livefyre and Intense Debate are useless for retail jewelers, and for any local retailer, and the self contained nature of Disqus is really only good for large blogging and news sites.