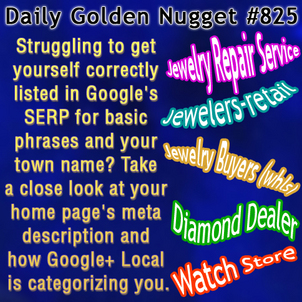 Today's city stop along the road of website reviews finds us in Denver, Colorado where I did a quick search for "jewelers denver" to see our review candidates.
Every Friday, I take a random look at a jewelry store's website to find the good and the bad that you can learn from and apply to your own website. Here's how this week turned out.
The results for "jewelers denver" returned Trice Jewelers as the #1 organic result showing above the 7 business listings from Google+ Local.
I thought it was odd that Trice
wasn't listed in the +Local results
even though their SERP description stated that they were
"Specializing in diamonds, fine jewelry, timepieces, wedding sets, gold and platinum, and official Denver Bronco jewelry."
Their SERP listing even has
sitelinks
, so they were doing something correct, but why weren't they listed in the +Local results?
As a sanity check, I googled "jewelry stores denver," but this time they appeared as the first organic listing below the +Local listing, #11 on the page. The listing showed the same sitelinks, but this time the description was completely different and said
"For over fifty years, Trice Jewelers has been a leader in the Rocky Mountain jewelry industry and is considered Colorado's largest full-service jewelry store."
Something interesting is happening here; I've found our review candidate!
Here's the website:
http://www.tricejewelers.com
; you might want to open it up to follow along as you read this review.
Interesting SEO Findings:
You'll see for yourself that their home page is filled with large images. It's very blocky looking. They don't have any text on the page other than the links in their footer. If you want to load your home page up with images like that you should at least
load your image alt and title attributes with descriptions
. That's an easy SEO issue to fix.
What still struck me as strange are the 2 very different descriptions I saw in the SERP. My first thought was that their Meta Description was very long, which it was:
For over fifty years, Trice Jewelers has been a leader in the Rocky Mountain jewelry industry and is considered Colorado's largest full-service jewelry store. Trice offers an extraordinary selection of bridal and wedding rings. You will see more rings in our cases than any other store in America. We feature styles from the top designers and manufacturers of gold, platinum, and a combination of the two. Trice carries Colorado's largest selection of loose certified diamonds, featuring a large collection of ideal cut Russian diamonds whose brilliance and beauty are legendary in the diamond industry.
That
meta description is way too long
. The first sentence of that description matches the 2nd description I saw in the SERP, but there's no mention of Denver Bronco Jewelry. How did Google come up with that description if there's no text on the page?
The answer lies in a topic I've never actually written about in all of my Nuggets: DMOZ.
DMOZ is an open source directory that started long ago with the idea that search engines needed to be curated by people rather than allowing computers to do it. Take a look at the DMOZ entry for Trice:
http://www.dmoz.org/search?q=tricejewelers.com
That's where their Google snippet came from! I give Trice some credit for having a DMOZ entry, but honestly Google only uses those descriptions as a last resort when the SEO on your website is seriously bad. That said, everyone should add their website to DMOZ.org just as an SEO safety net.
Usability Issues:
My only immediately noticeable complaint about this website was the amount of scrolling I had to keep doing just to see the bottom links. I knew that I could click on the top logo and return to the home page without scrolling, but that was always an extra step just to navigate somewhere else.
I also felt myself getting a little impatient with how much scrolling I was doing as I browsed the product catalog. The catalog is designed with a large banner at the top that becomes immediately unnecessary after your browse past page 1 of each category. They could have hidden it somehow which would show more products to customers faster.
Where Did they Go Wrong in Google+ Local?
I was still intrigued as to why they didn't appear in the Google+ Local listing in the SERP. They should have been there. Considering the
hard lesson one of my other customers just learned about Google+
I wanted to see what Trice was doing over there.
I found that they have both the Google+ Page and Google+ Local accounts. They didn't merge them. Shame on them for having an active Google+ Page and not including it next to Facebook and Twitter in the footer of their website. Real shame.
Looking under the hood of their Google+ Local, I found that they categorized their store in this order:
1. Jewelry Repair Service
2. Jewelers-retail
3. Jewelry Buyers (whls)
4. Diamond Dealer
5. Watch Store
6. Jewelry Buyer
7. Watches-Dealers
8. Jewelry-Repairing
9. Watches-Repairing
10. Gold buyer
11. Sell Trice You Diamond
12. Jewelry Store
13. Jeweler
Those categories should be listed in order of importance, but they aren't. Also 6 of those 13 are actually invalid Google+ Local categories. There's an easy way to figure out which 6, but I'm not giving away all my trade secrets.
With a little cleanup of these categories I'm confident that they would get themselves listed in the +Local SERP results.
This week's review was a little different than normal, but there were several valuable lessons to be learned. Hopefully you'll use at least one to improve your own website.
FTC Notice: I randomly choose this website and won't be telling the retailer jeweler that I'm doing a review. Unless someone else tells them, they will only find out about this review if they examine their Google Analytics and Google Webmaster Tools. I'm not doing this to solicit business from them, but rather as an educational exercise for everyone. This review is completely impartial and all my comments are listed in the order that I discovered them.