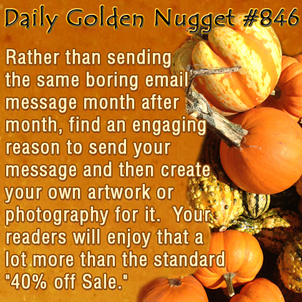 Even though Halloween is 10 days away, you are probably heavily planning your Holiday Season advertising without really considering any last minute Halloween ads. You don't have to plan too much to whip up some last minute marketing for Halloween. Your website's home page, Facebook, Google+, Twitter, and any email marketing over the next 10 days could use a dash of Halloween humor.
Here are some of the products that are popularly advertised for Halloween and some headlines and phrases that other companies have used over the last few years. Read through them for some quick inspiration of your own.
Products:
"Skeleton" watches
Any jewelry with skulls, spiders, ghosts, bats, owls, or cats
Any jewelry with spikes, witches, witch shoes, witch hats, broomsticks
Headlines:
"No bones about it - Skeleton Watch on Sale"
"Treat Yourself!"
"Yikes! 40%OFF - You have nothing to fear..."
"Trick or Treat..."
"Killer deal slashes price to ONLY $200"
"Treat Yourself to _______"
"Spooky Good Savings"
"Shop our charming Halloween Collection today!"
"Open this email (if you dare)..."
"Happy Halloween! No Tricks, Just Treats"
"Our Trick, Your Treat!"
"We've scared up an extra few savings... just for you."
"No tricks, just a fin treat for you today!"
"Take 10% off Black & White Jewelry" (referring to B&W diamond jewelry)
"Don't be afraid of the dark..." (referring to any black color jewelry or watches)
Take a look around your store today and see what types of offers you can scare up for yourself.
You're probably going to need some quick photography for your website and emails. Don't simply take photos on a white or black background. You have a real opportunity to be a little silly with the photos because you'll need to have some artwork that ties into the headline.
Pumpkins, gourds, maize, hay, or just a few brown leaves will all lend themselves nicely as creative backgrounds for your photos. You can pick up a small pumpkin, a multi-color gourd, or multi-color maize during a quick trip to the grocery store today. Or you can just run outside and look for some nice looking fall leaves.
Don't get too fancy with the photo process, just make sure the jewelry is well lit, and in focus. Use your digital camera or your smartphone if you have to.
Remember that this is Halloween: a time when people allow themselves to be a little silly and dress up in costumes to have some fun. You should allow yourself to be a little more creative and fun with this quick marketing too.
From my point of view, it should take you less time to run to the grocery store for a pumpkin and take a few photos than it will for you to send an email blast and post the special to the website. All-in-all, this shouldn't take more than 6-8 hours of time shared among a few people.
Rather than sending another boring email message that no one wants to read, this is a perfectly good reason to send an email blast, and something your readers will at least enjoy looking at.