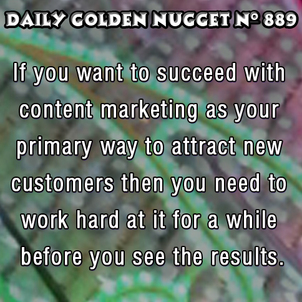 In yesterday's Daily Golden Nugget I briefly explained that
you need to build various types of content
in order to rank well in the new version of Google's search results. Higher ranking in Google Search means more customers will find you.
This is the new world of content marketing, which is much different than direct marketing. With traditional online and offline advertising you have various ways to track the effectiveness of the campaign, but that's not true with content marketing.
You could spend many hours and a lot of money building content on your website and bulking up all your online social networks without any real immediately measurable results. It's frustrating, and it's hard to commit to the content marketing effort unless you are willing to build a solid foundation of information about your business that will benefit you 2 or 3 years from now.
If you need faster results then you will have to rely on faster marketing methods. But over the long term it is more cost effective to build content than aggressively pay for ads.
I have a few longterm studies that monitor the effects of content marketing.
The first one shows that adding a blog to your jewelry website only attracts about 18 new visitors per month during the first few months. But then 17 months later that same blog was attracting 248 visitors on average every month. Those results are from 1 new blog post per month. That's about a 1450% jump in visitors to that section of the website. When you factor in that the bounce rate those 248 visitors turn into 2 qualified potential customers per day. It's up to your website to convert them into buying customers.
The second ongoing case study began blogging in September 2012 and 12 months later they were already seeing 263 monthly visitors to their blog. However, they also have combined efforts of several other websites which are building supplemental information. They don't use Facebook at all, but they do use Google+, Google+ Local, and they have a small monthly budget for Google AdWords. In total they have a 66% rise of all organic traffic over the last 12 months.
Each month they add at least 6 new blog posts and many new products to their online catalog. They've spent a lot of money writing educational content and they even translated all their educational content into Spanish. They do spend a lot of money every month on building their content, but they have no way of directly tracking their ROI. From their point of view they know business is growing and that's partially because of new management, and better customer service that's given to all the people walking into their stores. Their content marketing is just the beginning of their sales cycle, but their store employees are closing the sales. Most new customers report that they found them "though a Google search."
The third case study I'll share started with about 43 organic visitors per month to their blog back in December 2009. Today they consistently have 2200 or more monthly organic blog visitors. They reached the 2000 level in March 2013. That's a 4650% increase in organic traffic over 48 months. They are adding blogs, managing their Facebook page, updating to Google+, and interacting with their customers online. In 2011, they shifted all their marketing into content building and haven't spent any money on print advertising since.
These numbers are undeniable, but they also require a massive commitment. Each of these case studies are customers that my team and I are managing. Just to give you some numbers of what the cost is, the first one is paying about $500 per month for the blogging. The second is paying about $5000 per month to create all that new content and manage the product updates in addition to their normal offline ad budget. The third company has allocated about $7000 per month for their in-house payroll to manage and build their content marketing.
As I help each of these companies analyze their marketing, content, and payroll budgets it's clear that the third company is the real winner. They are saving money on advertising costs and taking care of most of their content building and management in-house.
If you implemented a really good content marketing plan today, you could have a complete rebirth in how new customers find you in 12 to 48 months… Of course that also assuming Google/Apple/Microsoft don't change the nature of the internet too much.
If you want to succeed with this, then you need to work hard at it for a while before you see the results.