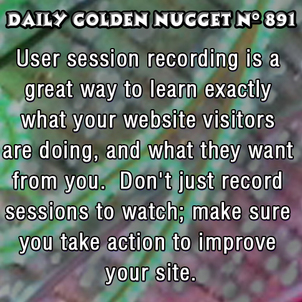 I use a lot of different methods to gather data about websites and then several tools to analyze that data. Naturally the most popular tool I use is Google Analytics, but there are a few others that really provide amazing business intelligence.
Google Analytics tracking is free to install on your website, but figuring out how to read and use the data it collects isn't as simple as it once was. A few years ago I would have said that any business owner could figure out how to read the Analytics reports, but it's not as easy any more.
Google Analytics makes frequent enough changes to their interface and features now that it's difficult to remember how it all works if you only log into your account once per month. In reality, you should have someone monitoring the reports on a regular basis and reporting the important numbers back to you. Obviously there's a cost to having that person do the work for you.
I've also been using the CrazyEgg website testing tool for a while now. You can check them out at www.crazyegg.com. At the time of this writing, they charged at least $108 per year to track 10 pages on your site. Since they limit which pages you can track, you can only use them for your most important tests. You can change which pages you test from month to month, but this is a manual process.
The CrazyEgg price of $108/yr is good for what it does. The reports it generates are nice to look at, but there is little actionable information unless you have an analyst helping you associate the CrazyEgg reports to Google Analytics, and AdWords when appropriate. I've personally spent a few hours each time I have to analyze the CrazyEgg information and find the associated Google Analytics reports.
The best feature I like about this service is the ability to track Google AdWords campaign keywords. I typically include CrazyEgg tracking on all the landing pages created for AdWords. This reporting is extremely valuable when you eventually analyze and compare the reports from AdWords, Analytics, and CrazyEgg together. This type of comparison will help you discover what types of ads work and how to make them better.
Let me repeat that fully understanding everything CrazyEgg gives you is a manual analysis process, and although I find this stuff easy to use and learn, you probably won't have the time to fully learn it. My recommendation here is to ask your SEM company to implement and analyze this for you as needed. That analysis is probably going to be expensive.
CrazyEgg doesn't allow you to track users from page to page. Their limitation of pages doesn't allow for individual user tracking. If you really want to see how well your website is performing, you need to get involved with more sophisticated tracking of user sessions.
To get some basic insights into tracking user sessions you should sign up with MouseFlow at
Mouseflow.com
Setting up MouseFlow is simple, just install their short (8 lines) JavaScript in the footer of your website and you're all set. Within minutes you will be recording video sessions on your website. I like their interface and find it's very simple to use.
This is a basic screen shot from Mouseflow…

It quickly shows you the visitor's county, referral source, landing page, how long ago the session was recorded, pages viewed, duration the visitor was reading your website, and the web browser they used.
To view the recording you click that green play button you see in the image above.
For every page recorded you can also view a heatmap that shows where people clicked, where they hovered, and how far up and down they scrolled on your screen.
Mouseflow records the full session of every visitor. At the time of this writing, they had a small business account for $19 per month that would track 1000 sessions.
The next user recording tool I use is more sophisticated. It's called SessionCam which you can see at http://www.sessioncam.com/.
Their tracking script is huge! I don't think I've ever seen a JavaScript tracking software as large as theirs. It's going to take some extra special setup by your programmer in order to set this one up. SessionCam charges you for the number of pages they record per month. At the time of this writing, they were charging $10 to record 1000 pages per month. Note the difference between the 1000 sessions from Mouseflow and 1000 pageviews from SessionCam.
In a 12 hour period, SessionCam could easily record 71 sessions which use up 429 page views. Although you could have some pretty valuable recordings in that small sample of time, you really need a lot more to have statistically accurate information for a website redesign.
One of the problems I found with SessionCam is that they will record "sessions" of the search engine bots that read your website. The problem is that search bots, like Googlebot, will account for more than 50% of the visits to your website. That's a lot of wasted page views that you are paying SessionCam to record. Luckily there's an easy way around this. Ask your web programmer to detect the IP address of all visitors and only allow the SessionCam tracking script to appear for non search engine bots. There are about 70 IP addresses that I filter out.

This screen shot shows you the main session reporting screen for ScreenCam. It has the start time of the recorded session, IP address, Last page visited, Operating System, Browser, and the number of pages viewed in that session.
Other screens in the SessionCam interface are much more sophisticated. Their recordings will show the actual browser window size of each visitor. It's really amazing to watch how people will use their iPhones, Androids, and iPads to pinch and zoom through your website. The recordings of desktop visitors are also very informative.
I like the way SessionCam clearly shows the IP address of the website visitors as shown in the above image. Although Mouseflow gives IP addresses, SessionCam is much faster to see which makes the analysis process faster.
SessionCam also has a set of heatmaps that show where people clicked, where they moved their mouse, and how far they scrolled. They also have an Attention Heatmap which shows the area of the page most visible to all visitors. This helps you identify the most valuable screen real estate you own.
One feature that SessionCam has that Mouseflow doesn't, is the ability to set up a conversion funnel that allows you to track people through specific goals on your website. With some help from your SEM Professional you should be able to set up similar goal conversion funnels in Google Analytics and SessionCam to compare data and produce really good actionable information.
For simplicity, I prefer Mouseflow, but for serious analysis I prefer SessionCam.
I have to warn you that you can easily get mesmerized by the recording in Mouseflow and SessionCam. It's all very interesting, but it's also worthless unless your website designer is going to improve your website based on the recordings.
Let me repeat that because it was important… Paying for Mouseflow and SessionCam is a waste of your money unless you are fully committed to improving your website based on these user recordings. It's not just the $19 or $10 per month you are spending, but the money to pay someone to watch these recording, figure out what they mean, and then to redesign your website. This can easily be hundreds or thousands of dollars per month.
The goal of using these sophisticated user tracking systems it to make your website more user friendly. Those user friendly website usually lead to longer visits and more sales.
Let's say that the total cost of analysis is $2000 per month. Every little website design change you make should help to increase sales. It could be a little or a lot. Over time the increase in sales should outweigh the cost of analysis, if not, then you are analyzing the wrong thing.
(NOTE: The Mouseflow link is an affiliate link.)