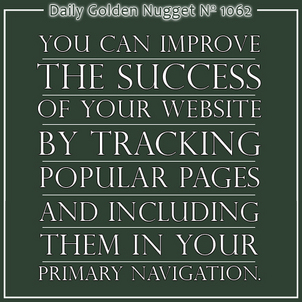 It seems like every day I see not one, not two, but perhaps more than a dozen different online marketing campaigns that make me scratch my head wondering why they bothered.
I'm not only referring to the jewelry industry either, but all types of online marketing. It just seems like so many businesses don't understand the larger view of how intertwined the internet is to everyday life and the expectations of their customers.
The businesses that do understand are figuring out what their customers want and giving it to them in ads that appeal to them with landing pages that expand upon the topic of the ad. Their websites pull the customers in even further by anticipating what customers will want to see next and making it easy to find.
It's not easy to figure out that anticipation of needs and designing a website around it, but you should be able to start somewhere if you know your business and customers well enough.
Businesses that carefully plan for the future are the ones who are growing; not only growing, but saving money on their overall marketing budgets. The businesses that are floundering are those who managed to slip into a cycle of mass advertising with the hopes that their next ad will bring in enough customers to cover their overhead.
Here are some ideas that will help put you on the right path to better business success.
1. Anticipate customer needs2. Make your website more user friendly3. Invite customers to connect, signup, or visit4. Respond to referral emails from your website quickly
And here's how you would accomplish these:
1. Anticipate customer needs
This might be the most important step. It starts with making a list of the most common types of jewelry that customers ask for in your store. Do they ask for rings, earrings, or for specific designer names? Are they looking for something trendy, or maybe a particular trend? You will need help from your employees to maintain this list, and it will change often.
Track the same information on your website by looking at the most popular pages viewed as shown in Google Analytics. You can also measure the most popular products viewed and the most popular product categories that are viewed. Hopefully, the popular tracked online pages also correlate with what you collect in your store. You could also take this one step further by tracking the keyword search query list from Google Webmaster Tools.
Once you have all this tracked information, which will take about a month after you first get started, you will have to rearrange some of the information on your website to match. You will want to move buttons and navigation links into an easier to find location on your web page.
There's also the possibility that you can manage this process automatically through the more advanced e-commerce software systems. Depending on the software running your website, you might have the ability to dynamically change special areas of your navigation to show the most popular product categories, products, or pages. This feature is certainly a timesaver that ties into the online tracking, but you still might have to tweak it with the information you collected in the store.
Most jewelry website traffic every month comes from first time visitors, yet you'll find that most of those visitors gravitate to the same pages of your site. By rearranging your navigation based on popularity, you are effectively anticipating what every new visitor is looking for, and they will appreciate that you have easy to find links for exactly what they are looking for.
These well placed links lead us right into the discussion of making your website more user friendly, but that's a longer topic that I'll dive into in the next Daily Golden Nugget.