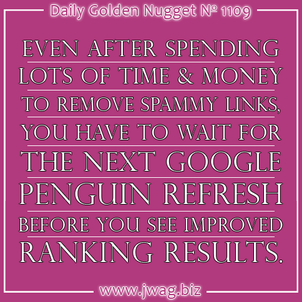 I typically don't write about current trends in the search engine optimization (SEO) and search engine marketing (SEM) industry, but today's topic is both a reassessment and a follow up to a previous Nugget about Google Penguin.
Penguin Basics
In April 2012, Google started fighting online spam in a big way. Prior to that month, one of the most common methods of achieving high Google search ranking was to pay a company to create links to your website. A single fee of $79 could get you thousands of links from companies that set up tens of thousands of websites just for the sake of linking to people. This type of link building was so effective that you could get your website linked and highly ranked very quickly.
As a result, Google's search results were highly tainted by anyone with the larger link building budget.
All that changed when Google applied the Penguin "filter" to the search results. Google figured out how to identify and filter out all the websites that were using paid link building to manipulate the search results. I'm being careful to refer to Penguin as a "filter" because that's what it is. Once your website was filtered from the SERPs, there was no way to appear back again until Google rechecked your website and removed that punishment filter.
How the Penguin Filter Works
Let's say that you paid the link building company $79 to rank you for the phrase "engagement rings." That company would then list you on thousands of business directory websites with a photo, your business name and a brief description that includes the phrase "engagement rings." That description could be as basic as this one: "Perosi Jewelers sells the best engagement rings in Totowa, New Jersey." The phrase "engagement rings" would be a hyperlink to the home page of your website.
Recognizing those thousands of links as manipulative, Penguin would penalize your website by filtering you out of the results whenever someone searches for "engagement rings." Once your website was filtered out, there was no getting it back until the next Penguin filter update.
Imagine what would happen to the ranking of a website if you paid for link building on these important phrases:
* engagement rings
* jewelry store
* diamonds
* jewelry repair
* custom design
Some jewelers actually paid for that link building, and they were penalized heavily. The Penguin filter effectively shut down all their organic website ranking, and caused huge losses in online and in-store sales. The only recourse was to pay for online advertising, step up their offline advertising, and pay someone to have the links removed.
Killing the Pecking Penguin
It's easy to pay for thousands of links, but removing them turned out to be a nightmare. Even though you paid only $79 to set up a few thousand links, it was soon discovered that those same sites were charging $5 per link to remove them. Those link building companies are nothing more than online crooks out to make a lot of money.
Alternatively you could pay a company like mine to
follow these 8 steps to remove spammy links that affect your ranking
. In those directions I name checked one of the largest link building crooks. Since writing those directions in January 2014, I've received several private thank you emails for identifying how that that company operates.
Those directions are still accurate as of this writing. The cost of the link removal labor was thousands of dollars compared to the original $79 to set it up.
Waiting for the Penguin to Die
In 2012 Google updated the Penguin filter three times, then twice in 2013. When you're penalized by Penguin you have to wait until the next update to see if your link removal efforts are working. Well, Google made us wait more than a year since the last update as you can see below.
Google Penguin Filter Updates
April 24, 2012
May 26, 2012
October 5, 2012
May 22, 2013
October 4, 2013
October 17, 2014
This latest release is a sigh of relief for those of us getting paid to remove and disavow links. For more than a year, the entire SEO industry has been saying things like "we have to wait until the next update to see the results." Meanwhile you guys, the website owners who pay for the cleanup, are wondering why you're spending all that money without seeing any results.
Honestly, the SEO guy attempting to fight the link building spam is not a charlatan. He's been trying to save your website from the abyss. Google finally threw out a life raft with this latest filter update.
Future Penguin Updates
While I was attending the Search Marketing Expo in NYC on October 1, 2014, Gary Illyes, one of Google's Search Quality Engineers, announced that there would be a Penguin update this month, and that future updates would be more frequent.
From the point of view of an SEO provider, I sure hope Google makes these Penguin updates more frequent. Colleagues of mine have told me client horror stories of demands for refunds and even chargebacks for Penguin cleanup services. There simply was no way to prove an SEO company was doing their work unless Google did a Penguin refresh.
Do You Have A Pet Penguin Now?
If you've previously been pecked by the Penguin, perhaps this latest refresh will be a boon for your business. The best way to tell is to look at your Google Webmaster Tools account.
If this latest Penguin update was beneficial for you, you'll notice an increase in impressions for all those filtered phrases in your Search Queries report. Hopefully the results will put a smile on your face.