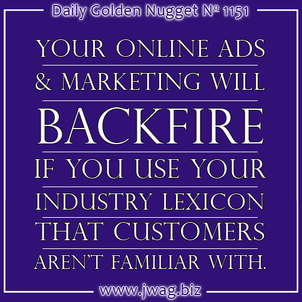 No matter your best efforts, your customer simply do not care about your bridal line. For them, you might as well be the Invisible Man.
You probably think I'm nuts when I say that, especially since you sell engagement rings all the time. The fact is that most jewelers are incorrectly trying to target "bridal" customers when they should be targeting "engagement rings." Even the phrase "wedding ring" is better than "bridal" or "bridal ring."
Google shares plenty of search data to guide you on your quest to attract the right customers to your product. Because of their data, I can confidently tell you that selling bridal is akin to selling hamburgers to vegetarians.
You can sift through Google's data yourself at
http://www.google.com/trends/explore
.
You will see the most commonly associated search phrases when typing "bridal" into the Google Trends Explorer. This is what it looks like: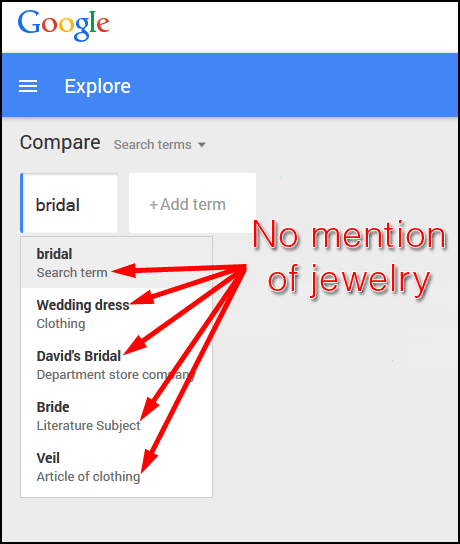 Following through with that trends search will also yield this table: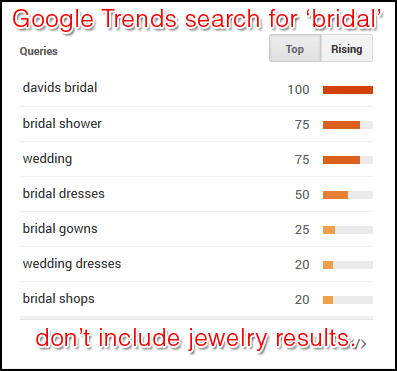 According to that chart, Google shows us that "rings" are typically not what people are searching for when thinking about "bridal."
Changing pace now, we can search for "wedding" and see these results: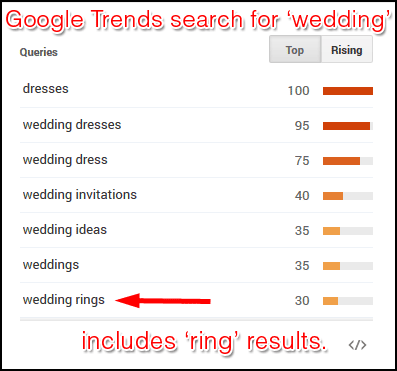 According to these results, the phrase "wedding rings" is associated to the word wedding.
NOTE: Google is showing numbers based on their own popularity scale. This is not a percentage or anything; it's just a measure of most popular term to least popular term for the current report. Honestly, it's useless other than figuring out how good or bad your keyword targeting might be.
Without a doubt, the keyword phrase you should be targeting is "engagement rings." This chart shows the search comparison between "bridal ring," "engagement ring," and "wedding ring."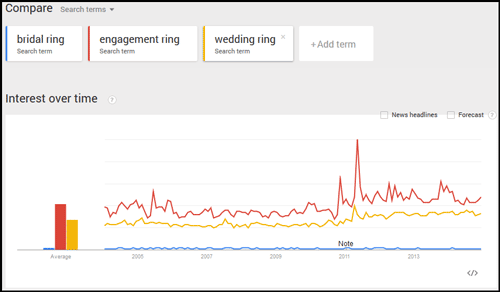 The blue line for bridal barely registers on the chart. The yellow line for wedding ring is considerable, but clearly the red line indicates that the engagement ring phrase is the correct keyword to use in most of your content creation.
I dig through the Google Webmaster Tools account for one of my most active websites to see the difference between the bridal/wedding/engagement trifecta. This next image is a screen shot of 3 applied filters: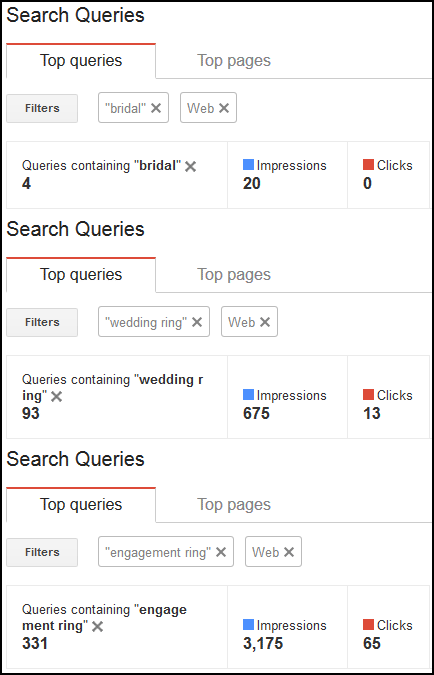 The numbers shown here represent how many times this very large website appeared in Google Search results for the indicated terms. Specifically:
* "bridal" had 20 impressions and 0 clicks
* "wedding rings" had 675 impressions and 13 clicks
* "engagement rings" had 3175 impressions and 65 clicks
Simply put, the customers interested in engagement rings do not use the word bridal.
With this in mind you should be careful with how you use the word bridal on your website. Navigation links or buttons with "Bridal" or "Bridal & Engagement" will have far fewer click-throughs than the phrases "Wedding & Engagement" or simply "Engagement Rings."
Although this might be a revelation to some, it's
old news for my long time readers
.
The bottom line here is that your professional lexicon probably includes a lot of additional words and phrases that your customers are unfamiliar with. Don't try to force your professional vocabulary into your website or your marketing; it will backfire.