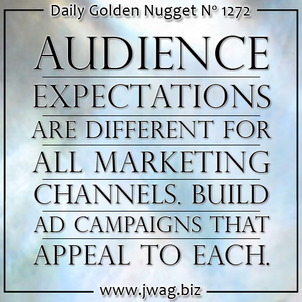 Jennifer Shaheen
, President of
Technology Therapy Group
was among those speakers chosen to present at the 2015 JCK Las Vegas show. Jennifer and I are industry colleagues and we share 99% of the same point of view about the internet and how retail jewelers should be using it for their marketing.
I've seen Jennifer present at general business expos in New York City, and it was a pleasure to see her present a seminar specifically tailored for the jewelry industry at JCK.
Here are some of the highlights from her "Multi-Channel Marketing for Real World Retailers" seminar on Thursday, May 28, 2015.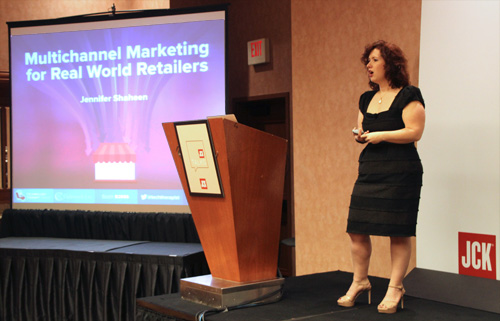 Perhaps the first step towards understanding the concept of multi-channel is to have understanding of what a single-channel is. The single-channel is the direct relationship your store has with your customer. That's usually an in-store shopping relationship.
The multi-channel is the relationship your customers and potential customers have with each and every channel your customers are on.
So what does that actually mean? What are those channels? Here the list that Jennifer itemized:
Website

Store

Google Search

Google+

Google Maps

All social media

Television commercials

Radio spots

Sponsorship of the local baseball team

Sponsorship of local community events
At the end of the day, the goal of multi-channel marketing is to create a unified customer experience across all these channels. You must touch customers on each of the different channels.
Don't think of these channels as a way to sell what you are doing. Think of them as a way to build awareness of who you are and what you do. That means you need to understand what awareness is in a multi-device world.
Customers watching TV don't simply sit on their couch and enjoy the show any more. They simultaneously use their smartphones and tablets to look up additional information about what they see on TV. This is called "multi-screening" and 84% of people are currently doing this. While the TV might introduce consumers to products and commercials in a visual way, the online experience needs to be appropriate for that simultaneous activity.
You need to be aware how consumers are using the technology, when they are using it, and why they are using it. That way you will be able to create the appropriate content for each channel based on those activities.
It's not easy to figure out the consumer expectations for each marketing channel, but you must learn. The old methods of advertising that you are used to are not dead; they are just being viewed and engaged with differently than before. There's a whole new generation of people who are seeing your ads and expecting that they can Google you for more information.
With the multi-channel and multi-device experience we are always engaging our customers in one way or another. There's research on brides.com that shows 63% of people want to use the internet for research but prefer to buy in a retail store.
When developing your marketing, you need to think about which channels are dominated by which audiences. Being very specific about how you structure your marketing for each channel will attract the users of that channel. One example of how you would structure your marketing differently on each channel is to learn how many hashtags to use on each.
When Jennifer asked how many attendees were sending email marketing less than half the room raised their hands. She explained that 47% of emails are read on smartphones and you have to account for that. Our emails should be responsive to smartphones, i.e. be able to reformat themselves when viewed on smartphones and desktop computers.
She referred to mobile as a relationship builder. You can offer SMS notifications or direct emails for notifications, a technique that is really helpful when you are secretly shopping for a special ring or when customers want to be notified of new product arrivals.
Mobile usage will always lead people back to your website, and your site needs to account for that. A website is no longer an online brochure. If you are embarrassed to share your website on social, then you have a problem. You website is doing so much for you if it is done right.
As of today, link sharing on Facebook does better than photo posts, which means you can get people back to your website when you share links.
Websites need to have some type of interactivity to appeal to your customers. You can capture customer information through your website and even build private landing pages that are personalized for people.
The website also needs to look the same as your store and the rest of your marketing to build your brand identity.
As you build your multi-channel marketing plan you also need to use the channel metrics that they each offer. Facebook has really fantastic metrics and Twitter just announced improvements to theirs. Every social platform has metrics that show you how your customers are following you.
Cross channel engagement is happening whether you want it to or not. You should be controlling how it happens, like sending a text message that leads them to the website, or a social media link that sends them to a buy now page.
Right now the majority of marketing is disjointed. Ads on social media, in newspapers, and even the website provide a totally different experience than when you walk in the store. She hopes that the biggest takeaway from this seminar is that every one of those channels has to have a cohesive message, and has to look the same; it has to feel the same.
Disjointed experiences lead customers to think you are different companies, or that they are not in the right place when they view you online and in the store.