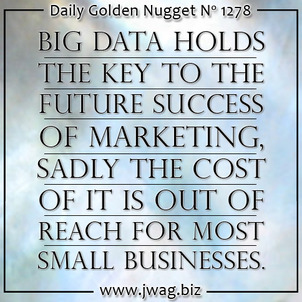 The term Big Data is one of the internet's latest buzz words that everyone is talking about but no one seems to know what it is, why they should care about it, how to collect it, or how to use it.
Put simply, Big Data is the collection of massive amounts of demographic and tracking information you gather about your customers. Once gathered, you then churn that information into reports that help you better plan future marketing and provide interesting insights into who your customers are and how to communicate with them.
I'm trying to make that sound as simple as possible, when in reality the amount of effort that goes into collecting customer information and then processing it into usable reports is massive. Big data is just that: big. You need large amounts of storage space and some idea of what type of reports to run; otherwise, you'll just get buried by too much minutia.
The JCK Las Vegas show introduced how big data could be used for the jewelry industry with the "How the game is changing: Big Data in Retail" seminar on May 28, 2015.
The seminar was moderated by Mike Lees, CMO of WealthEngine.
Here are my notes from the seminar: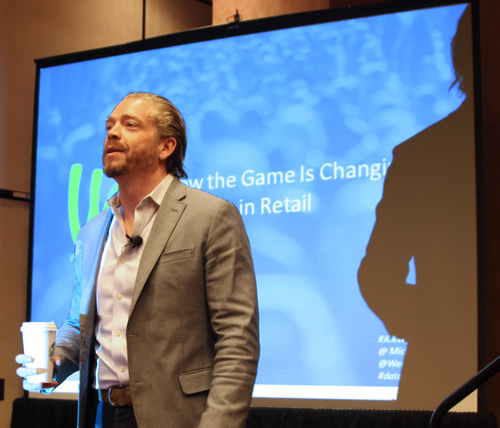 Mike Lees, CMO of WealthEngine
Mike explained that because Big Data is the latest internet buzz word, there's a lot of hype around it. Everyone is talking about it, no one knows how to do it, and everyone assumes everyone else is doing it, yet no one really is.
Big Data is not just more data, it's a lot of information that you can use to develop insights about customers. When you have a statistically large set of data you can develop better analysis, which leads to better insights, which leads to better decisions.
Even though the goal is to collect massive amounts of data about people, the goal is not the data collection; the goal is to be able to process all that information into something usable to benefit your business and marketing decisions.
Everyone should consider themselves a marketer, even retailers. Marketing in the past relied on a funnel approach that was about large numbers and the law of probabilities. This is what it looked like: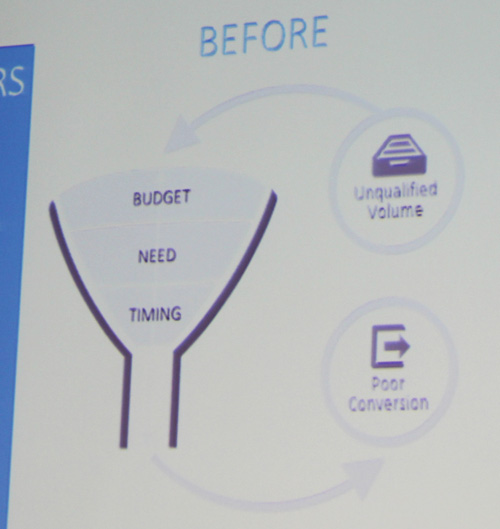 The more people to see your message the more likely that you would have buyers. You would hope that 3% of the people who see your message would buy from you so you put as many people in at the top as possible to increase the size of that 3%.
The funnel approach doesn't work anymore because it's really expensive. You need to fill the funnel with better qualified prospects using big data, and if you don't do it, your competitors will.
Technology allows us to find better prospects to add them to the funnel. HubSpot gives you the tools to better understand your customers, and WealthEngine can give you the lists of highly targeted customers to put into the funnel.
Micro-segmentation is now available through technology that allows you to target people based on extremely fine qualifications like over the age of 50 making more than $100,000 per year, who like cats. Big data allows that type of sorting and customer targeting.
Engagement analytics is the process of monitoring how people interact with your website and better target them.
The benefit of WealthEngine is that they can tell you about your customer profile better than you ever could. They know what types of product people buy, their political parties, what cars they drive, and where they live. You could never collect this information on your own. With this data you can build marketing campaigns to reach only the people you are interested in selling to.
Big data also allows you to figure out how to turn a one time buyer into a repeat buyer. You can look at patterns from previous buyers and build a marketing and customer experience process that would lead other people through the same buying process.
The problem today is that retailers do not have a lot of data, so what you have needs to be supplemented by the data WealthEngine has.
From the Panelists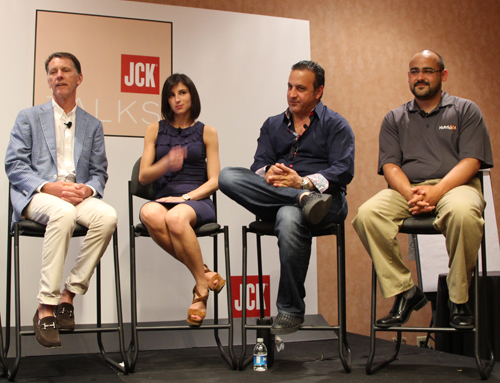 Left to Right:
Tony Glowacki, CEO of WealthEngine
Monica Ermacora, CRM Manager of Buccellati Americas
Ara Darakjian, President of Darakjian Jewelers
Sam Mallikarjunan, Head of Growth of HubSpot Labs
Ara Darakjian
Darakjian Jewelers is a 50 year old jewelry store in Birmingham, Michigan, which is the wealthiest area of Michigan. We represent brand with price ranges from $500 up to $250,000. We have 24 competitors within 2 miles of us.
The challenge we face is how to engage with the clients we have in order to keep them, and get new clients. The only thing that we know works right now is doing some form of digital marketing because traditional marketing doesn't work.
We realized that traditional marketing is a waste of money. Print companies tell you they have thousands of readers but when you think about your target age group you quickly realize that your potential customer is not reading print any more; they are getting their information online.
A lot of money is wasted on traditional marketing with no way of knowing what works and what doesn't; but when you spend money on digital you are able to see where you waste money and where you didn't. It's that simple, it's black and white.
We took our entire marketing budget and put it into digital using WealthEngine and HubSpot to deploy micro-segmentation to small groups of people who are interested in the services we provide.
Sam Mallikarjunan
HubSpot is an online sales and marketing platform that focuses around inbound marketing. We help create an awesome experience that attracts people to your website and converts them into leads; then we convert those leads into customers; then we convert those customers into reoccurring customers.
HubSpot helps develop your blog, improve your search engine optimization, and pay per click. We help get people into your funnel and get them the right message at the right time.
We believe that "one size fits none," and we don't give everyone the exact same message because that's what everyone else is doing. Spamming your entire list 3 times a week is not email marketing.
Our approach is to focus on a specific marketing channel, with specific people within that channel, who have specific interests, who close at a specific rate, and have a specific lifetime value.
By understanding how that model works you have more sales leverage than any competitor in your area. That's the power behind how you use data and what HubSpot does for you.
Monica Ermacora
Buccellati is a 100 year old jewelry company from Italy. We offer high end jewelry that's mostly one of a kind pieces. We have 5 of our own store locations around the world and work with about 20 retailers in the U.S.
Our challenge was to grow our business and get more clients to walk into our stores. We are investing a lot to redesign our retail stores with our flagship store in New York City, and we want to get more traffic. Although we want more people in our store, we also only want the right clients, not just traffic from people who will waste the time of our salespeople.
We also have a challenge to lower the average age of our clients. We have loyal clients who shopped with us for 40 years, but they are not shopping for jewelry anymore.
We are using targeted communications to specific people. We've been working with WealthEngine very closely to understand who our clients are. Once you understand who your client is, you can build the right type of marketing.
We're not for everyone, and we're not supposed to be. Understanding data and our clients helps us save the time and marketing money we would waste if we tried to speak to everyone.
Tony Glowacki
WealthEngine has been around a while and began in the non-profit marketplace to understand what owners would be interested in supporting different non-profits. We worked to establish a method of one-to-one marketing.
The idea of one-to-one marketing is simply understanding who you are and who your clients are. You can use that information to make decisions on how to market to people.
We have a broad based business to consumer automated environment where you use big data to have a one-to-one marketing and conversations.
If you don't find out about your customer before they walk in the door, you will miss out on the next phase in marketing evolution.
Closing Thoughts
Because Mike Lees and Tony Glowacki were both from WealthEngine I found their discussion to be limited to how retail jewelers could use big data by purchasing a highly detailed customer list. Normally I do not advocate buying customer lists, but WealthEngine seems to have a very large set of consumer information (um... big data) from which they can carve out highly targeted customer lists.
To me, whenever you are purchasing a list you are just taking a short cut to acquiring customers. No matter how specialized your list is you will always have dead customer records that you pay for.
When it comes to big data I prefer to carefully monitor the users on a website and build my own set of customer information. When you track your own website visitors you are about to build a list of people that you own, rather than paying for a limited use customer list from another company.
Information ownership and list ownership is what you need to improve your marketing. You should never let someone else own your target customer list, but all too often the retail jeweler takes too many short cuts and is willing to pay an agency to do the work for them instead of doing it themselves.
HubSpot is one of the market leaders in how they develop content for you, but they are not specialists in the jewelry industry. Their service does come at a legitimate premium for what they offer.
Although the conversation about Big Data is important right now, capturing it and making it useful right now might be financially out of reach for more independent retailers. Chain stores and retailers in affluent areas, like Darakjian Jewelers, should be looking at and investing in big data systems. The rest of the industry will have to struggle a little while longer until an affordable solution comes around.