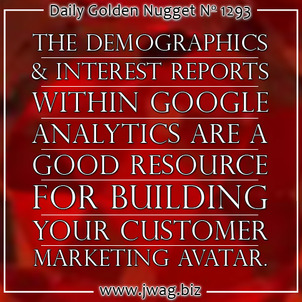 Facebook is becoming well known for their ability to provide to the surface, very detailed demographic and the personal interest data about your customers. They've been able to give more details than the data Google has provided for several years. In light of Facebook's advancements, Google has improved their own demographic and interest data and made it available through Google Analytics and AdWords.
Before you can access to the demographic data from Google, you need to agree to their terms and activate the collection of this data. Here's an infographic showing the steps to do this:

(click to view larger)
Available Data
Once the demographic data is activated in your account, you'll be able to see Age, Gender, Affinity Categories, In-Market Segments, and Other Categories information.
Here's the description of each:
Age
is broken into the six categories of 18-24, 25-34, 35-44, 45-54, 55-64, and 65+.
Gender
identifies users as either male or female.
Affinity Categories
are the lifestyle classifications, like Technophiles for the people who are early technology adopters, Cooking Enthusiasts for people who like to cook, or Foodies for people who like to try different foods, etc. These categories are defined to be similar to TV audiences.
In-Market Segments
identifies people according to the types of products they purchase. This could be purchases made on other websites or other ways that Google has identified purchase patters and behavior.
Other Categories
provides the most specific, focused view of your users. For example, while Affinity Categories includes the category Foodies, Other Categories includes the category Recipes/Cuisines/East Asian.
This information can help you understand who your customer is and what they are interested in. In the internet marketing industry we often use this information to build a customer profile, also known as a customer persona or an avatar.
Knowing the typical persona of your customers helps you write copy and choose appropriate visuals and photography for your marketing campaigns. It also helps you identify where you can place ads that your potential customers will see. Keep in mind that those ads don't always have to be online.
Viewing Reports
As time goes on, you will be able to see more and more information about your customer persona in the Google Analytics Audience reports.
Although the demographic age and gender information might be interesting, you will probably be more interested in the Interest reports. Here's an example of the Interests Overview report: