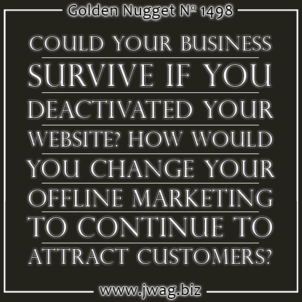 Every week, usually on Friday, I write a website review. This week, I'm publishing my review a couple days early because I have something special planned for Friday. The goal of my website reviews is to dissect the online efforts for a random local retail jeweler. I don't bother reviewing the websites for chain stores because I want to illustrate how a local jeweler can improve a similar site like their own.
I find my website candidates by searching Google using the Chrome browser set to incognito mode. Incognito mode is good to use when you want to hide your identity from Google so your search results are not influenced by your past search history.
This week, I searched for "jewelry stores in marshalltown ia." My goal is to find a retail jeweler that has a less than perfect online identity, and make suggestions on improving it. Usually I have to dig into the bottom of the first page or onto the second page of Google's search results to find poorly ranked website, but this time the jewelry store in need of help was right there at the top of the list you see here: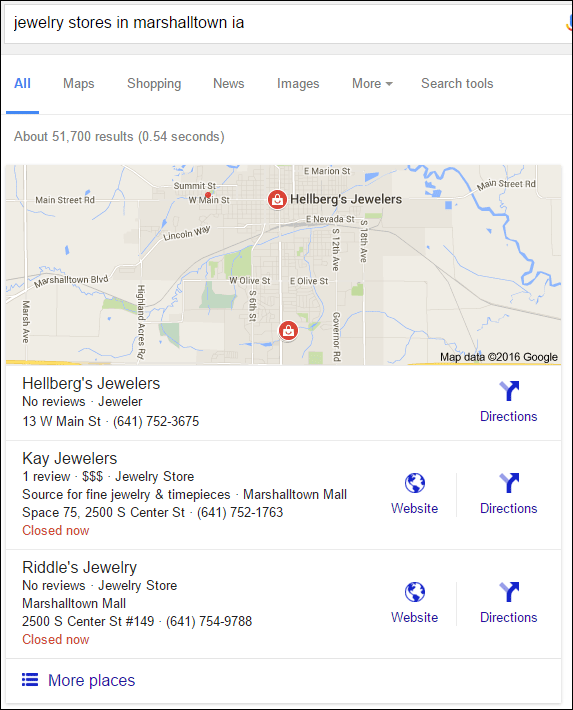 Without any website to speak of, Hellberg's Jewelers is at the top of the local ranking. I really have to say that it looks like Google really is favoring local businesses over chain stores in this situation. According to Google's
help page on local ranking
the stores listed in that 3-pack card you see above are organized by "Relevance, Distance, and Prominence." As I work through this review today you should see how poor the Hellberg's Jewelers online identity is. The only reason I can see as to why they are listed in the results is because Google had not other options. They are a perfect candidate for today's review.
Their Jewel Connect Website
I did find a website a little further down in the SERPs as shown here:

This is their Jewel Connect site. I've already
written a bit about the Jewel Connect service
and how it's offered to the RJO members. This site looks identical for all jewelry stores with little to separate them from one another.
I've compiled the Jewel Connect screen shots from the previous 3 times it surfaced in my reviews and included a screen shot for Hellberg's in the bottom right: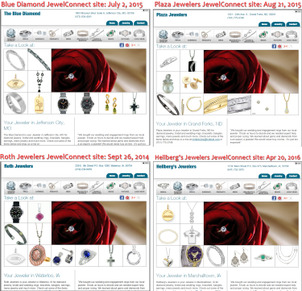 (click to enlarge)
For an in-depth explanation of how similar these sites are, you really need to read
this
previous Golden Nugget.
A Jewel Connect website is not a replacement for your website. These sites never rank very well, but at least they do add an extra entry in the SERP for your store.
Their Defunct Website
I was surprised to find an email address for vic@hellberg.com listed on their JewelConnect site and in the About box on their Facebook page. It looks like they have a domain name, hellberg.com, but their website is under construction as you can see here: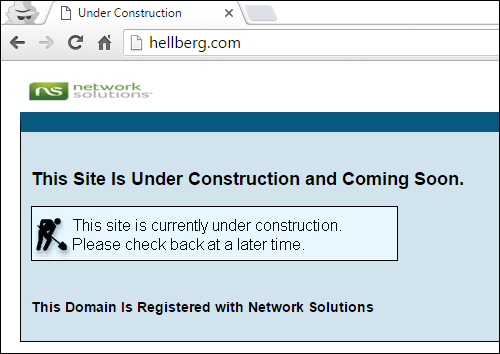 Digging a little deeper, I discovered that Hellberg's Jewelers originally registered their domain name back on February 21, 1997, nearly 20 years ago, but they never really did anything with it. They set up a small website in 1997 and then shut it down in 2009. Here's a screen grab of what the site looked like when it was shut down in 2009: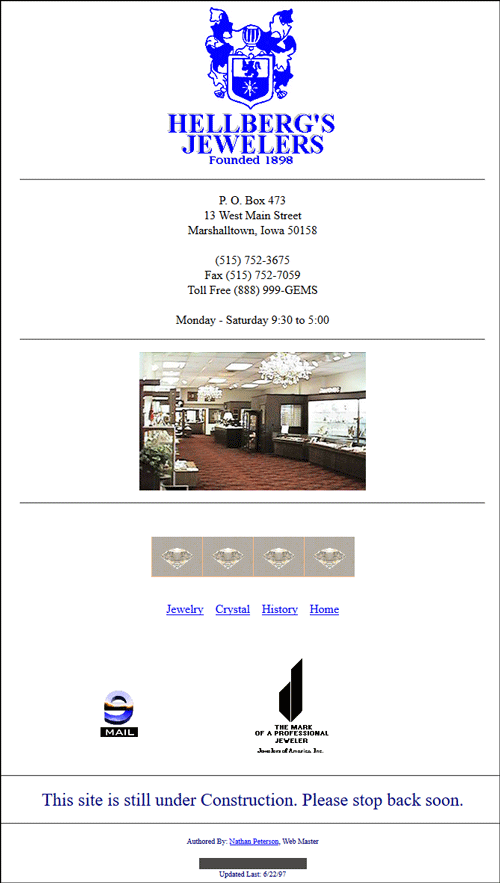 The fine print at the bottom of that screen shot says the site was last updated on June 22, 1997, look:

I also want to point out the amusing blast from the past on that site, specifically the spinning "e" that I captured here:

They need to get back to basics with their website. Start over and start small to get themselves online again.
Facebook
This appears to be their main online identity but they don't update it often. As of this writing, their last update was February 10, 2016, that was more than 2 months ago. Here's that post: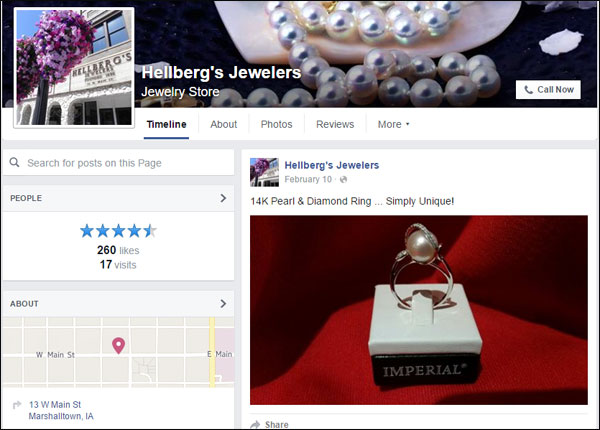 As I looked over their Facebook post for the last few months, I can't help but notice that they only post when they are trying to push sales. They posted 9 times between January 21st and February 10th to promote Valentine's Day. They posted 13 times between November 25, 2015 and December 24th to promote holiday sales.
Social media networks are supposed to be used for social activities, not just posting to generate sales. To understand the difference between selling on social and making connections,
click here
.
Offline Marketing
Even though they don't post to Facebook a lot, I did find several times since 2014 when they posted photos about local community events. Even though their online activity is very limited, it looks like they are investing a lot into offline events, ads, and promotions.
I also see that they are using the service from Jewelry Ads That Work. I found these 4 ads on their Facebook page, but I'm betting that they are also used in print ads and billboards around town: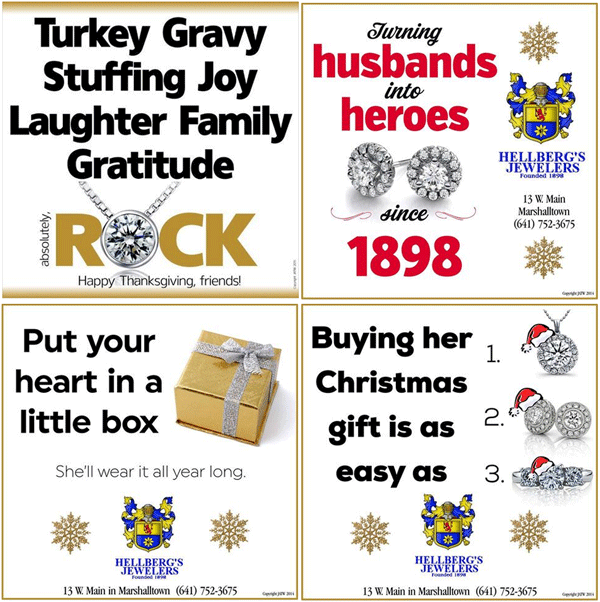 Despite their lack of online identity, this jeweler is still open for business, so they must be promoting themselves through traditional marketing. It seems like they might be a good case study for what marketing they are using considering so many retail jewelers I meet at trade shows complain that offline ads don't work any more.
Other Online Properties
I thought I might be missing something so I searched for "Hellberg's Jewelers Marshalltown, IA" to see what else Google knew about them. Here's the screen shot of the results: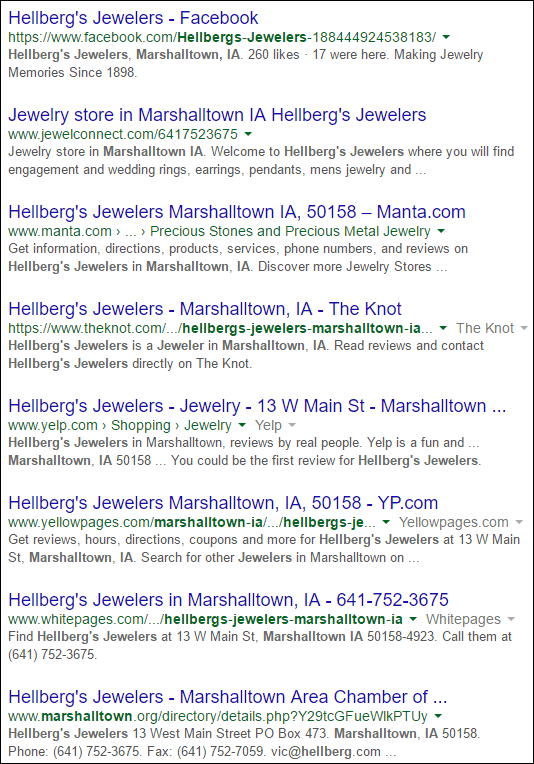 Their online identity consists of Facebook, Jewel Connect, Manta, The Knot, Yelp, YP, WP, and an online directory for their town.
For a brief moment, I thought their Knot account might have more details, but as you can see here that's also a big blank: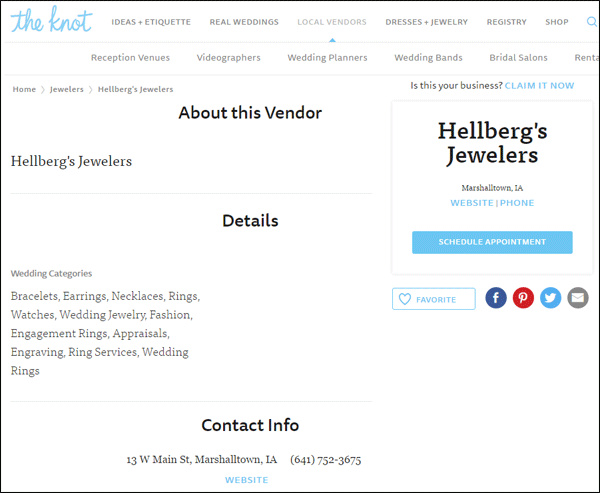 Their business is also listed on Yelp, but they have not claimed the account nor has anyone left a review as you can see here: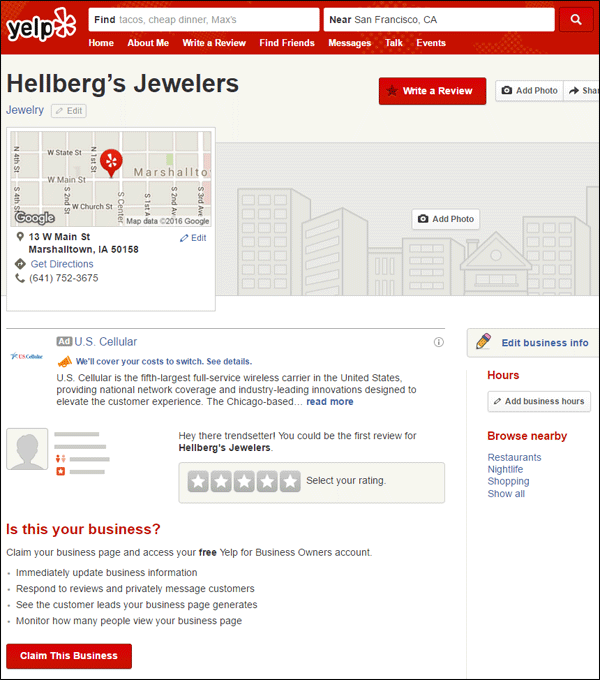 Usually when I find businesses this devoid of online information, I instinctively believe that they are brand new. This store has been around since 1898 and has managed to leave the smallest footprint I've ever seen for a business.
Unclaimed Google My Business
At this point, it's no surprise that even their Google My Business account is unclaimed. I can tell it's unclaimed because their Google Maps listing asks the question "Own this business?" as you can see here: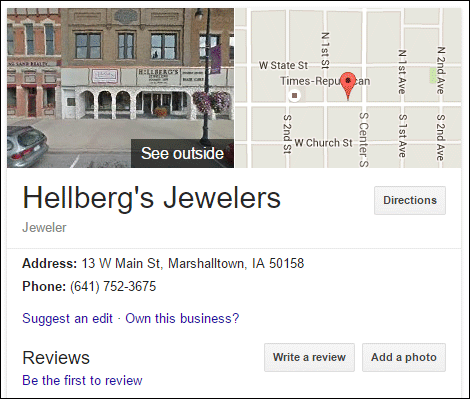 Google is trying to improve the search results for all local businesses with their Get On The Maps program. They've recruited Google City Partners to help with that initiative, and I'm one of them. I recorded a webinar that explains how to claim your jewelry store business and how to make the first few edits to your account. The recorded webinar is available
here
. Hellberg's Jewelers should watch that video, and you should too if you haven't yet claimed your own My Business account.
Conclusions
In the internet world we now live in, the younger generation looks online to find what they need before asking friends or relatives. When it comes time for the younger generation to make their first jewelry purchase they will fear what they don't know, and can't investigate online.
It's easy for someone in Marshalltown, IA to discover the local Kay Jewelers and Riddle's Jewelry in the Marshalltown Mall; both of those chain stores have good websites too. Hellberg's Jewelers is the only independent jeweler that I could find in that area of Iowa where someone could go to find something different than what's carried by the chain stores. The next closest independent jewelers are Bill's Jewelry Shop in Grinnell, IA (32 miles away) and Ames Silversmithing in Ames, IA (38 miles away).
I suspect that Hellberg's is doing a lot of offline marketing, but I can see that without spending a few days in Marshalltown myself to investigate them. It seems like Hellberg's is letting a lot of young business slip away from them because they don't have their own website. The Jewel Connect site isn't optimized for them, nor does it fully portray who they are.
Overall, this jeweler needs a lot of help with their entire digital presence, from their Google Maps, to their social media, to their website. Their Facebook page touts themselves as a family owned local jeweler built on integrity since 1898. Four generations later... I fear this store won't be able to
pass the business to the fifth generation unless they learn how to use the internet
.
FTC Notice: I randomly choose this website and won't be telling the retailer jeweler that I'm giving them these flop fix ideas. Unless someone else tells them, they will only find out about this Nugget if they use Google Alerts or examine their Google Analytics and Google Search Console. I wrote this review as an educational exercise for everyone. This website review is completely impartial and all my comments are based on previous experience in my website design and marketing agency, and from my personal research data.