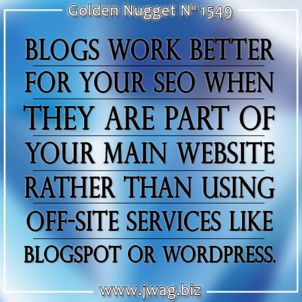 In this week's website review, I'll show you an example of how Google reads words on your website and how you can see those words for yourself. I'll also show you why you should host your blog within your own website instead of using an outside service, I'll even show you screen shots of how Google views a website when the blog is hosted outside.
It all starts with a Google search for "jewelers flagstaff az." According to these results, there are not many jewelers n Flagstaff: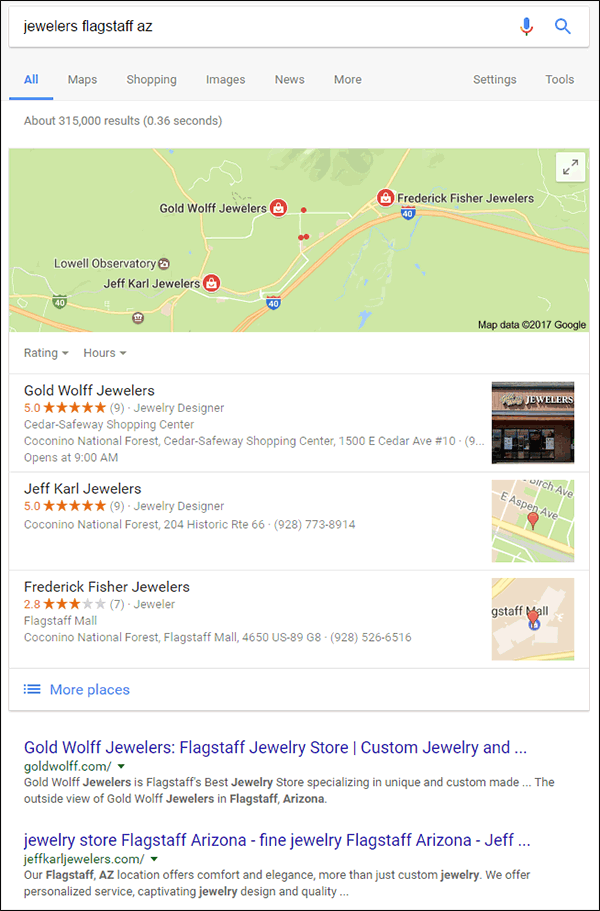 The Local Pack shows three jewelers with their current rating, address, phone number, business category, and a photo. This new layout does not include a direct link for directions or the website, which I
wrote about
last week. With this layout, the user is forced to either click further into the Google listing or simply scroll down to view the organic results.
With few options in Flagstaff, the organic results shown below the local pack were exactly the same. I'm choosing the first store in the organic list, Gold Wolff Jewelers.
First Impressions
This is what the
http://goldwolff.com/
website looked like when I first visited: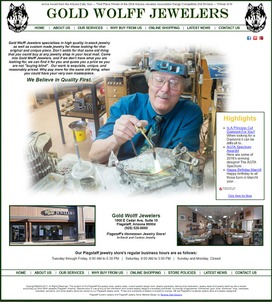 (click to enlarge)
The design of their website has a real hometown feel to it, and yes, it looks a little old. Right away, I noticed the copyright at the bottom said 2003-2017 and I wondered if this has been the same design since 2003. I was really surprised when I took a quick visit to
http://web.archive.org/web/*/http://goldwolff.com
because this wasn't an old design at all, in fact, they seem to update the look of their website about every 18 months. They choose to keep the family look of the site with personal photos on the home page.
The copyright is also wrong; it should say 1999, not 2003. They should be very proud that they've had a website that long and have maintained it consistently since they launched it.
I was also surprised to read the copyright clause they have in their footer. I wasn't surprised to see the clause, but rather, in how they wrote it. They cleverly used keywords in the clause which allowed them to cover their legal concerns while also hitting some good SEO targets.
"The content of this Flagstaff fine jewelry store, jewelry sales, custom jewelry design work, jewelry appraisals, sterling silver restoration, jewelry repair and jewelry cleaning site is owned exclusively by Gold Wolff Jewelers (Flagstaff, Arizona). Reproduction or use of any of the information and custom jewelry designs is expressly prohibited. All pictures of gemstones, birthstones, gold, silver, diamonds, rings, necklaces, bracelets, pendants, and other jewelry items are owned by our Flagstaff Jewelry store. Prices and availability of jewelry is subject to change. "
Most SEO professionals do not load web page footers with a list of keywords for fear that they will be penalized by Google's Panda filter, but it's pretty hard to claim this phrasing as keyword stuffing when it also has legal implications.
I like it!
The website you see in the screen shot above is not mobile friendly at all. A quick look on my smartphone gave me another happy surprise, a fully mobile version of their site with mobile friendly images. The implementation they use, with a mobile specific website (not mobile responsive) is my preferred method, and it's how my company also creates mobile sites. This is what it looked like:

(click to enlarge)
Again, I like it!
Google SERP
I have to point out another interesting SEO practice that Wolff is using, and that I notice right away in their Google SERP, shown here:

This snippet shown in the SERP doesn't seem to appear anywhere in on the home page:
"Gold Wolff Jewelers is Flagstaff's Best Jewelry Store specializing in unique and custom made ... The outside view of Gold Wolff Jewelers in Flagstaff, Arizona."
I could search through the source code of the page to reveal where Google found these words, or I could use an easier method of looking at the Google chached page. Take another look at the SERP and the small green down arrow next to the green URL for the page. Clicking it reveals the word "Cached" as shown here: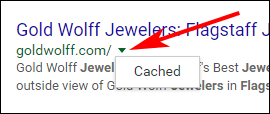 Clicking that brings you to the version of the page that Google read when they last visited. Usually the cached version of the page looks the same as the regular website, except that there's a thick gray bar at the top with detail of Google's last visit. This is what it looked like today: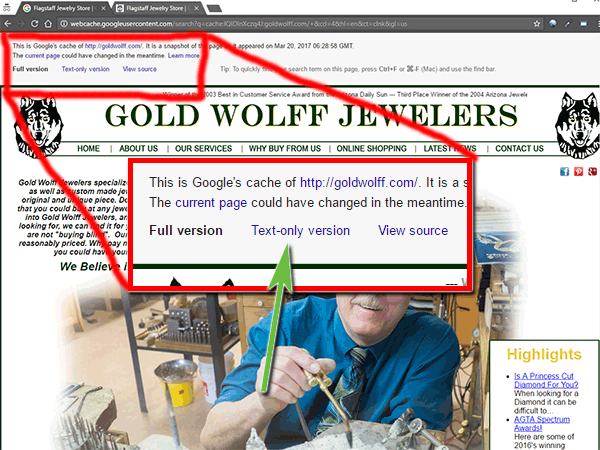 Although the page looks the same, what I need to investigate is the text that Google see. For that, I have to click the link for the "Text-only version."
Although Google is getting smarter every day, it really is just a big database of words. The only way Google can match your website with the words people search is if you have lots of words on your site. That's why it's still good to have an active blog right on your site.
Right now, I'm trying to figure out where Google found those words shown in the SERP. The text-only version of the site is a jumbled mess of words, but it should give me a good hint. Here's a screen shot: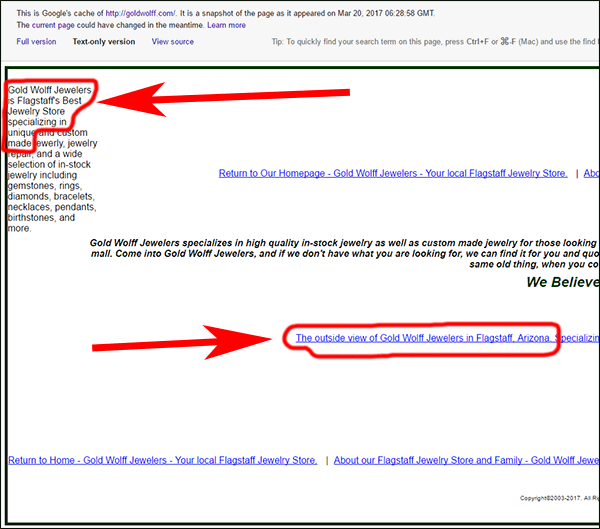 I've circled the words Google used in the SERP, but again, those words are not visible on the home page. At first you might think this is a bad Black Hat SEO technique, but in reality they are using a very legitimate, and seldom used, SEO technique that has a lot of value. Those words are part of the background text within the ALT property of their images.
Here's another screen shot of the home page showing where you would find this ALT property information: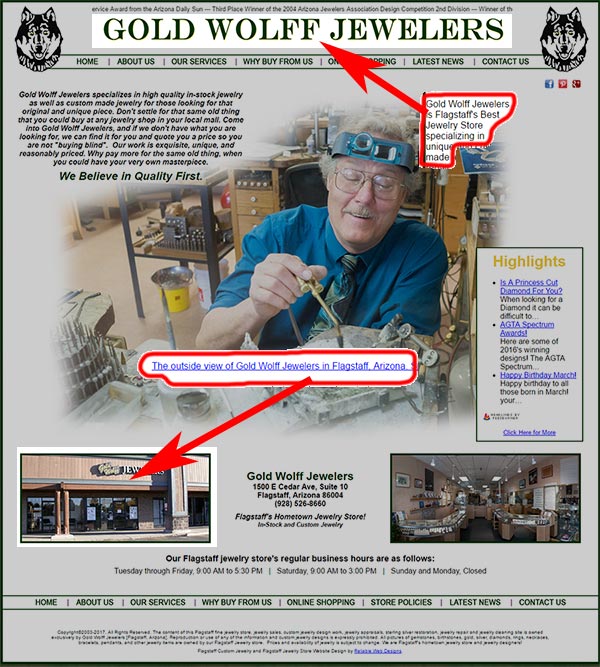 Google could have chosen to use the meta description that Wolff has embedded in the HTML code, but they chose this text instead. While the meta description is not used for ranking purposes, the ALT property text is, which is why you should always use it throughout your website to help describe your images while also giving Google more words to use for classifying your website.
Need More Words? Add Some Blogs.
Speaking of adding more words to your website, blogging is certainly an easy way to do that. The information you publish to your blog can be used for almost any purpose, as long as it is related to your business. You can publish product reviews, stories from recent events, birthstone information, and any story that you might think someone is interested in.
The blog should be published directly on your website, in a subdirectory. All of the information Google finds in a subdirectory of your website is considered part of your website, and therefore helps Google understand who you are.
This is what a sub directory blog would look like:
http://goldwolff.com/blog
The other popular blogging method is to have your blog hosted by another service, like WordPress or Blogspot. In this scenario, the URL of the blog is not part of your website, in fact, Google views it as a completely different website. This is usually referred to as an off-site blog.
Here are two examples of an off-site blog:
http://goldwolff.blogspot.com (if using Blogspot)
http://blog.goldwolff.com (if using WordPress)
Even though the second example is using the same goldwolff.com domain, the preceding "blog." tells Google that it is a completely different website. Both of these websites would rank well for the keywords they target, but overall, they would not help a website in a highly competitive area.
Gold Wolff Jewelers is using Blogspot for their blog. Even though you can get to it directly with the http://goldwolff.blogspot.com address you can also see it on their website at:
http://goldwolff.com/subjects/latest-news.htm
They are using script embed features to make the blog magically appear within their website. In this screen shot, I've drawn red boxes around the embedded scripts: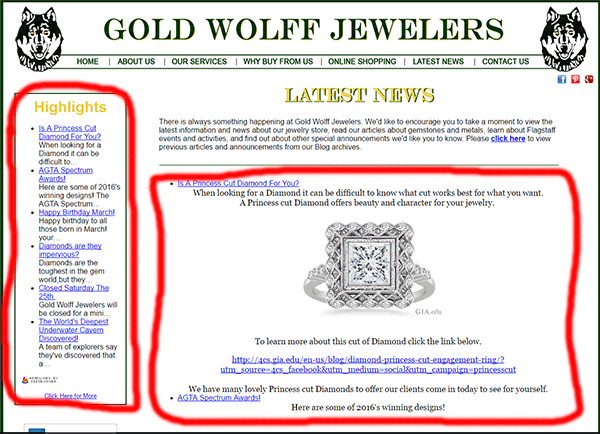 From the user's point of view, this looks like a real page with real words on it, which is fine for us humans, but Google sees something completely different.
I went back to Google search and looked for the Latest News page for the Wolff website. I eventually found it and clicked that same small green down arrow, shown here:

From there, I viewed the Google cached page and once again clicked on the link to view the text-only version of the blog page. The following screen shot is what it looked like; take notice that I've drawn red boxes around the location of the embedded scripts.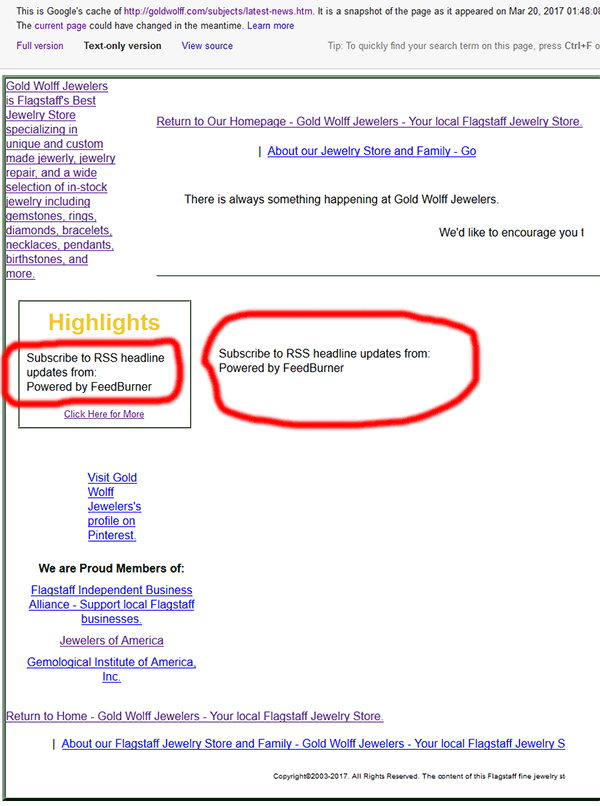 What this screen shot shows you is that Google doesn't see the blog that Wolff has over at Blogspot; they only see the invitation to subscribe via RSS. This is exactly how Google sees all off-site blogs that you embed into your site.
Conclusions
My hope for today was to illustrate how to view the Google search cache for any web page and help you understand how different hidden text in your HTML code can benefit your search engine optimization.
Additionally, I hope my explanation of off-site blogs helps you understand that it's more valuable to have a blog directly within your website than it is to use a 3rd party service that won't help your ranking at all.
That's it for this week; I'll see you next time...
FTC Notice: I randomly choose this website and won't be telling the retailer jeweler that I'm giving them these flop fix ideas. Unless someone else tells them, they will only find out about this Nugget if they use Google Alerts or examine their Google Analytics and Google Search Console. I'm not doing this to solicit business from them, but rather as an educational exercise for everyone. This #FridayFlopFix is completely impartial and all my comments are based on previous experience in my website design and marketing agency, and from my personal research data.