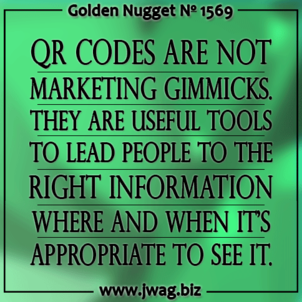 The digital screen on my bathroom scale has been on the fritz more and more every day, and I finally decided to do something about it today. I've owned different wearable devices over the past 7 years to monitor my health and daily activity, but I didn't yet have a smart bathroom scale to monitor my BMI or other health factors. Today was the day I would finally get one.
I contemplated buying one off Amazon.com but decided that I'd rather compare models side by side at my local Bed Bath & Beyond store instead. According to the bedbathandbeyond.com website my local store has several smart scales to choose from. I had already spent about 30 minutes evaluating the different scales on the Bed Bath & Beyond mobile website and thought it would be a quick comparison and selection in the store, but it wasn't.
I was quite disappointed with the bath section of Bed Bath & Beyond. It was disorganized and most of the bathroom scales didn't even have price tags on them, not even on the shelves. From the website, I knew there were 3 categories of scales in the $30 range, $60 range, and then the $100 range, but there was no real way to tell them apart in the store without price tags.
I knew I wanted a scale in the $60 range, but I had to use my smartphone and the m.bedbathandbeyond.com website to identify which 3 scales were $60. I wasted 30 minutes cross referencing their mobile website for pricing and model comparison. I also found the mobile website to be incredibly slow and confusing to use. Ultimately, I chose the scale shown in this screen shot because of the features and the online reviews: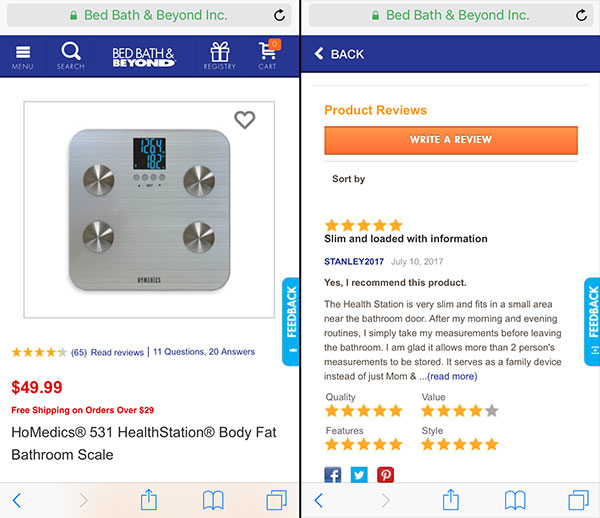 I felt annoyed as I walked out of Bed Bath & Beyond because I expected the trip to be no more than 15 minutes and I spent 45 minutes in the store due to the disorganization in that department. Upon reflection, I remembered how easy Best Buy makes it for their in-store shopping experience to connect with online reviews through QR codes, and then it hit me...
A Quick QR Code History and Realities
The Apple iOS 11 is currently in beta testing with several new features that will help make life a little easier, one of which is the built in ability to scan and open QR codes.
QR codes were all the rage 7 years ago in the U.S. because marketing guys thought it would be the next big thing. I was so impressed with the potential usage of QR codes, they inspired me to start writing this Golden Nugget newsletter. My first Nugget was about Google Maps and my
second nugget introduced QR codes
on July 27, 2010.
To date I've written 49 Nuggets (this one makes 50) about QR codes since 2010. A lot of the technology stuff I've written over the last 7 years is out of date, but I'm surprised that my original QR code advertising ideas are still viable, even more so today than 7 years ago. I had written about
basic QR code advertising ideas
, followed by
advanced QR code advertising ideas
, and even
QR code advertising ideas for touristy areas
.
By the time QR codes were just gaining popularity in the United States, they had already become a mainstay in technology in Asia and in Europe for more than 10 years. Businesses on those continents had already gone beyond the marketing hype phase and realized that QR codes were helpful tools to lead people to appropriate information when and where appropriate.
That's the key to making QR codes work: you have to place them wherever people will need more information and you have to use them to direct people to that exact information. Most marketers didn't understand that concept because in order for QR codes to work correctly they need to be associated with mobile websites, after all QR code technology is a mobile technology.
While attaching a QR code to a mobile website might seem obvious today, back in 2010-2012 most websites were not mobile friendly and the scanned codes would simply lead people to the home page of a website instead of the correct page with more information that was needed right then and there.
QR codes were quickly viewed as a marketing failure because customers using them felt they were a waste of time while businesses didn't see any ROI from the effort. They fell out of favor by 2013 as most people didn't see the point behind them.
Another factor working against QR codes was that Android phones and iPhones required people to install an extra app in order to scan and use the codes; but all that's changing now with iOS 11.
Ease Of Scanning QR Codes Is Finally Here
It's surprising that it took 10 years for Apple to finally figure out that this was a friendly and very useful technology. Now that iPhones have the built-in ability, I have to expect the Android will have it in the near future as well.
Within iOS 11, the iPhone will automatically recognize and interpret any QR code it sees within the focused area of a photograph taken with the native camera app. It will then pop-up a window like you see in this photograph: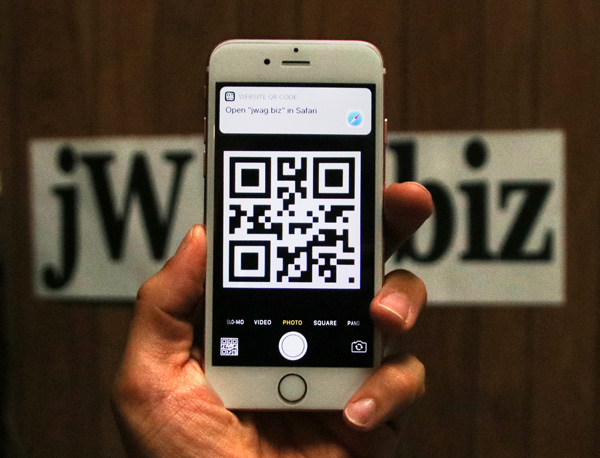 You can quickly tap that pop-up to jump over to Safari to open the web page. This is far more convenient than the QR code reader apps that are loaded with ads and substandard web browsers.
Best Buy Does QR Codes Best
Visit any Best Buy store and you'll find that all their displays have QR codes next to all the price tags like this one: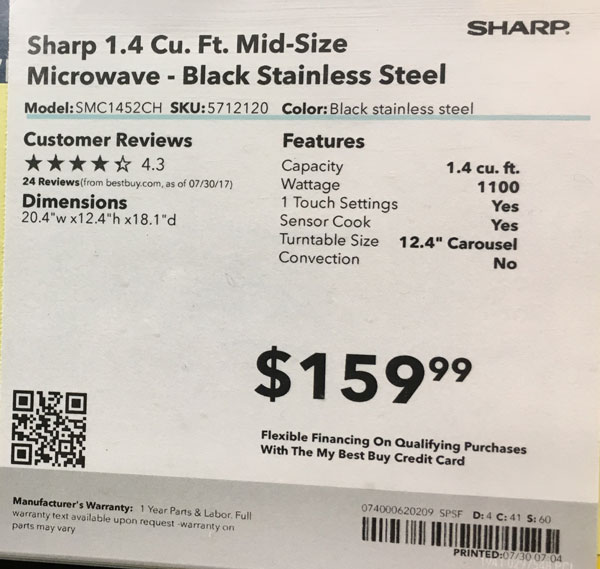 Scanning the QR code you see in the bottom left of that photo will bring you directly to the mobile page for this Sharp Microwave and give you quick access to the full product details; more importantly it shows you the overall 4.4 star rating and the 28 customer reviews like you see here: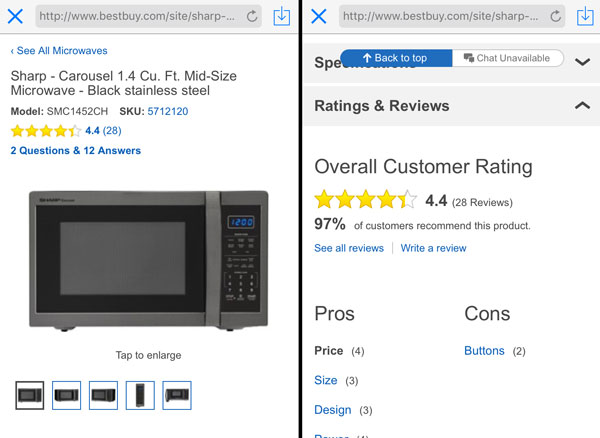 Although this system was tricky and expensive to engineer, the customer benefit is tremendous because it gives shoppers the exact information they need at the exact time they need it. I really needed a QR code lookup like this at Bed Bath & Beyond to help me make my purchase decision and save me from wasting time.
I'm using Best Buy as the example here because most of my readers probably live near a Best Buy and have seen these QR codes in use for at least 5 years now. They got this to work because of a seamless integration of their websites to their in-store inventory management software and their point of sale systems. Very few stores have that level of seamless integration, but the few I've seen have also implemented similar convenient QR code techniques like what we see in Best Buy.
A quick sales pitch for myself: the website software that my own company sells has ecommerce features, customer product reviews, mobile websites, QR codes, and in-store POS features completely integrated together. It's designed and priced for small businesses while providing the stability of enterprise level solutions. Give me a call if you're interested in implementing that power in your retail store.
The QR Code Reissuance
It's time to throw all the QR code marketing hyperbole out the window and pay attention to the reason that this technology was invented in the first place. Q.R. stands for "quick response" which refers to time savings you gain by scanning a code instead of typing on a small smartphone keyboard.
QR codes should be attached to anything any time you want someone to have faster information access. Museums can attach QR codes to their exhibits; retail stores can implement systems similar to BestBuy; pop up shops can use them to help passersby to grab faster information when they don't have the time to stop.
Of all the QR code implementations I've seen since 2010, my favorites were a public park that had QR codes next to different trees which brought you to mobile pages explaining the origins of each tree; and a public parking lot that had QR codes bringing you to a mobile map that showed arrow directions to a the electronic parking meter arrows in the other direction leading to the public restrooms.
With scanning built into the phones and mobile websites being almost ubiquitous, QR codes are poised to finally ready to be used in the U.S. as convenient tools to enhance everyday life and further bridge the gap between the physical world and cyberspace.