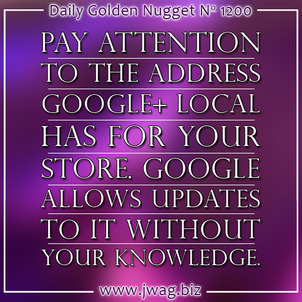 If you're jewelry store is located in a strip mall or a shopping mall, Google will probably be changing your address, if they haven't already.
In honor of my 1200th Daily Golden Nugget I'm bringing you some updated information about Google+ Local today. Way back 1200 post ago I began these Nuggets with a a post about Google Maps, since then I've carried the tradition or reviewing Google business related changes every 100th Nugget. So here we are again.
During the course of ...
VIEW FULL GOLD NUGGET