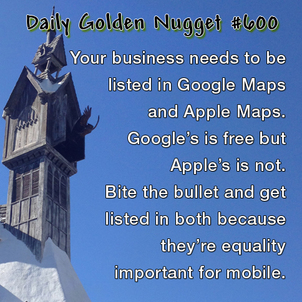 Who would have thought that the Daily Golden Nugget series would ever get this far? Today is Nugget Number 600! I have to warn you that this one is going to be a #longread compared to my usual.
My very first Nugget was about Google Maps and how it could drive customers directly to your store. Each multiple of 100 since then has also been about Google Maps, Google Local, Google Places, and Google+ Local. But today it seems I must now include a new interloper... Apple Maps.
For starters, if you've not yet s...
VIEW FULL GOLD NUGGET