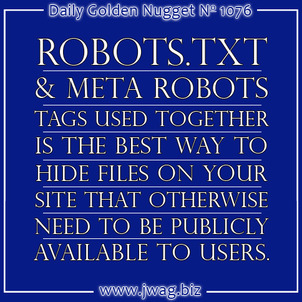 In this edition of the Daily Golden Nugget, I'm going to cover a topic that's security related. I'll split it into a non-technical discussion at the beginning and then the technical stuff at the end. Website owners can read the non techie stuff and forward the rest to their web programmer.
The topic is the robots.txt file and meta robots tags.
Basic Explanation ...
Every website must have a robots.txt file in order for Google and Bing to read your website. You shou...
VIEW FULL GOLD NUGGET