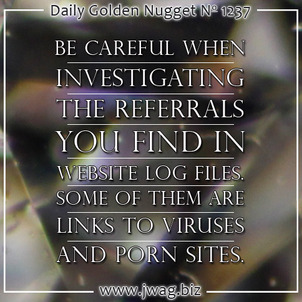 In yesterday's Nugget, I explained
web server log files
and how they could be used to read the IP address information for your website visitors.
In today's Daily Golden Nugget, I'm continuing the log file conversation with a more detailed look at referrals.
Here's the same example I showed you yesterday:
AT: 04/21/2015 09:07:06 AM
0 COMMENTS
Monday, October 20, 2014
by

Matthew Perosi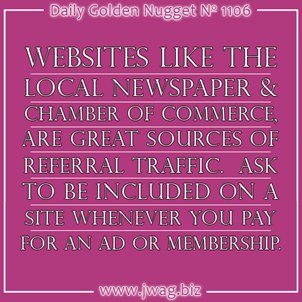 We're now in the last two weeks of October and a lot of holiday promotions are about to launch. You've probably already completed your own marketing and all the publication dates have been set. In this edition of the Daily Golden Nugget, I'll go over some last minute online marketing referral sources that you still have time to set up this week.
Your customers will find you through many online sources. Some of those sources will be your own paid marketing, while other people arrive through organic tra...
VIEW FULL GOLD NUGGET
AT: 10/20/2014 12:24:11 PM
0 COMMENTS
Wednesday, August 28, 2013
by Matthew Perosi
Every website I track has its own set of unique referral sources. Even so, there are a few referral websites that always appear in the list of common referral sources.
The last time I took a close look at the common referral website numbers was March 2012 and I'm including them here for your cross reference. This is my list of the most common referral websites to send visitor traffic to jewelry websites and the percentage of the referral traffic as a whole.
Yellowpages.com
August 2013: 34.44...
VIEW FULL GOLD NUGGET
AT: 08/28/2013 03:23:09 AM
0 COMMENTS
Monday, November 19, 2012
by Matthew Perosi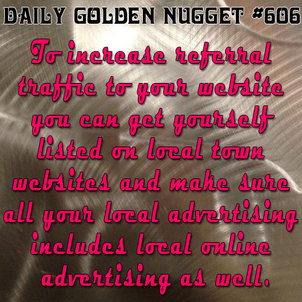 The data I reference for all my jWAG Daily Golden Nuggets spans back to 2003. That's when I started working exclusively with jewelry stores and when I started compiling information.
In 2010 I ramped up my data collecting efforts when the jwag.biz website was launched and that data is starting to produce some interesting historical information.
I decided to peek into the data to find the most popular ways that visitors arrived at a retail jewelry store website during the 2010 and 2011 holiday seasons, and compa...
VIEW FULL GOLD NUGGET
AT: 11/19/2012 12:31:56 AM
0 COMMENTS
RELATED TOPICS: