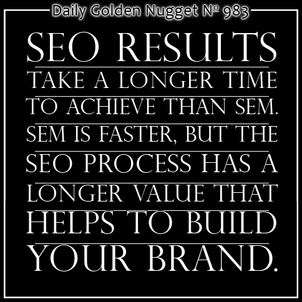 Everything you add to the Internet will either help or hurt you tomorrow. Every piece of content has a long shelf life.
Your marketing strategy today could be a onetime use, or it could add to the cumulative benefit you create to build your brand awareness.
Typical search engine marketing includes paid ads or paid strategies that only have a value while you're paying for them. That value goes away as soon as you stop paying for it.
This can clearly be seen in any large marketing company service, like Y...
VIEW FULL GOLD NUGGET