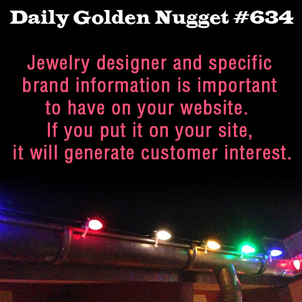 I'm still reviewing more online tracking data for the 2012 Holiday Season. Today I take a quick look at the popular pages that customers were most interested in during the 2012 Holiday Season.
As always, the most popular page on any website is the Home Page. Here's a list of the 9 pages from independent jewelry store websites in the order of their popularity for the Holiday 2012 Season:
1. Online Catalog
2. Store Hours
3. Contact Us
4. Designer Pages (for specific designers that customers searched for by name)
5. About Us
6. Special Offers, Sales, or Events
7. Directions
8. Specific Holiday Catalogs
9. Blogs
Your customers always want to browse your online catalog. For jewelers this is a must. So far, I have not seen any independent retail jeweler gain large numbers of visitors to their website. Catalogs are also the best way to keep people interested in browsing your website.
Retail jewelers with 1000 or more items on their website have much higher numbers of visitors, but what's even more important is that those same retailers report to me that those online catalogs do generate increased foot traffic.
I've read many statistics and surveys that show how customers are more interested in searching for brand names rather than generic phrases. Pandora jewelry once again topped the list of specific brand names that jewelry buyers were searching for, but many designers were popular during the season.
What I noticed was that customers search for, and visited every designer brand name that was mentioned in depth on any jewelry website. This seems to be a perfect example of the phrase "if you build it they will come."
The Blog page listed in #9 was not any specific blog page, but rather the overall popularity of blog pages in general. Your blog is the best place for you to soft sell your customers without them even realizing it. Add a blog to your website in 2013 and turn it into one of your main methods of marketing.