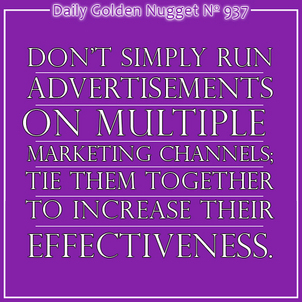 In a previous Daily Golden Nugget, I explained that you need to
avoid a single point of marketing failure
and I listed a few ways you could pair up your marketing methods. As I wrote that Nugget, I realized I needed to prepare this follow-up post to better explain how those pared marketing methods actually work together.
I've pulled those bullet points from that previous post and listed them below with more elaborate explanations for each.
Here's how it could work if you choose to pair these marketing methods together:
Pairing Facebook and Twitter
- Be social on Facebook but send out even more status updates on twitter. This is probably the most popular of current social media pairing methods. Facebook refers to your store page as a "Business Page" now, but they were originally called "Fan Pages." After a long time studying the most effective ways to use Facebook, I'm convinced that the "Fan" name is still more appropriate.
Social media is supposed to be social, and your adoring customers want to talk about you. They want to do that in a place where other fans will congregate rather than a place where you blast out your message and try to sell them more stuff.
Speaking of blasting, don't auto-tweet your Facebook posts to Twitter because that method is worthless. You have to tweet and then pay attention to people replying to you on Twitter. Feel free to tweet to your customers directly, and post your store updates every 8 hours.
Pairing Facebook and Pinterest
- Pin a few hundred images on a variety of wedding related topics to multiple boards on Pinterest, and use Facebook to occasionally mention those topics in addition to the normal stuff you post about. Pinterest works best when you have a few dozen different boards where you pin images.
A few dozen seems like a lot, but think of all the wedding related topics, like shoes, dresses, flowers, cakes, hair, reception halls, limos, DJs, party favors, balloon companies, wedding photographers, bands, and confetti companies. You could have a Pinterest board dedicated to each topic where you would pin images from other local businesses or online services that could service local weddings. Don't forget to throw in a handful of boards that show all the engagement ring styles you carry in your store!
Each of these Pinterest boards will attract organic visitors, and those other local businesses will love the free organic traffic you're sending them. You're not giving away all the value here because those same people who are looking at other local wedding vendors will also browse through your jewelry boards. From there, they will visit your website or your Facebook page.
Back over on your Facebook page you want to make regular posts, but also mention the other wedding vendors from time to time. Perhaps you could highlight a story about how one of your engagement ring customers also used a local limo company or photographer.
Pairing Facebook and Instagram
- Instagram is a good way to build engagement with new customers and continue to allow those customers to be involved with your brand for a long time after they make the purchase.
When used correctly, Instagram becomes a social network where you can show your followers what you are working on, and ask their opinion. You can also use it to invite previous customers to post photos of themselves wearing the jewelry they bought from you. You can ask them to show off how they paired the jewelry with their outfits. Facebook then becomes a good way to call attention to, and reward those customers who were willing to post their pictures. Rewards don't have to be monetary; a simple mention of their name publicly will make them feel like they have their own 15 minutes of fame.
Pairing direct mail with email
- This one is a little bit technical because you will need to have a database method of sorting your customers. A while back I wrote a Nugget explaining how
you should always segment your marketing list
based on what the customer likes, or what might match with what they previously purchased.
Think about the last time you sent out a direct mail piece. You might think direct mail is dead, but it's still a very strong marketing method if used correctly. Sadly, it is still common to bulk mail the same message out to your entire marketing list even though that method of marketing always has a lower return on your efforts. Personalized, on demand printing is cost effective and a better way to manage your direct mail, then follow up those direct mail pieces with an email.
The email would be have more detailed information about the offer, and it would only be sent to that same segmented part of your list. When using this method then you should try to time your email sending to the same day, or the day after the expected direct mail delivery date.
Pairing email with direct mail
- Okay I know this sounds like the same pairing as the one above, but it's not exactly. I make a point to be on as many email marketing lists as possible, and I pay attention to all the direct mail that is sent to me, including mail order catalogs.
A few of the more sophisticated mail order catalog companies have started to send me emails first, asking me which version of their catalog I would like to receive. A simple click in the email to choose my catalog and that version appears in my mail within a week.
Now, I know that very few jewelers are preparing their own lookbooks and paper catalogs, let alone multiple versions, but just think about the potential application for this email-first, direct-mail-second marketing method, and how you could use it.
You could tell people you are going to run 2 secret private sales and they should pick which sale they want to be included in. No need to waste postage on people who don't reply, and those who do reply will recognize the post card when they get it in the mail rather than rushing to throw out your post card.
I'm going to pause here and continue this topic tomorrow. In the meantime, you should think about these first 5 methods of paring your marketing methods together and how they would apply to your jewelry store if you actually tried to implement them.