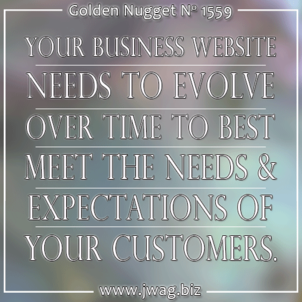 It's the hope of every business that they will build a website that helps make them a lot of money, but few websites ever achieve that goal. Turning a website into a money making machine won't happen overnight, and it won't magically happen without a lot of help from employees and the business owner.
Most small businesses don't know how to update their websites once they are launched; indeed, many will continually pay for website updates even though they can edit the website on their own. I see a lot of different large and small problems on websites all the time, but today I'd like to share 6 of the most frequent problems along with suggestions for fixing them on your own site.
Here's the quick list:
Poorly functioning mobile websites
Lacking website freshness
Lacking internal linking
Missing online catalogs
Lacking customer engagement
Misunderstanding the new SEO
Mobile Websites
In May 2015, Google reported that more than 50% of their search traffic was taking place through smartphones. A year later, in May 2016, Hitwise conducted an independent study and reported that mobile traffic had reached 60%. A peek into your own Google Analytics, and you'll likely find mobile usage to be at least 45% of your traffic.
You cannot dispute the smartphone usage, which is why a mobile website is mandatory now. Mobile websites make it easy for smartphone users to find information on your website, which is why the mobile site must have all the same information as your desktop site. If your website isn't easy to use on a smartphone, then talk to your web developer and implement a mobile strategy as soon as you can.
If your website is mobile friendly, you should try using it yourself to see if it's actually people-friendly. Many "responsive" website designs are not very friendly for tapping or touching. JavaScript features that control menus, fading effects, and animations will often times hiccup and render a website useless on mobile browsers.
Website Freshness
Many small business websites are set up and quickly forgotten about. There is such an abundance of forgotten websites that the term "website abandonment" was coined to describe this sad state.
Sometimes abandonment happens because the business owner just wanted something online to represent the business and sometimes it happens because the cost and maintenance of the website was greater than initially expected. It pains me when I hear that the website was more expensive than expected because, that tells me that they were not given true facts before they signed up for the website in the first place. A lot of website programmers, and even large DIY website companies, are guilty of hiding hidden charges.
I make and manage websites for a living. There's no way for a business owner to know what I know, and I don't expect them to understand why a website needs continual updates in order to stay relevant in search engines. It's my job to explain why it's needed. Unfortunately, business owners inexperienced with websites don't usually believe me when I tell them that their website is a never-ending project. Thankfully, I can turn to Google's own guidelines to prove my point.
Google Search Quality Guidelines (view them here
bit.ly/qual2017
) explain how important it is for your website to be updated often, especially updating of product information.
Updating your website doesn't simply mean changing a few words here and there; you actually need to add something new to your site on a regular basis. This "fresh" content usually refers to new blog posts and changes to your home page, but for retail stores it also refers to updating and adding of new products in your catalog on a regular basis.
I would like to see every business website updated often, but truthfully it's more important for a business to have a website than to stress about updating it. Business websites help establish online and in-person credibility, so get one launched first before worrying about the cost to keep it fresh; just remember that you eventually need to establish a regular update routine.
Internal Linking
Internal linking refers to how you link from page to another within your website. I'm not talking about your top menu, side navigation, or footer links, but rather, the way you include links from within the body of each page, e.g. the random links within your written paragraphs. This type of linking allows users to jump from page to page on your site in a way that makes sense during their reading.
These internal links are a better way of helping people discover information where and when it's important to discover it, rather than having them systematically click through every page of your navigation.
Although the primary purpose of internal linking is to help your readers, they also help search engines find information on your site. Search engines have a way of identifying and ignoring your top, side, and footer links because they are so repetitive on your website. Oftentimes, a search engines will find your fresh information when you link to it in your body content more than if you were to include it in your navigation menu.
To help search engines find new products on your website, you could write in-depth blog posts about them with internal links to the product catalog. It's faster for search engines to follow a single link from a new blog post to a product catalog than it would be for it to wade through thousands of products every month in search for the few new products you've added to your catalog.
Online Catalog
For retail stores there's nothing more important than having a product catalog on the website. It doesn't matter if you are a specialty pen store, an authorized watch brand dealer, a fine art gallery, or a pet food store, your customers want the power to browse your inventory before walking into your store.
Online catalogs make life easier for your customers, and smartphone users really want an easy life by browsing online catalogs of products before stepping foot in a store. Most of the time these customers will already have a selection in mind before ever stepping foot in your store.
Let me point out that having an online catalog does not mean you allow for e-commerce through online purchasing. If your focus is on local sales then all you need is a mobile-friendly version of your entire product catalog.
Browsing online catalogs is a huge time saver for consumers who would otherwise have to visit many stores. Online catalogs allow consumers to make their buying decision before leaving the house. This is also why it's important to have an accurate representation of your store inventory online. I recommend that you somehow tie your in-house product management system to your website inventory.
Online Engagement
In the early part of 2017, Google changed the way it managed information shared by consumers. More emphasis is now given to photos, reviews, and comments uploaded by consumers, while there seems to be a de-emphasis in what business owners say about themselves.
Your business will grow in online popularity as more people mention you on social networks, on Google Maps, and on various review websites. Each of these activities is a different type of engagement that is measurable by Google.
Posting to social media every day is not considered online engagement. Including a question with every one of your social media posts will stimulate answer comments from customers. You need to monitor and reply to every one of those answers to develop a rapport with your clients. With each question you ask and every answer replied, little by little you will become familiar with the people who follow you online, and you'll change the types of things you post in hopes to develop larger response rates and even deeper engagement.
It's always better to have an employee manage your social media account because they are better able to answer questions on behalf of the store, and it's better for them to learn about the customers. You can hire an agency to manage your social media account but that agency will struggle to do more than just schedule photos to post.
Other than the big social networks, you also have to be vigilant to monitor and reply to every review that appears online. These reviews will appear on Google Maps, Yelp, Facebook, and dozens of other online directories. These reviews are another form of customer engagement that can help your business.
In your store, you should invite customers to take and share photos of the jewelry they try on. Sharing photos to Google Maps would be ideal, but sharing photos to any social network will help expand your online reach.
Lastly, allow customers to leave business and product reviews right on your website. For this to work, you'd have to ask your web developer to activate a testimonials system and a product review system on your website. Each of these new reviews would help you in your continual efforts to add fresh content to your website.
The New SEO
Each of the above 5 items relates to search engine optimization in one way or another. Search Engine Optimization (SEO) is no longer a service that you can simply pay for without actively participating in it.
Prior to 2012 Google's ranking algorithm has a few exploitable holes. Back then the process of search engine optimization was all about keyword tweaking, article spinning, and several other scientific and mathematical methods of tweaking a website to exploit algorithm inefficiencies. It doesn't work like that anymore.
The Google Search Quality Guidelines I mentioned above explain that good content, new content, appropriate information, and good customer experience with your website are important elements in ranking your website now. Keywords are not the focus anymore which means the SEO process is less mathematical and more human experience related.
I have a standard list of technical issues that are known to cause SEO problems. Some examples include load time, code bloat, server responses, and rendering issues with a website design. These technical issues usually only require a single fix rather than an ongoing maintenance process. A good SEO agency should be monitoring your Google Analytics, making suggestions for new content based on your goals and the data they report on. They can also help you build the content needed to meet your goals.
Long gone are the days when a monthly SEO strategy required article spinning, continual meta tag rewriting, and keyword research. You should stay away from any company that offers that service.
One good way to make your website better and improve your SEO is to study what people say through online reviews and by what your website tracking reports tell you. Update your website to better serve your customers and soon you'll realize that this is the new method of SEO.
TL;DR
Your website isn't a one-time job. It needs to grow and evolve over time to best meet the needs and expectations of your customers. It requires a long term commitment in order to be highly ranked in any search engine.