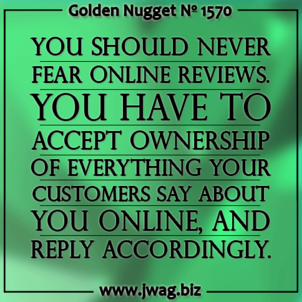 Have you Googled yourself lately?
Your online reputation is now part of your marketing. The results that people see in search help formulate the first impression that someone has of your business and whether or not they will purchase from you.
Managing your online reputation through reviews that appear on Facebook, Google Reviews, and Yelp is vital for your future business health. Savvy consumers are referring to what other people say in these online reviews and other consumer generated content.
It's becoming better known that the information you post on your website and social media can be anything you would like consumers to read, even if it's not the truth. On the other hand, those online reviews help portray an accurate representation of your business, and therefore are highly trusted by consumers and by Google.
How Many 5-Stars are Too Many?
We all dread a 1-start review while hoping that everyone will always leave us a 5-star review. I'm always suspicious when I see a business with dozens of perfect 5-star reviews. Customers are supposed to choose their star rating based on your products, services, and customer experience without being influenced by the business owner. It looks suspicious if you have dozens of reviews with a perfect 5.0 review rating.
That's not to say you can't have a perfect review rating, especially when you are just starting out; small business owners are more likely to ask their best customers for online reviews before they ask anyone else. It's likely that you'll ask your 24 best customers and friends for 5-star reviews to get you started, but I'd expect to see at least one non 5-star review if you have 36 or more reviews.
It might seem unnecessary, but you should reply to your 5-star reviews, even if it's just to say thank you.
Dealing With 1-Star Reviews
It's a natural reaction to become defensive when you get a 1-star review. You immediately feel like you need to defend yourself and tell the world that it was their fault or they didn't understand, but that's the wrong approach.
All of the popular online review systems provide a way for a business owner to reply to the reviews. It's easy to reply to Facebook reviews through your Facebook Page manager and it's even easier to reply to Yelp and Google reviews once you've claimed ownership of your business account.
When replying to a 1-star review you should apologize that they had a bad experience and offer them something in return. That offer could be a replacement, repair, exchange, or an upgrade. Don't try to shift blame to a manufacturing defect, irresponsible employee, or customer fault; simply recognize that there is a problem and present a solution.
When a customer complains about a defective product you should not try to educate them about the high level of craftsmanship because that will appear sarcastic and that angry customer will understand that you are trying to blame them for damaging it.
If the 1-star review is about customer service then you should thank them for pointing out your faults and tell them how you will improve.
Always reply to negative online reviews in a positive tone because it will help solve the current problem while showing future customers that you care about customer service when things go wrong.
After you've made the customer happy again you should talk to your staff and learn from the mistake that lead to that 1-star review.
Learning From 3-Star Neutral Ground
In the midst of the 5-star and 1-star reviews, we often forget about the 3-star reviews. These are customers that don't care about you. You didn't impress them and you didn't disappoint them. A little extra customer service would probably jump their enthusiasm to 5-stars while the slightest product defect or customer service fumble would probably drop them down to a 1-star review.
While 5-star reviews are often filled with amazing complements and 1-star reviews are filled with a lot of angry emotions, the 3-star reviews can be extremely constructive for your business. A 3-star review is usually a pretty neutral review with a list of the good things and the bad things that a business did wrong. You should study these reviews and use them to improve your business.
Take the time to thank each person who leaves a 3-star review. Tell them that you will take their comments to heart and work on improving your business; you could even state what you've done already to improve. Tell the customer that they have helped you make a positive difference because you will share their review with your staff and learn from it.
Final Thoughts
Handling 2-star reviews is similar to how you would handle the 1-star reviews. Similarly, you can deal with the 4-star reviews like you would the 3-star reviews.
You should never fear online reviews. You have to accept ownership of everything your customers say about you online, and reply accordingly. Over time, it's likely that your customers will post more about you online than what you post about yourself.
From good to bad reviews, every one of them will give you valuable information about what your business is doing well, and where you need to make improvements.
Online reviews are necessary for building trust with new customers, and you need to be proactive in acquiring new reviews on a regular basis.