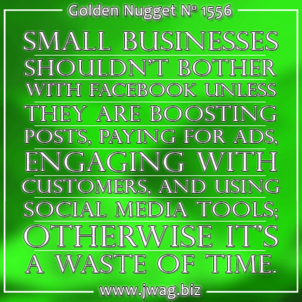 For several years and through a lot of tough competition, Facebook has managed to maintain its status as the most popular social media network, although there seems to be an evolutionary shift of people away from Facebook and on to other networks like Instagram and Snapchat. Some organizations, groups, and communities are using Facebook's Group feature to create a community messaging board, while other organizations have migrated to networks like Telegram. For the moment, Facebook is still the network to use, but Instagram is growing quickly and is already more beneficial for some industries.
Facebook has also proven itself as a more cost effective advertising medium than traditional offline marketing and even Google AdWords. Facebook's ad platform also allows you to create ads for Instagram.
They Cycle of Change
Facebook makes continual feature changes that are said to be in the best interest of how friends keep in touch; however those same changes often create new frustrations for business owners. Every change they make seems to impact businesses badly, usually resulting in a further decline in their organic reach. Most business related posts are pushed far to the bottom of someone's news feed and are never seen, unless the company is willing to pay to boost them.
Facebook offered a free content delivery service to all businesses for a several years which allowed early adopters to have thousands of fans reading their posts every day. Prior to 2010, you could post something to Facebook for free and have almost 100% organic reach to your fans. They have slowly made it impossible to get your messages seen unless you pay at least $1 to have your message delivered, which is known as "boosting a post."
The Drop In Organic Reach
Online marketers have coined the word 'reachapocalypse' to represent how the Facebook News Feed changes over the last few years have destroyed the organic reach of social posts. Over time, I've measured dozens of non-boosted business posts that had zero organic reach. Companies like SocialFlow, (they work on social media optimization) reported organic losses of 52% or more after Facebook's big News Feed change in early 2016. It's even worse since then.
Facebook Is Not Free
Even though social media delivery was once free, you still had to pay for the labor to get it done. It's now just the opposite because every Facebook change causes a higher expense for businesses. Successful usage of Facebook now comes with the cost of labor, boosting every post, and paid ads. Furthermore, simply boosting a post is probably a waste of your money unless you correctly target your audience which leads to the need to pay for social media scheduling and ROI measurement tools or an outside agency for help.
Using social media tools to schedule optimal posting times while also paying $1 to boost your posts will improve the chances that people will see your posts. For $2 per post, you'd be able to reach more people and have a better chance to interact with people who like, share, or comment on the post. Although the cost of Facebook paid posts and ads are rising, they are still not nearly as high as Google AdWords.
Labor cost is another rising factor with Facebook advertising. Photos and videos are very popular on Facebook, and more so on Instagram. Producing original video content takes more time, technology, and a bit of artistic talent to create something engaging. Those production costs further increase your marketing expense.
Even if you boost a perfect video post on Facebook, there's still no guarantee it will reach your audience unless you create some customer engagement. You'll reach more people if your post is inviting enough to be liked, commented on, or shared. You also need to reply back to people who comment on your posts. Even though you'll still be paying to boost your posts, your organic reach will increase over time as customer engagement increases.
Over the last year, I've noticed that the popularity of photo and videos in the Facebook News Feed is dropping as the popularity of Instagram increases. My unscientific measurements show that text posts are rising in popularity again because more users are posting to Instagram instead of Facebook.
The New Fight For Organic Reach
Through several experiments I've also found that you can increase the organic reach and visibility of your Facebook page by using multiple personal accounts. In other words, asking employees to share the business posts and mention the business in their personal posts. This creates an amplification that improves the organic reach more than what the business page can accomplish on its own.
When you share the business posts to your personal account you are surfacing that post to your friends and family. When friends and family like those shared posts they then trigger a further amplification of the post to their friends. With this type of continued amplification, you can gain some of your organic reach back.
Personal Safety
Some businesses have extra concerns about personal safety for their employees, in those cases you just have to make sure to never share your location when also sharing the business posts. In other words, have employees share and comment on a business post, but avoid saying things like "This is what we are selling today at work," or "I'm at work until 6pm, stop in and say high." Those types of comments would give criminals insights into scheduling and whereabouts.
You should never worry about sharing your page's posts that involve your latest products, announcements, or general trivia. It should be safe to share those to your friends and to the public without any safety concerns.
Here's The Strategy
For the moment, I suggest the following overall strategy for retailers using Facebook:
1. Share videos, photos, and links to informative web pages
2. Boost all of your posts with a minimum of $1 for 1 day
3. Share your page posts to the public using your personal account
4. Reply to users who comment on your page posts
Don't Forget That This Should Be Fun
Don't try to sell something every time you post to your business page. Social media is supposed to be a fun and informative place without sales pressure. Your Facebook goal should be to develop close relationships with many of your customers so they can become influential and social amplifiers for your store. As a rule of thumb, before you post anything to your page ask yourself if the post will charm your customers and help improve those relationships.
TL;DR
For small businesses with fewer than 10,000 followers there's little benefit of using Facebook unless you are boosting posts, paying for ads, engaging with customers, and using social media tools. Otherwise, you're just wasting your time.