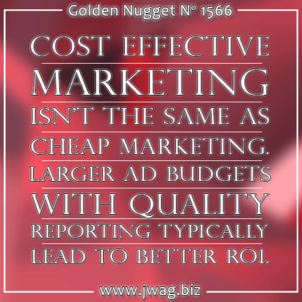 I recently came across a seminar titled "How to Promote Your Online Store In A Cost-Effective Manner" and thought it was an extremely misleading headline. Whenever business owners ask me about cost effective online advertising, they usually mean "least expensive" rather than asking me how to achieve the best ROI with their online ads.
I've also found that many business owners believe that online marketing is simple, and that anyone can do it. Preying upon this belief, there are ad agencies that charge low flat monthly fees to manage marketing campaigns using boiler plate online ads for all of their customers. Retailers believe that they are getting a good deal because the cost is low, but there's almost no return on that advertising agency investment.
You Mean This Isn't Cheap?
Consider that "cost effective" is not the same as cheap or inexpensive. Cost effective only means that you are getting a productive result in relation to the money you spend. To be cost effective, you still have to spend money on the ads and everything to insure that you are using the right ads to target the right people.
None of that is easy.
I've met retailers that were spending $350 per month on Facebook ads and thought the ads were cost effective even though they couldn't prove their ROI. I've also met retailers spending about $800 per month on Facebook ads who also couldn't calculate their ROI of their ads even though they had reports.
Facebook's Power Editor tool offers flexible ways to target your customers and monitor your results. Power Editor has a lot of great features, which also make it a complicated tool for beginners and small businesses to use. Tracking real ROI from their reports is not easy either.
To get the most out of Facebook and Instagram advertising, you really need an agency or an employee to work on it for you.
The In-House Solution
Choosing to manage your own online advertising in-house requires a labor and software commitment. It's not cost effective to have an employee managing your ads without also giving them the extra tools to do the job correctly.
Consider that every tradesman needs the right tools to do their job. Usually the tools refer to physical tools at a bench or workplace, but with online jobs those tools are the appropriate software.
Each software tool is offered as a monthly subscription ranging from under $10 to well over $1000.
Hootsuite
allows you to manage all your social media accounts from their dashboard. They do have a limited free plan but you'll need to sign up for their Pro plan starting at $9.99 to make the service worthwhile. Additionally, you'll need to spend an extra $60 per month on their Analytic and another $35 for their Campaigns Pro feature. Then if you really want to look professional, you'll need a vanity URL for another $49.99. Your total monthly Hootsuite cost would be $154.98.
To expand beyond social media posts, you might want to look at the
AdRoll
service that includes integrations into MailChimp and help with online ads. AdRoll calculates their monthly fees according to the number of visitors you have. The pricing starts at $1000 for 10,000 visitors.
If Facebook advertising is your focus, then you might want to look at
Qwaya
because they have A/B testing of Facebook ads and their reports tie directly into Google Analytics. Their pricing starts at $149 per month.
Speaking of Google Analytics, your in-house employee would also need to know how to read them and run actionable reports. As with any report, simply reading them is worthless unless you look for the actionable items in each report and actually do something about them. It will take several hours per month to analyze and produce actionable ideas from the reports.
No two service and reporting tools do the same thing. I have no affiliation with Hootsuite, AdRoll, or Qwaya; but they are good examples of services you could use. According to the above pricing, you will be spending $1,303.98 every month on the software subscription alone.
According to Glassdoor.com the average entry level marketing salary was $44,315 in January 2017. That's about $852 per week or $3,408 per month.
The legitimate monthly cost to maintain your "cost effective" in-house marketing starts at $4,712 and that's
before
you even consider your allocated online media spend. I recommend a media spend of at least $5,000 in order to make your "cost effective" marketing worthwhile.
A portion of your monthly media spend will always be used for experimentation as you'll always be learning something new about your target audience.
The Agency Solution
If hiring another full time employee isn't an option, then you could hire a good advertising agency that would do all the same work for you. The typical ad agency will set their prices according to your monthly media spend.
One such example, that I have no affiliation with, is
Advertise Mint
. For media spend between $5,000 - $15,000 they will charge 30% agency fee. In other words, if you spend $5,000 this month then they will charge you $1,500 for their ad management and reporting service. Your minimum monthly cost would be $6,500.
Another example, again no affiliation, is
Voy Media
. They have a $2,000 setup fee and charge $297 per month. They also charge a 30% agency fee when your monthly media spend is between $2,000 - $20,000. They would charge you $600 with a media spend of $2,000. Your minimum monthly cost would be $2,897.
Even though both of the above agencies seem like a big investment, I would trust them to bring more sales leads in a single month than what
Likeable Local
and
Keep Me Connected
could bring you in an entire year. LikeableLocal charges a minimum of $299 per month for their fully automated social marketing service and Keep Me Connected charges a minimum of $229 per month for their automated system.
Both LikeableLocal and Keep Me Connected are ad agencies that post to your social media accounts to make you look active while also boosting your posts. This process isn't cost effective any more. The algorithms running Facebook and Instagram recognize the type of content that people want to see compared to the content that no one will like or comment on. Facebook will still take your money if you want to sponsor your content with the promise that they will show it to people, but those people might still ignore it.
The full ad agencies would build marketing campaigns specific to your needs while the other two services provide boiler plate services to all their clients.
Larger vs. Smaller Budgets
As I said at the beginning of this post, I've spoken to business owners spending between $350 and $800 per month on what, they believed, were cost effective ads. There's no reason to rely on your own beliefs or gut feeling when it comes to online advertising because the reporting software tools available today give you real, actionable data. However, the right tools come at a premium price.
You need those software tools to determine if the ads you are running are "cost effective" or not. Remember that cost effective doesn't mean cheap; it refers to the biggest ROI you can get.
Your ROI will get better over time and with bigger budgets as you discover which ads work, the best times of the day for targeting, and the right spending limits to set for each ad. Like all statistical analysis, your results become more accurate when you have a larger set of data to analyze. That's why bigger monthly ad budgets will yield better results when correctly analyzed.
Those smaller ad budgets without detailed reporting are simply an unwise use of your precious money.