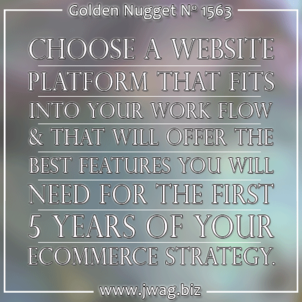 Earlier this month, I wrote a Nugget about
embracing change in your business
. In that post, I also explained a little about WIX, Weebly, Squarespace, and Shopify and how they prey upon businesses that don't take the time to research and plan out their e-commerce strategy.
Although I warned against using those companies, I didn't offer any real alternatives for jewelers and other small businesses to use, which is what I'll give you today.
How to choose the platform for you
Selling online seems like a great idea, and companies like WIX, Weebly, Squarespace, and Shopify make is seem easy to do, when the reality is anything but. In addition to figuring out the correct website software to use, you also need to figure out the right product mix to sell and how to advertise the site.
You'll be happy when the orders start flowing in once you have the right balance of products, price, and advertising. However, you'll also be challenged with customer technical support, questions, payment problems, tracking inventory, downloading sales data into your accounting program, and even the occasional refund.
You see, selling online isn't as easy as choosing a platform and uploading product photos; this is a full business with all the gears and cogs that are needed to make a business run. You need to choose a website platform for your specific needs that will work quickly for your workflow.
Because no one platform is perfect for everyone, I find the best approach is to choose a platform that will meet the needs that are important for you. You'll find that every platform has the basic product catalog, shopping cart, and checkout features, so you have to dig deeper into other features that will be important to you.
Features to look for
Even though content marketing is a big part of online marketing, most of the ecommerce platforms don't have the built-in ability for the simplest blog or other content pages. Online marketing efforts usually start out simple but grow towards needing specialized
landing pages
to better convert customers. Many platforms just don't have the ability to create the unique landing page you will need.
After your first few successful online sales, you'll want to dive more into customer conversion methods, tracking online funnels, ROI, and cost of customer acquisitions. This is where you'll start to truly realize the limitations of your chosen platform.
Once you start tracking funnels, ROI, and all the rest you'll realize that you need to improve your overall customer experience. Better customer experience leads to more sales. The following is the main list of specific features that you'll need to create a fantastic online customer experience:
Customer accounts with purchase history
Extremely detailed information about each product
Product reviews from previous buyers
Related product feature that shows users what similar items are available
Advanced search features to find product quickly
Wish lists
Wedding registry
Customer testimonials
Integrated newsletter and email system
Multiple payment methods
Multiple shipping methods with true shipping costs
Coupon or promo codes for discounts
Redemption of gift cards
Multiple photos for every item
A/B testing built-in
Easy social media sharing
That's a pretty long list, but it's by no means a complete list of what online users are expecting now. You might not think that all of those features are important and that you'll simply upgrade your website in the future if you need them, but that's the same barrier to exit trap I mentioned
earlier this month
. Most ecommerce sites take 9 months or so to deploy. That's a grueling experience to go through all over again once you realize you've chosen the wrong platform.
Each of the above 16 items represent some small level of extra online customer service. Before you dismiss any of these as unimportant features, you should consider that online buyers have come to expect these types of features because they have experience with them from Amazon.com.
Ultimately, you'll want to choose a website platform that has these features built-in already or would be easy to customize.
Feature comparisons
Every website developer you interview will have their favorite platform on which they probably have a lot of programming experience. After a while, every developer will have a pre-programmed set of extra code that can be installed on any system. If you choose to have your website custom programmed, then any customizable platform can be reprogrammed for all of the above features.
However, custom programming usually costs a lot of money and most small businesses can't afford it, which brings us back to the lure of inexpensive monthly systems like Shopify and Weebly. Here's a table of features I came up with that shows which website platforms have the above features right out of the box, without any extra programming:
| | | | | | | |
| --- | --- | --- | --- | --- | --- | --- |
| Feature | Shopify | Weeby | WordPress | Magento | 3dCart | Junior CMS |
| Customer accounts | X | X | X | X | | X |
| Purchase history | | | | | | X |
| Detailed product info | X | X | X | | X | X |
| Product reviews | | | | | | X |
| Related product | X | | X | X | X | X |
| Advanced search | | X | | X | X | X |
| Wish lists | | | | X | X | X |
| Wedding registry | | | | | X | X |
| Customer testimonials | X | X | | X | | X |
| Integrated newsletter | | | | | | X |
| Integrated email | | | | | X | X |
| Multiple payment methods | X | X | X | X | X | X |
| Multiple shipping methods | X | X | X | X | X | X |
| Coupon/promo codes | X | X | | X | X | X |
| Gift cards | X | | | | | X |
| Multiple photos | | | | | X | X |
| A/B testing built-in | | | | | | X |
| Easy social media sharing | X | X | X | | X | X |
Again, these are default features built into the website platform without any additional programming. I didn't include Joomla or Drupal in the above list because they are more advanced systems that small businesses usually wouldn't invest in. I also didn't include WIX or Squarespace in the list because their feature set is so limited.
As you can see, the
Junior CMS
has all the above features and many more. It was designed to be an all-inclusive system for small businesses, which is why my own company builds websites with it.
Conclusions
A good website developer can probably make any platform sing and dance, and have all the features you need to build a thriving online business, assuming you have the budget for it. If your budget is small, then you have to consider the which platform will give you the greatest options for growth at a cost you can afford.
For me, that's
the Junior CMS
platform. It's so much more than a content management system.