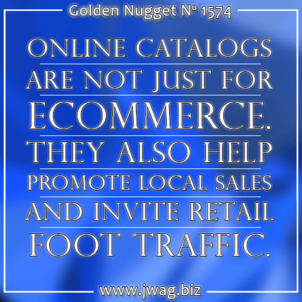 After many years of talking and teaching about it, I'm finally starting to see retail jewelers embracing the reality of catalog and ecommerce websites. The reality I'm referring to is the tedious process of photographing your inventory, maintaining a website, and handling all aspects of order fulfillment.
Within the jewelry industry, there are several ways to mimic an ecommerce website without actually setting it up or managing it yourself. Many large manufacturers have created website plugins that will show inventory on a website without actually having the inventory in the retail store. Online sales through those plugins usually go directly to the manufacturer for fulfillment and the retailer gets a commission check or a credit to their account.
In addition to the website plugins, there are a few website companies that maintain cloud based catalogs of product from many vendors. Signing up for those website companies allows you to quickly populate your website with the cloud hosted product information. There's a huge time savings with this approach and any sales processed through the website go to you.
The drawback with each of the above approaches is the lack of good organic SEO on your website. The plugin catalogs usually offer no SEO value to a website, which is why I only suggest that process if your need to launch a website quickly and on a shoestring budget. The cloud services are the next step in website evolution as long as you realize that every other jeweler using that service will have the same product photos and descriptions.
The reality of long term ecommerce website growth requires a unique approach, unique photographs, and unique descriptions. It doesn't really matter what website software platform you use; the process of taking photos, writing descriptions, SEO, and fulfilling orders is going to be the same.
It's tedious.
It's time consuming.
It's labor intensive.
It's payroll expensive.
Over the last few months, I've spoken to several jewelers who have finally realized that there are no shortcuts and are ready to take the plunge into a solid ecommerce strategy that they fully control.
The Story Of An EDGE User
Earlier this week, I was hired to provide jewelry photography in-store training. The jeweler recently purchased a
PhotoCubic Flashbox
and asked me to give them in-person training. I've taught several classes and written many articles on jewelry photography over the past few years, and I love and endorse the Flashbox product to those who can afford it. At this point, I must mention that I DO NOT get a commission for endorsing PhotoCubics.
This retail jeweler uses the EDGE point of sale software in their store and is having a new website built by a company that integrates with the EDGE (not my company, although my website software does integrate, too). Integrating your website with the EDGE is a big time saver because you can upload you inventory and keep the website up to date without double entering your inventory on the website. The only drawback is that the photos in the EDGE are for inventory purposes and not good enough to sell an item online, which is what lead them to find PhotoCubics and ultimately call me for more advanced in-person training.
The EDGE-website integration is a bit expensive for their liking. As of this writing, it is $1000 setup from EDGE and then $95 per month from the website company (FYI my company doesn't charge a monthly fee for integrating with EDGE). Instead of using the direct website integration, the jeweler will upload selected inventory by hand with the better photos they are learning how to take. This will give them the greatest control over their product descriptions and SEO. They know the process will take a lot of time but they have come to terms with the reality of it.
I liked their approach and I helped them refine some of the specifics. They plan on using the new website to show their wedding jewelry online to capture the attention of their local market. Here's how it will work...
A New Website To Support Local Retail
Their new website will have their address and phone number on it, probably in the footer of every page. Search engines will associate that address and phone number with the products they are uploading and with any other information about the store that's found online. Other information will include things like Yelp and their business social media accounts.
Through the magic of search engines, anyone doing a search for wedding jewelry near their store should see their new website come up in the results. The ultimate goal is to help generate more foot traffic because they are not planning on activating ecommerce on this new site. I also recommended against attempting to sell expensive engagement rings online if they don't have the advertising budget for it.
As a new website project, they also asked me if it was a good idea to upload full catalogs of product from their suppliers even if the items were not in the store. This is a complicated question to answer because you can think of it from a business point of view or a consumer point of view.
As a business owner, you want to show your customers everything you have to offer in hopes to sell something. However, the local consumer who isn't buying online will want to come into the store to see and touch what you have on the website. A catalog filled with in-stock items will lead to instant customer satisfaction whereas a catalog of too many possibilities will lead to customer disappointment. Will your customers really want to wait a few days for you to special order the item you have listed on your website?
Certainly there are ways to have products online that are not in stock; the simplest way is to clearly identify special order items from in-stock items. This is a good approach, but I don't recommend it for a new website just starting out. It's better to wait until you learn about SEO and how your local customers respond to your website before growing it too far too fast.
Closing Thoughts
I was very pleased that this retail jeweler was taking such important steps. It will be several years before they will build a successful ecommerce website that will significantly contribute to their bottom line profits. Until then, they have a long road of learning about photography, writing product descriptions, and monitoring the analytics of how their website performs.
It's my belief that retail stores of all types, not just jewelers, will eventually have to launch some type of online catalog as part of their local advertising and to supplement their local sales. Need help getting started with that? Give me a call; we have a POS and website solution integrated in one piece of software that's specifically designed for small businesses with enterprise business aspirations.