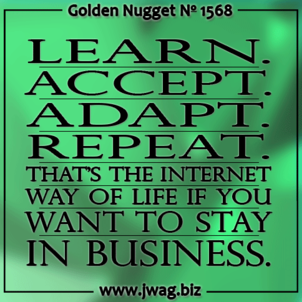 What started as email spam years ago has turned into an ever-evolving monster of internet spam that permeates our emails, Google search results, automated telephone sales calls, and nonsense in our social media feeds. No matter how hard we try, marketing companies find new ways to put their message in front of us whenever we don't want it. This type of marketing is called interruption marketing, and it really has become an annoying interruption in everyday life as well.
Full disclosure, I am one of those marketing guys that's trying to figure out new ways of marketing, but my approaches are designed to give people the ability to find the information they want, when they want it, rather than suckering them into a situation when they are not ready for it.
Google's fight against spam
Google is well known for combating website spam. Websites that are repetitive or provide little quality information to a person are considered spam. These same sites usually have a lot of paid ads cluttering up the page. These types of websites make money by tricking you to visit the page so they can record website traffic or trick you into clicking on one of their paid ads.
Even though these websites still exist, Google's filtering methods usually hides them from the search results.
Facebook's fighting against spammy links
Facebook has been dealing with news feed spam for quite some time. Until recently, one of the biggest problems Facebook had was the bait-and-switch approach to shared links, also known as spammy links or clickbait. This spam was easy for anyone to create by simply editing the link preview that Facebook gave us. It was a simple matter to click on the title and the description to change it all at will.
With the ability to edit the preview page title and description, a marketer could craft a more interesting headline than the original title from the page. This is where the bait-and-switch came in because we all seem to react to certain trigger words that incite our desire to click. For example, a headline of "Don't pay your next phone bill until you read this" would make us curious enough to click, but the headline on the page reads "Save money by transferring to XYZ Phone Company." This type of shared link is a marketing tactic and has earned the recent designation of "fake news."
Facebook tried to build a filter to detect and block this fake news marketing methods, but it wasn't perfect. Instead, as of June 2017, they decided to turn off the ability for people to edit the generated link preview.
From now on, what you see in the Facebook news feed will be exactly what you will see when you visit the actual page.
You can't avoid this expense any more.
While we all might jump for joy now that fake news on Facebook won't trick us into clicking on unwanted links, there's a negative aspect to this that all small business owners must now face called SEO.
SEO, or search engine optimization, is the process of tweaking the hidden words on your website so search engines can easily read your site and properly classify the products and services you sell. SEO agencies still charge a lot of money to correctly tweak a website.
As Google built better spam filters, they also built a type of artificial intelligence (called RankBrain) that does a reasonably good job at reading and interpreting your website. RankBrain works so well that many small businesses have noticed a positive jump in their Google ranking without spending any money for SEO.
Although website software is supposed to make website management easy, it often times makes managing your SEO a little tricky. Even those who figure out how to edit their SEO settings have to rely on their own interpretation of the optimization process unless they hire someone like me to do it for them.
Here's an example of bad SEO that I just found in Google: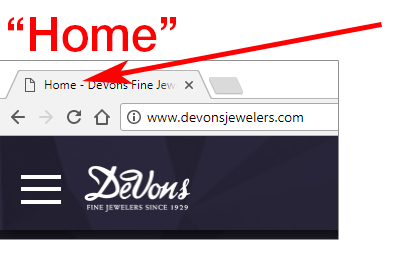 That image shows the top left corner of my web browser with the domain devonsjewelers.com and the page title of "Home." Words like "home" are usually auto-generated by the website management systems. A better option for this jeweler would be to use the page title "DeVons Fine Jewelers, Your Local California Jewelers Since 1929." That's a well-thought out title that someone needs to manually enter into the website.
If DeVons Jewelers was a customer of mine, I would want to share their website to Facebook on a regular basis. Unfortunately, the poor state of their SEO also means that their Facebook preview will not have any marketing value on the social network. This is what the preview looks like as of this writing: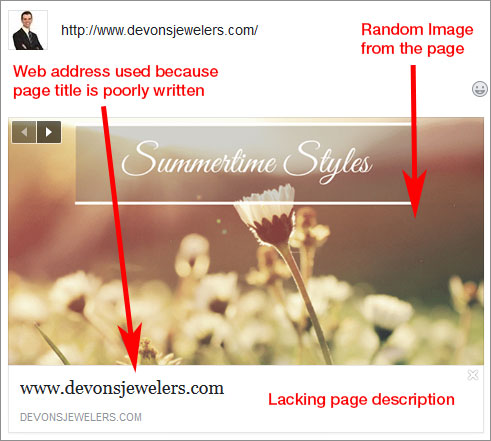 Prior to June 2017, I could simply click on the "www.devonsjewelers.com" shown in the preview and edit it by hand before posting. I could also change the image and add a description for the page. As a marketing guy, I would spend a few minutes making this look and sound great even though the DeVons website is poorly set up. I could do my job without touching the website or requesting content modifications.
That's not the case anymore. As of this writing, you must correctly adjust the SEO of every page on your website before sharing them to social media. The operative word I just said is "before." Facebook generates a preview of your website as soon as you share the link, so you need to update all your page titles and description before sharing.
Facebook's efforts to fight fake news have turned into a problem for small businesses because now you have to spend money to properly tweak your SEO before you share links to your Facebook account.
SEO problems with online catalogs and how Facebook sees them
Here's an example I created to help illustrate a common problem I see with online product catalogs. Take a look at this: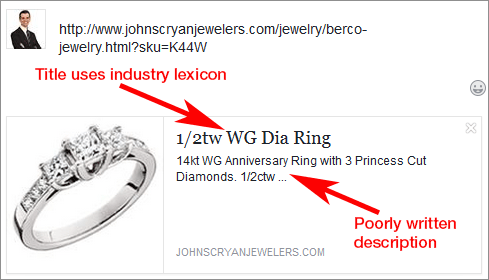 This ring has the title "1/2tw WG Dia Ring" with a meta description that could be fleshed out a little bit better. This is the type of product description I usually see when catalogs are directly uploaded to websites from the in-house inventory management software. While it's common to use these abbreviations in the store, they do not work very well online.
Here's how it would look if you took 5 minutes to improve the product title and meta description: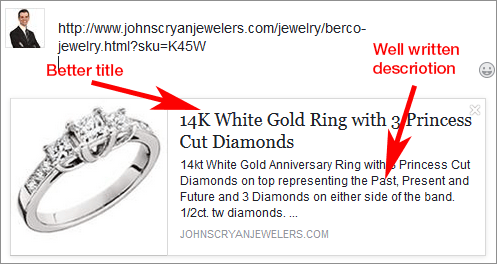 Now you can see the title better explains that the product is a "14k White Gold Ring with 3 Princess Cut Diamonds" and the description includes a romantic description and the total carat weight of the diamonds.
Five minutes might not seem like a lot of time to update the meta tags of this product, but 5 minutes turns in to 8.5 hours when you have 100 products and 83 hours when you have 1000 products on your website. That's a lot of SEO work just to make you social media look good and improve your overall online marketing.
New procedures for blogging and news sites
Blog and news websites also need to clean up their SEO from now on. As another example I shared the home page of InstoreMag.com to see how it would appear. This is what it looked like: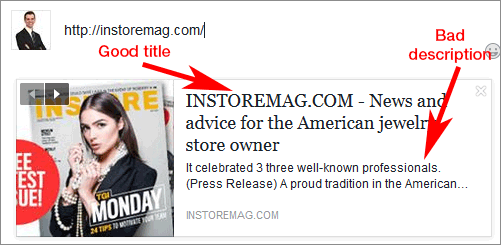 Instore Magazine has a good home page title that says "INSTOREMAG.COM - News and advice for the American jewelry store owner" but the meta description is missing.
The above screen capture shows this disjointed description:
"It celebrated 3 three well-known professionals. (Press Release) A proud tradition in the American..."
As I reviewed Instore's home page I realized that the meta description was blank which made Facebook randomly grab copy from the body of the page to fill in the description.
In this example we can see that even large companies will have to keep their website SEO updated. Blogging sites and news sites will need to include basic page title and meta description tweaking as part of their process from now on.
Final Thoughts
I feel like I'm the bearer of bad news again today with this somewhat technical post. I don't make this stuff up, and I don't write about it as a scare tactic to get you to hire me (although that would be nice). I write about it to give you the honest facts about the state of the internet and explain exactly why you, the small business owner, now have one more extra worry to keep you up at night.
It's your choice to stay relevant on Facebook by implementing good SEO on your website. Remember that the original purpose of SEO is to help your Google ranking, but now it will have a double positive impact. You can't really ignore this if you want to stay relevant with your clients; you have to allow your business to grow and change.
Speaking of change, I've spoken to a lot of Millennials that have stopped using Facebook during the last year; honestly, I don't even use it as much as I did a year ago. I've also spoken to a lot of people that are 23 and younger who don't even use Facebook and never even signed up; they use other social media systems like Instagram, Snapchat, WhatsApp, and Telegram to keep in touch with their groups of friends. The methods of online marketing will be changing once again within 3 short years as this next generation starts graduating college and spending their own money.
Learn. Accept. Adapt. Repeat. That's the internet way of life if you want to stay in business.