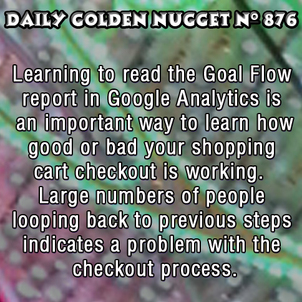 Today is Cyber Monday, the day when many holiday shoppers start ordering from e-commerce websites, hoping to find the best online deals of the season.
If you own an e-commerce website, this is certainly the day you would expect to make some online sales. But if the day passes by without a single completed purchase from your website then maybe there's something wrong.
Website visitor traffic spikes every year on Cyber Monday, which means this is also a fantastic day to closely track what's happening on your website and maybe you can even find something wrong that needs to be fixed.
Last month I wrote a Nugget explaining the built-in
Goal Flow report
inside Google Analytics. That previous post gives an example of 9 potential shopping cart checkout steps that you could add to a "goal" tracked in Google Analytics.
One those goals is to set up Google Analytics that will show you how visitor move through the checkout process.
Take a look at the Google Analytics screen capture below. This shows a visual representation of how people moved through a simple 3 page chopping cart checkout process by visiting the View Cart page, then the Checkout page, and finally the Order Received page.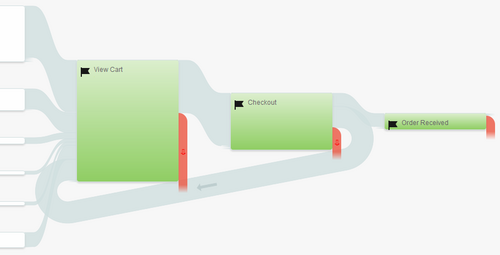 The flow of gray lines represents how people moved between the pages. Those red marks are a visual representation of the number of people who abandoned their shopping carts.
Now take a look at this next screen capture. I've clicked on the flow of traffic that was coming out of the right side of the Checkout page and returning back into the View Cart page.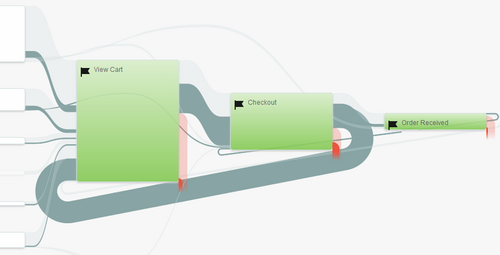 That flow line is very thick which means that many visitors were leaving the checkout page for some reason. It could have been something they read, like the return policy, or there could be a malfunction in that part of the checkout process.
There's no way of knowing what is causing that many people to loop back to the beginning of the checkout, but that is a large indicator of a problem with your checkout process. If you see something like this in your Goal Flow report then you should hire a usability expert to review the checkout process.
These Goal Flow reports need to be set up within your Google Analytics and you will need to capture a lot of visitor traffic before they provide meaningful results like those illustrated here.