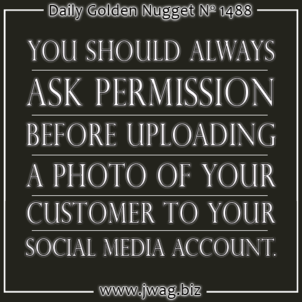 When it comes to social media photographs, it's easy to forget that every person has a legal right to prevent you from posting a photo of their face online. Paid photographers and media companies are very aware of your legal rights, and they require people to sign a model release form.
Those release forms grant ownership and permission to use the photos for any purpose, even to sell the photos or use in promotions to sell a product. A quick Google search for "sample model release form" will give you plenty of examples of these forms and appropriate times to use them.
In-Store Photos of Customers
Whenever possible you should invite customers to try on the jewelry they are looking at and offer to take a picture of them that you'll post on social media. The invitation to try on the jewelry and post a photo should be offered together at the same time, for example "go ahead and try this on and I'll take a photo for Facebook so you can ask your friends what they think."
The customer may offer you their smartphone to take the picture, but you should also ask if you can take one with your own phone so you can post it online too. With a customer's verbal approval, you can be reasonably certain that they will never complain that you've used their image without permission.
Don't post customer photos online right away. It's a security risk for them if you were to post their photo to the public saying "Sue Smith is in the store right now trying on this diamond necklace." Naturally, you are not telling the public that she bought the necklace, but you also don't want to make her a target for a mugging later that day.
You could have model release forms on hand in the store if you feel it's important, but you're more likely to encounter willing customers who will take any chance available to be the center of online attention.
Store Events
When arranging for in-store events, you should set up an online registration form with very specific terms. Anyone attending your special in-store events should be forced to accept your attendance terms, which should include a model release clause.
A clause like that would allow you to take as many photos as you like at the event, using a smartphone or a DSLR, and then post them online or for use in future marketing. I have attended many in-person events where the attendees could opt-out of the model release as long as they wore a bright colored bracelet. Photographers would then do their best to avoid taking their photo and the company would make sure to crop those people out of any photo they were captured in.
Additional Event Clauses
When it comes to online registrations for an event, you should require the attendee to provide their name, email, address, and any other information that might be beneficial for your marketing. In the attendee terms, you should have a clause that says something like "by registering for this event you agree to receive email communications from us based on the information collected and the jewelry you look at during the event. Visit http://www.domain.com/policy to view our full Terms and Conditions and Privacy Policy."
With a clause like that in place you will be able to grow your email marketing list every time you hold a special event.
Today's Nugget
Most people do not read contracts, privacy policies, or terms and conditions when they sign up for things, but that doesn't mean you should include unusual clauses in your terms. I've found that people will assume that you are a good person and you will not abuse the personal information they gave you. They also believe that they are giving up their personal information in exchange for something they are interested in.
By including email and photograph opt-in clauses in your event terms, they are allowing you to use their information in exchange for the invitation to participate in something special, something memorable... for the experience.