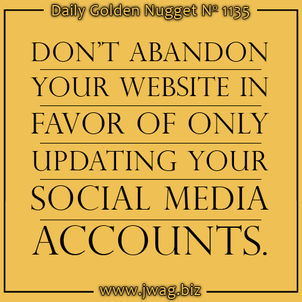 In honor of Thanksgiving, I decided to look for some town names related to the American holiday. Turkey and cranberries are among the many traditional dishes served at an American Thanksgiving meal. Although I found that there's a Turkey, Texas, it seems like Cranberry, Pennsylvania might have a better chance of locating a review candidate for today's Daily Golden Nugget, Friday Review.
Off to Cranberry I go, with a search for "jewelry stores in cranberry, pa." But the results you see here were not as satisfying as I expected: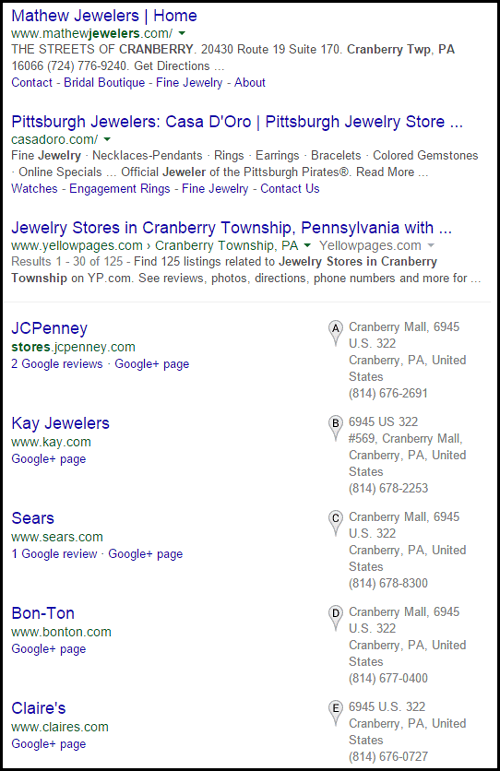 In this situation, even though there were a few more stores within the township limits, this was a case where Google could not correctly identify a request for a local town name compared to the traditional Thanksgiving side dish. On the other hand, a search for "jewelry stores in cranberry township, pa" returned more typical results showing local stores rather than big chain stores.
In both cases, the top winner in the SERP was Mathew Jewelers. I'd say I have an affinity for the name, so let's find out how their website fares today.
Navigate on over to
http://www.mathewjewelers.com/
and we'll take a look together.
This is the home page: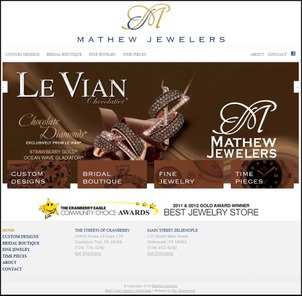 (click to enlarge)
On the surface this seems like a simple, attractive website. Although I was a little confused when I clicked on the large Le Vian image on the home page because it brought me to the http://www.mathewjewelers.com/custom-designs page shown here: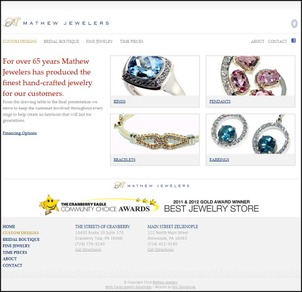 (click to enlarge)
The photography on that page is very attractive and I was immediately drawn to the blue ring. While initially navigating the site, I didn't notice that I was in the "Custom Designs" area of their site. Remember that I got here by clicking the Le Vian banner. The next page had 8 really good looking photos of jewelry shown here: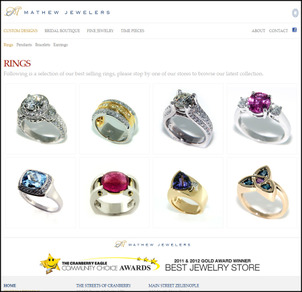 (click to enlarge)
Unfortunately, none of those photos are clickable. The description on the page says "Following is a selection of our best selling rings, please stop by one of our stores to browse our latest collection." But I don't want to stop by just yet; I want to see a closer photo of the rings. Even though they have no intention of selling through this site, they should have the ability to zoom in to these items if they want me to be drawn into them.
Next I navigated over to the Bridal Boutique page, here:
http://www.mathewjewelers.com/bridal-boutique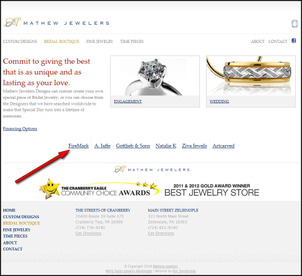 (Click to enlarge)
Instead of clicking on one of the two photos there, I randomly clicked on the FireMark link as indicated in the above image and landed on this broken page: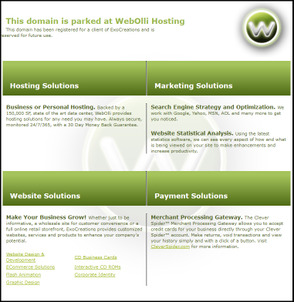 (click to enlarge)
Although the http://www.firemarkdiamond.com/ website still works, the http://mathewjewelers.firemarkdiamond.com/ sub-domain site is dead. This was my first hint that the Mathew's website is a little out of date.
Other than Firemark, they also have links to the A. Jaffe, Gotlieb, Natalie K, Ziva Jewels, and Artcarved on that Bridal Boutique page. Clicking on each of those off-site links navigates you away from the Matthew Jewelers website. Those hyperlinks should be changed to open the websites in new tabs instead of the current browser window.
Have you noticed the gold star and the "2011 & 2012 Best Jewelry Store" banner in each of the above screen shots? That banner is on every page of the website. It looks like the local newspaper, the Cranberry Eagle, once upon a time hosted some type of yearly awards program. Sadly, the "Best of Cranberry" website is no more, and Mathew Jewelers never removed this link from their website:
http://bestofcranberry.com/ads/1117763.html
In other words, they have a two year old broken link on every page of their site.
It looks like they spend more time updating their Facebook page rather than spending time updating their website. I somehow doubt that they are having much success building their business through Facebook while leaving their website abandoned.
The best advice I can give them it to upgrade their website to include a blog, add a product catalog of real inventory, and share their blog posts to Facebook to help bring traffic back to their site.
FTC Notice: I randomly choose this website and won't be telling the retailer jeweler that I'm doing a review. Unless someone else tells them, they will only find out about this review if they examine their Google Analytics and Google Webmaster Tools. I'm not doing this to solicit business from them, but rather as an educational exercise for everyone. This review is completely impartial and all my comments are listed in the order that I discovered them.