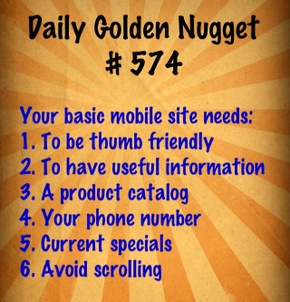 So you've decided to put a mobile website together for your jewelry business... What information exactly should you put on it and how should it be designed? This is what I'm going to explain in this Daily Golden Nugget.
First, let me make it clear that when I refer to a mobile website I'm actually talking about a stripped down, faster version of your regular website and not an automated adaptation of your full website.
The mobile website needs to be quick, and you don't want to overload the data plans of the people coming to the site. To do this you need to have a site designed with minimal graphics, but that doesn't mean it will look simple. Your website programmer should design you something that looks nice and it might even look like it uses graphics, but in reality it's using text based styles.
The website will need oversized buttons and controls. Pick up your phone and hold it in your hand right now. Which of your fingers is not being used? Your thumb right? When you design your site you need to make sure you can navigate all the menus and controls with your thumb. If you have trouble controlling your own website then other people will have the same problem.
Try to avoid scrolling. Use as many levels deep as needed to minimize scrolling, but make sure the user can easily find the back button.
Initially you will want to include these important items on your mobile website:
* Tap to call phone number
* Directions
* Store Hours
* Current Specials
* Services
* Product Catalog
You may also want to include a map to show where you are.
Ultimately you will want to convert as much of your website as possible into the mobile version. If you convert your most important information you will ensure that users have access to your information regardless if they are mobile or sitting at their desktop.
For a jeweler, converting your desktop product catalog into a mobile version will be a challenge, but it's one of those challenges you MUST undertake. As a retail store your consumers want to shop your products online. According to Google's Mobile Playbook (themobileplaybook.com) 53% of men and 38% of women are browsing product catalogs of other retailers while standing in a competitor's store. You will be missing out if you don't have a mobile catalog.
If your website programmer can't figure out how to create a full blown mobile catalog for your jewelry store, or if they don't offer it, please contact me through @matthewperosi or through Facebook or Google+ and I'll give you some ideas.
If you're not quite up to the task of converting other large areas of your website you could look through your Google Analytics to find out what mobile users are doing. Filter your analytics according to browser type to be Safari or Android browser, you could also filter by operating system. Once you have it filtered you will see what people are looking at most, and that's going to be your starting point for mobile conversion.