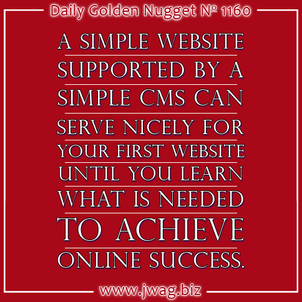 This is the Friday website review edition of the Daily Golden Nugget. The goal for today is to review a random website in order to learn something good, or bad, from someone else's work.
Review Candidate & SERP
To find my review candidate, I normally choose a city at random and search for local jewelers, however, this week I wanted to find a winter themed town name with a nearby jeweler. Using Google Maps I found the unincorporated community of Snow in Clinton County, Kentucky.
Using the "Search Nearby" feature within Google Maps I looked for jewelry stores within driving distance. Here's a screen shot of the results: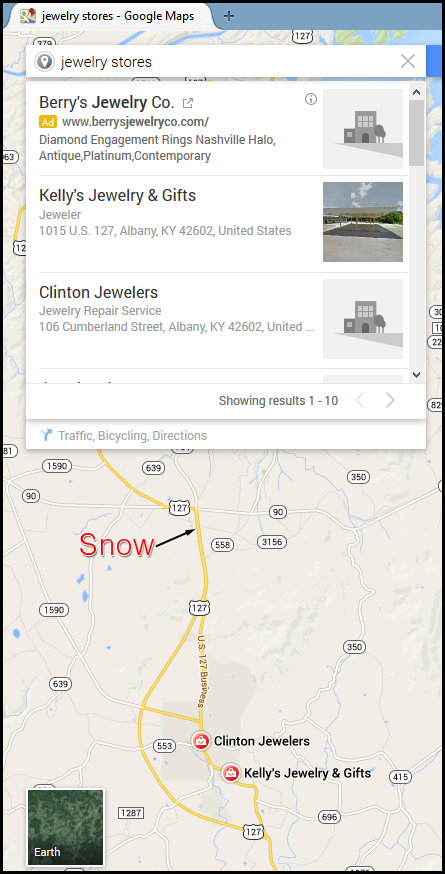 The closest store is Clinton Jewelers in Albany, Kentucky. Here's their website:
http://www.clintonjewelers.net
This is what the home page looked like at the time of this review: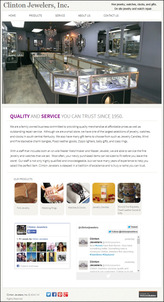 (click to enlarge)
This website was created with the GoDaddy WebsiteBuilder program and it looks like it was launched in July 2014. Previous sites I've seen created with WebsiteBuilder have never looked professional, but this one does.
It is a very simple site with only 5 pages:
*Home
* Products
* Service
*About Us
* Contact Us
Usability:
Website navigation and usability is easy with a simple 5-page site like this. The top menu has links to all of the pages. Those links also have a simple hover effect on them to clearly show that they are clickable.
I was also happily surprised to see a mobile version of the website. It looks like GoDaddy made some really good improvements in this area because the website is
not a responsive design, but it looks like responsive content
.
Here's what it looks like on an iPhone 6: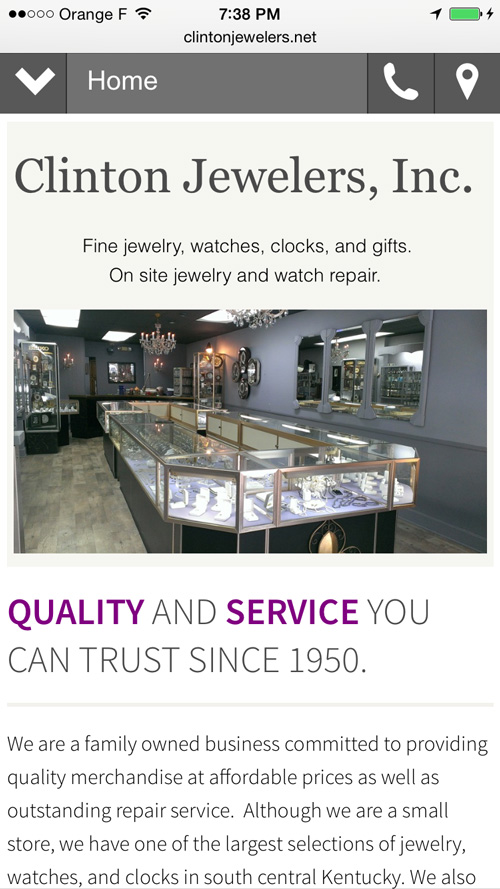 What I Didn't Like About the Site:
They have icons for Twitter, Facebook, Pinterest, and Google+ at the bottom of every page that do not link anywhere. You should not include social network icons on your website unless you are going to link to your social accounts.
I found a link to the Stuller website on the Service Page here: http://www.clintonjewelers.net/service.html
This is what it looked like: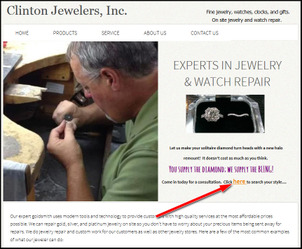 (click to enlarge)
I really dislike the links to the Stuller website because it's a site designed for you, the retail jeweler, not the consumer. Take a look at this screen shot I just took of Stuller's site: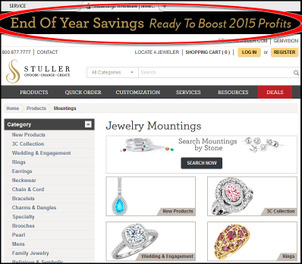 (click to enlarge)
The title of that Stuller site says "Mountings Wholesale" and the banner at the top of the page is usually a message for retail jewelers; in this case, it says
"End Of Year Savings Ready To Boost 2015 Profits"
.
Is that really something you want your customers to see? I think not. Stuller has a website specifically designed for your customers, but it's better to get their product database and load it directly into your own website.
Incorrect SEO Issues:
Unfortunately, even though the website is decent looking and functioning, the search engine optimization for the site is quite lacking.
Every page of the site should have good title and meta description. Although every page does have a unique title, they are not good for SEO.
For example, the page title for the service page simply says "Service." It might be better for them to have "Jewelry Store Services" as the title for that page.
None of the pages have a meta description, but they all should have a 150 character description that explains what the page is about. This meta description is used in the search results for Google and Bing.
It also looks like they tried to include keywords in the meta description on their home page instead of writing a real description. Their keywords are:
Jewelry, watches, jewelry repair, watch repair, gifts, jewelry candles
.
Years ago this type of keyword placement was a common practice, but it's now frowned upon as attempted search result manipulation. If you want your website to rank for
Jewelry, watches, jewelry repair, watch repair, gifts, jewelry candles
then you need to include some written information about each of those keywords and phrases in either a blog post or some other dedicated page on the site.
That's it for this week's basic review.
FTC Notice: I randomly choose this website and won't be telling the retailer jeweler that I'm doing a review. Unless someone else tells them, they will only find out about this review if they examine their Google Analytics and Google Webmaster Tools. I'm not doing this to solicit business from them, but rather as an educational exercise for everyone. This review is completely impartial and all my comments are listed in the order that I discovered them.