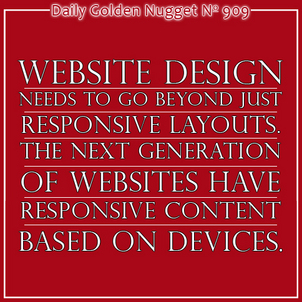 We live in a multi-screen world where people are connected to the internet every minute of every day. The evolution of technology and the internet has grown from what used to be isolated internet access only from your work computer, to the level of wearable devices that are connected all of the time.
According to
staggering statistics
there are more than 1 billion smartphones on the planet. This rivals the number of desktop computers.
The number of wearable devices is also increasing, but it will be a while before other people than fitness tribes, and tech junkies happily embrace them.
With all these devices available, the time has come to once again rethink how your marketing, customer service, and website all work--together and independently. A shift in marketing strategies is coming, and what I'm about to explain today is something that my staff and I have already been working on in my own company, but I've not seen anyone else mention it yet.
What I'm about to explain in this long Nugget may be a new concept, or there might be someone on a desert island already working on it. You might be able to implement it on your own with your website, or you might think I've gone completely overboard.
Read on if you're intrigued, but I'm hoping you have a completely different view about customer service, online interaction, and marketing by the time you get to the end.
The basic concept I'm going to explain is that the time of day, the day of the week, and type of device needs to be considered for all your website visitors.
Actually, this basic concept has been part of Google AdWords for many years. Google's suggested solution is to set up different timing for different ads. Each set of ads will direct people to different
landing pages
on your website. Their suggested solution is simple, but it's also a 10 year old solution that's not suitable anymore for today's technology.
Think about this...
1. People visiting your website during the day from a desktop computer will most likely be browsing while at work, and they're probably someone without an immediate need.
2. People visiting your website during the evening from a desktop computer will most likely be browsing from home, and they also won't have an immediate need.
3. People visiting your website in the evening from a tablet over a WiFi connection will most likely be browsing while relaxing around their home. If it's during the prime-time hours (7-10 or 8-11, depending on what coast you're on), then they might also be watching TV.
4. People visiting your website in the evening from a tablet while using a cellular carrier are probably not at home, or work, but they might be out with friends or family. Perhaps their conversations with people in person led them to an online search and eventually to your website.
5. Searches earlier in the morning from a smartphone are usually initiated by random thoughts when someone first wakes up in the morning, or by ads seen while commuting. The ads don't have to be your specific ads, but anything that initiates the desire to do a Google search and find quick results.
6. Smartphone searches during the evening commute have a different intent than in the morning. After a long day at work, there's a possibility that your potential customer is thinking differently because they were influenced by their day.
One thing you should realize, if you haven't already, is that people will Google search for completely random reasons. They don't have to see one of your offline ads, you just have to be in the results for the jewelry search they did. In fact, they could have seen a billboard or a newspaper ad for a jeweler that's not local to them, but that ad gave them an idea, which in turn led to a Google search.
Every Friday since April 2013, I've been writing random reviews of retail jewelry store websites. Every week starts out with a search, and in the top results every week, I see YellowPages listings, Yelp listings, Facebook Pages, Google+ results, +Local results, and of course the entries for the actual jeweler's website. Although I never mention it, Google AdWords ads are always in the results too.
Depending on the competition in your local area, you need more than a perfectly optimized website to be competitive in the SERPs. You should do your own online searches from your tablet, smartphone, and desktop to see how the local results appear. You should also search from your home computer and your work computer to see how things are different.
Make sure to search from your tablet while on WiFi at home, while on WiFi at the store, and while using your cellular account because the results will be different each time.
Once you've completed all these search tests of your own you'll understand how your competition appears in search compared to your own results. More importantly, you should get a slight understanding of the different point of view each location, and situation, gives you.
When you look at the search results you should realize that you need to optimize all your online properties, not just your website. This includes Yelp, YellowPages, your Facebook Page, and your Google+ Local listing.
For each of the online properties, like YellowPages, Yelp, Merchant Circle, and Facebook (but not Google+), I suggest that you set up a special domain name which points to a landing page.
Here's where things get interesting...
That landing page should be programmed to understand the time of day, day of the week, and the type of device someone is coming from.
The latest incantation of your website should be able to redesign itself on the fly to fit the screen size every person is using. Don't simply settle for a responsive website because those types of sites send the same information to desktops, tablets, and smartphones without any consideration for the internet connection speed.
I'm not talking about
responsive design
, because responsive designs only reorganize and visually resize content after it arrives on the computer/smartphone/table. Websites with responsive designs are not smart enough to know what device the user has, and may times the
responsive design fails
to function correctly.
From the Google AdWords point of view, they now have the ability to show different ads to desktop, tablet, and smartphone users. Google expects you to select the device, the time of the day, and then create 12 or more pages on your website to match the above 6 mentioned scenarios of searching.
Even though you can use specific timed ads to appeal to someone in that moment, the amount of work involved in that process is staggering. It's not just 12 pages, but it's also different permutations of ads for devices and time of day. This easily gets into dozens of ad-pages combinations.
This is not the way to go. But there are advertising experts out there that are charging a lot of money for this labor intensive service.
Even if you are not using AdWords, the 6 search scenarios above need to be considered if you want a website that's user friendly, and properly responds to the varying needs of your customers.
Some more things to think about...
1. Desktop users should always see your whole website. Give them everything and let them figure out what they want. You should always have some visual clues to help them find things faster. Simple visual clues include making today's store hours appear bold on the Contact Us page, or prominently in the header or footer.
2. When viewing on a smartphone or tablet, you could have the store hours appear differently during key times of the day. In the morning, you could have the store hours appear close to the top of the screen with a message saying "We open at 10am today." But in the evening that message could change to say "We close at 6pm today."
That store hour idea isn't really advanced thinking since both Google+ Local and Facebook both do it, but I'm talking about doing it on your website for users of mobile devices.
Let me get back to the idea of a landing page that your customers are directed to. It's easy to direct people to landing pages with online ad, but not so easy with offline ads. The easiest method is to use alternative domain names that redirect to those special pages on your site. Which is the same method I suggested for Yelp, Facebook, and YellowPages above.
Each of those landing pages should respond, and reformat themselves for the time of day, device, and day of the week. The appropriate content is visible only when triggered by those factors.
On the other hand, most of the time a normal Google search will bring people to your home page. This means you need to give some consideration to how your home page reformats itself for devices too.
What I'm suggesting is not an easy type of programming for most content management systems. In fact, if you were to suggest it to your programmer they might tell you it's impossible. You see, controlling the content on your page, where it appears, the time of day it appears is the easy part of the idea. The more difficult part is detecting the type of device the person is using because the website itself needs to figure that out.
With all this babbling I've done today, here's the bottom line...
The future of website design has already evolved to a new level of customer recognition. Google shows results for whatever phrases you search for, but once a person arrives at your website they still have more searching to do. Figuring out what content to show to a customer at the right moment of time is the new level of internet customer service.
Adding this functionality to your website is not too bizarre. Several smartphone apps attempt to anticipate your needs each time you open them.
Will this be easy to add to your website? Not at all because this ties into deeper understanding of your customers' needs.
My company has already started integrating this advanced layout technology in our websites, but the concept is so powerful that I wanted to share it now so you can experiment with it too.
Food for thought.