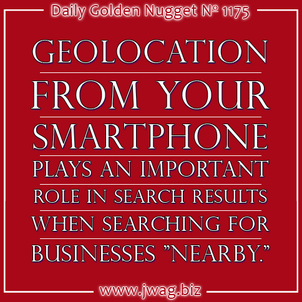 Welcome to the Friday jewelry website review where I randomly select and review the website of a retail jeweler. The goal is to dissect their online accounts to see how they might be ranking highly, and what they might be doing right, or wrong, with their online identity.
I use Google's Chrome browser in incognito mode when searching; otherwise the search results will be skewed based on my personalized search results and
the top ranked stores will be those I already know
.
In
this previous nugget
, I reported that one of the query phrases gaining popularity is "nearby jewelry stores." That phrase only makes sense to use if you are indeed searching for a jeweler that's physically close to you. Today I'd like to search for a jeweler in Rockville, Maryland, which is about 234 miles from me right now.
However, I can tell Google to move my location to Rockville, MD by changing my location as shown in this screen shot: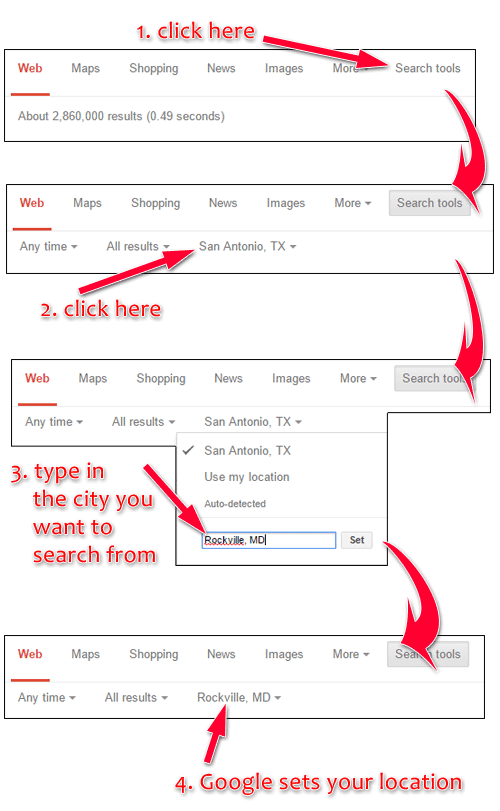 Once I had my search location changed to Rockville, Maryland I then searched for "nearby jewelry stores" and saw these results:

Google returned the customary list of 7 businesses in the local pack, followed by organic results. While 6 of the 7 local results are in Rockville, the organic results all lead to store locator pages. With the "nearby" search request, it certainly looks like Google is second guessing their local pack and offering me store locators for several large chain stores.
I'm going to stick with the first independent jeweler in the local pack, Gold City Jewelers with this website:
http://goldcityjeweler.com/
This is what the home page looked like when I visited: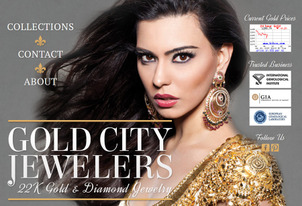 (click to enlarge)
This is a really simple WordPress site that seems to break the rules that you need content and updates in order to rank highly. With that in mind, I decided to look a Google Maps to see exactly where in Rockville, MD this store was located. Here's the map: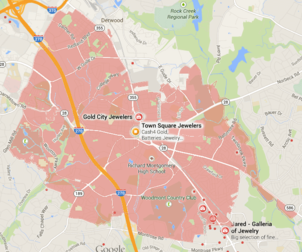 (click to enlarge)
As you can see, Gold City Jeweler is closer to the center of the city than the other jewelers clustered near the southern edge of the city on Route 355. A few years ago I was in charge of developing a zip code search for a large jewelry buying group. [ here comes some techno babble ] The results I see here seem to mimic the functionality of the zip code search I created, in that, every city has a designated center point longitude and latitude. In the absence of geotargeting data from a smartphone, you have to use the center point location for your calculations.
Based on the Rockville, MD center point, Gold City Jewelers is the correct store to rank organically near the top.
Returning to the website, I see that there's not much information on the home page for Google to digest. That page has a total of 10 words on it; these 10: "collections, contact, about, current gold prices, trusted business, follow us"
Surprisingly, the page title and the meta description for the home page are completely blank. If it wasn't for the Google+ Local data, I have a feeling this store would not rank in organic results. There's no mention of their store name at all on the home page other than in a logo that Google can't read. They are also missing the copyright in the footer of all their pages.
Moving on, here's a screen grab of their About Us page: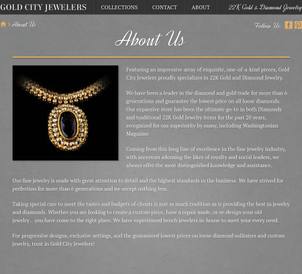 (click to enlarge)
This is a well written story about them without any keyword stuffing techniques. It is easy to read both contextually and visually. The words gold, jewelry, jewelers, and diamonds repeat enough times on the page to help in the organic ranking, but yet they are not overused in a cumbersome way.
On the other hand, even though they correctly wrote the text on the page, they completely left their meta description blank.
Moving on, here's the screen grab of their Collections page: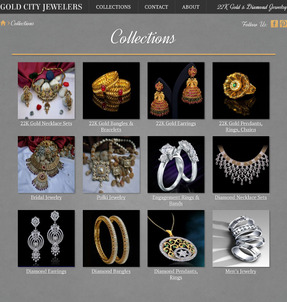 (click to enlarge)
This is an easy to use page showing attractive photography to lure the user in deeper. Each of the photos you see on this page represent the items on the pages one level deeper. What I really liked about this page is that none of the photos you see here are reused in the sub pages. I would assume that 12 photos you see here were specifically shot for this collections overview page.
My complements on photography setup; well done.
However, this page is still missing a meta description and the page title is rather lackluster just being called "Collections."
Here's what I saw when I drilled down one more level to the 22K Gold Bangles & Bracelets page: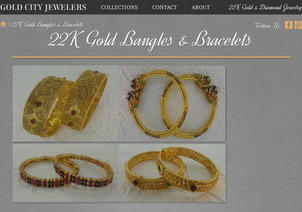 (click to enlarge)
Each of their 12 collections pages are set up in the same way with a group of clickable photos. The photos enlarge to a really nice site with a lot of visible fine detail. I complement them with the technique of showing such detail, but the exposure of their photography is poor. For example, the photos you see in the above screen grab should be better lit, i.e. brighter. They could have adjusted that in PhotoShop before uploading to the website.
To improve their organic ranking, they would need to add descriptions to all these photos. Right now, this is simply a photo gallery without any context if these items are for sale, or if these are samples of their previous work.
If I was actually in Rockville, MD looking for a jeweler I would continue to look elsewhere after browsing through the pretty pictures found here. This website simply leaves me wondering too much about the service they provide and I feel it would be a potential waste of my time to go there.
That's it for this week's review.
FTC Notice: I randomly choose this website and won't be telling the retailer jeweler that I'm doing a review. Unless someone else tells them, they will only find out about this review if they examine their Google Analytics and Google Webmaster Tools. I'm not doing this to solicit business from them, but rather as an educational exercise for everyone. This review is completely impartial and all my comments are listed in the order that I discovered them.