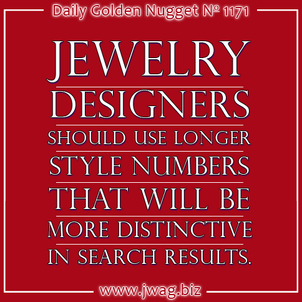 Google Image Search made a few advancements over during 2013 and 2014 that has led to ever-increasing consumer usage. As more e-commerce sites emerge across all industries, there are millions of new product photos that are being absorbed into Google's Image Engine.
Although every e-commerce website might have their own unique database identifier, it seems like all websites are also publishing the manufacturer's part number as well. A few years ago, this was frowned upon because it allowed for online price comparison.
That online price comparison doesn't seem to be that much of an issue for local retail jewelers because so few will carry the same designer lines within driving distance of one another. Someone searching locally for a specific item will probably drive to the jeweler nearest to them.
In order to tap into the brand name recognition of a popular jewelry designer, it's becoming more common for retail jewelers to use a manufacturer's part number, a.k.a. the style number, as the unique identifier on their website.
While I was analyzing my keyword data for the 2014 Holiday season, I was trying to determine exactly what percentage of people were searching for specific jewelry style numbers. My best guess was 0.08% because it's very hard to tell what keyword phrases are real style numbers.
While I was cross referencing different style numbers, I started to realize that some jewelry designers have unknowingly associated their style numbers to other industries, products, or expressions.
Many of the keywords I was sorting through were combinations of letters followed by numbers, and then many with numbers followed by letters. I was spot checking my analysis by randomly choosing a few of these letter/number combinations in Google Image search.
Every time I did one of these spot checks I found myself distracted like a kitten that attacks everything. Honestly, one of the letter/number combinations led to a collection of bad memes while another led me to screen shots of The Oregon Trail and memories of "dying of dysentery."
Situations like this are exactly how the internet can turn into a huge time suck!
So I'd like to pass along an odd bit of business advice and some examples for all you jewelry designers out there. Although I don't expect David Yurman or Rolex to change their ways, this will be very useful information for many of you independent jewelry designers.
Before you choose a code for your style numbers, consider if the letters you are using are an abbreviation for something else. Although you might not think this is a big deal to worry about, some abbreviations might cause a potential customer to stumble upon a completely different topic and forget about you.
Here are a few examples that you might think are absurd, but these are real...
One designer I know has simplified all their style numbers to 3 or 4 letters along with a few numbers like this:
Every Yellow Metal Ring they design starts with YMR followed by a hyphen and a 3 or 4 digit number.
Searching for "YMR-" easily sends people into an abyss of your music radar images.

Some of their Yellow Metal jewelry styles starts with YM followed by a hyphen and a 3 or 4 digit number.
Searching for "YM-" easily sends people searching for yogurt makers, electronics, and Yahoo Messenger.
They also refer to their two-toned jewelry as White Yellow Metal and use style numbers that begin with WYM followed by a hyphen and a 3 or 4 digit number.
Searching for "WYM-" triggers Google to respond with the text message abbreviation of "what you mean."
Just like I did, customers will get distracted by random search results instead of staying focused on finding a place to buy your jewelry.
If you're a jewelry designer, I strongly suggest that you choose style numbers that begin with numbers, followed by letters. Don't use spaces or hyphens either. Many retail jewelers will use your style numbers on their website instead of creating their own, and they will use the style numbers as their image file names too.
Here's another good example I just tested. Do a Google Image search for "190158d" and you might find 80 jewelry websites with that Pandora Jewelry item. That's the kind of exposure and recognition you want, rather than the confusion of association with something non sequitur that will distract the consumers.
The bottom line is that you might think that your style numbers don't matter, but the right style number can help with your branding a lot. Consider the sales funnel method of capturing customers and closing a sale. Searching for your style number in Google images is an action that brings consumers into the large end of your sales funnel. They will quickly fall out of the funnel if they are distracted by some other random style number association.