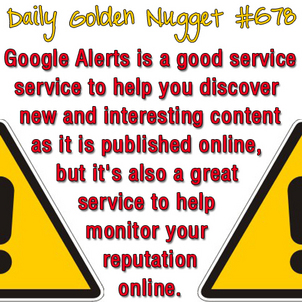 I've not mentioned the Google Alerts service in a long time. Nothing has changed since the last time I reported on it back in 2010, but today I'd like to provide a little refresher course on this topic.
Google officially describes the Alerts service as a way to monitor the web for interesting new content. When the new content is found, they will send you an email.
Examples of this "interesting new content" could be anything related to your town's name, anything related to the designer lines you carry, and anything related to your competitor's name.
Each alert you create is based on the phrase you enter. You then select an option to email you "Only the best results" or "All results." You then set the frequency of the emails that are sent to you. The three frequency options are "Once a week," "once a day," or "As-it-happens."
You should set up those alerts for popular designer lines carried in your store. If the designer is extremely popular, like Pandora or Rolex, you will want to select the option for "Only the best results" otherwise you will be flooded by every mention of those products and in some cases, every mention of "Pandora" when said mention is actually about Greek mythology, online radio, or the film Avatar. So use "Pandora Jewelry" in that instance.
Active bloggers can use Google Alerts to stay on top of press announcements and write follow-up blog entries about them.
One of the best uses of Google Alerts is to monitor your own reputation management. Set up alerts for your full name in all of its permutations: with your middle initial; without your middle initial; and also as your first and last name joined together without a space.
Each of these alerts should be set to "All results" and "As-it-happens" so you know immediately when someone mentions you online. You should look at all the results that are sent to you... Although, if your name happens to be John Smith you might need to ignore this recommendation. If you're "John Edward Smith III" you have a better shot.
You should also set up the same type of alert for your legal business name, and your store name because it's always good to know who is talking about you online.
You can visit http://www.google.com/alerts to set up your own account.