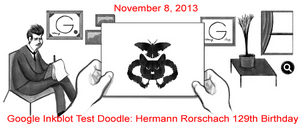 At first I thought I saw a cat, then a tree stump. No... it really was a garden gnome!
Google honored the 129th birthday of the Swiss psychiatrist Hermann Rorschach with an interactive doodle showing various ink blots.
We called them "Rorschach tests" when I was young, and I was always afraid I was going to fail it. Some time later it was more common to just call them "inkblot tests." Perhaps Rorschach was too difficult for Americans to say?
Time passes much too quickly (insert song here) when I'm fooling around with a Google doodle... The Halloween 2013 doodle had me hooked for at least 20 min.
I decided to see exactly how far this inkblot doodle would go and then I got hooked when I saw the gnomes, and the cat, AND the dinosaur!
I went all the way to 101! And I documented all the inkblots on my Pinterest board here:
http://www.pinterest.com/matthewperosi/hermann-rorschach-google-doodles/
What do you see?