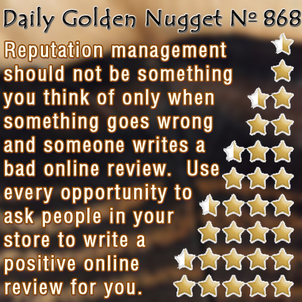 During this time of year, many local charities are organizing their fundraisers and asking local businesses for support. In my hometown area, many charities organize dinner parties where they also sell raffle tickets. The raffle prizes come from local businesses that have donated services or products.
If you are approached by a charity, for example your local church, police league, fire department, you should offer them a gift certificate from your store. A $20 or $50 gift certificate will help to support your community and it will provide a little local recognition.
Don't think of this as a loss of $50, but rather the gain of a new customer. What's the average advertising cost to acquire each new customer? It's probably around $75, maybe more. That $50 gift certificate is less than your cost of acquisition.
On the other hand, reports from one of my retail jewelers show that, over the years, there are very few people who actually come in to redeem all the gift cards they've donated to local charities. Perhaps those gift cards are still out there and will be redeemed some day; if not, there was no loss in money in exchange for community goodwill.
That local community goodwill is something all businesses should be striving for. Think of it as part of your reputation management procedure. Reputation management should never be an afterthought. Instead, think of all the good business practices that could help your employees, your customers, and your community.
Business shouldn't just be about making money any more, but rather, how you can better the lives of people around you while also making money.
Most of the time your online reputation is depicted only by the start rating you have in one of the online business directories, like Yelp and Google+ Local. Those star ratings above 4.5 play a very important part in new customer acquisition even without a decent website.
Your long term goal should be to amass as many online reviews as possible, but don't rush to ask every customer for one because it's better to get them slowly, and continually over time.
The next time one of the local charities asks for a donation, go ahead and give them a gift card. In return ask them to write an online review as a thank you. That's a strategic review request because the person would have to write it using their own name which has a much higher long term value that the goodwill generated by the actual gift certificate.
Here's how it would work:
1. You donate a gift certificate to a local charity.
2. You ask your contact person to write a review on Yelp or Google for you. Ask them to simply thank you for supporting the local community. Tell them to mention the charity's name as well as the date and time for the event in the review. Hopefully they will give you a 5-star review. Make sure to also explain to them that the review will help to promote their charity and the actual event.
3. That review will help your basic start rating online, but there's an even more important value that isn't completely apparent. Google tries to associate people who know one another. Google might even know who the friends and family are of the person who writes that charity donation review. In the future, when one of those friends/family search for jewelry stores they have a high chance of seeing that review in the SERPs. That review immediately turns into a personal endorsement, and hopefully into new customers.
If you follow this overall strategy, you will gradually increase your awareness in your local community as someone who cares. You might earn some goodwill by having your name mentioned during the charity event, and you might gain a new customer if the gift certificate is ever redeemed.
On the other hand, the real value will come from the online review is you convince them to write one.
The next time someone walks in looking for a donation you should not look at it as a waste of money, or a loss of money, instead you should realize you have a golden opportunity to gain local reputation and many new customers.
Be generous this Holiday Season and you'll reap the rewards for years to come.