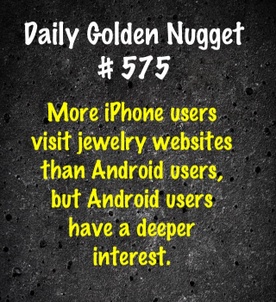 I'd like to turn my attention today to a quite common mistake that many jewelers make when they use Constant Contact as their email marketing platform.
Like all email marketing systems, Constant Contact allows you to post your email message directly to your Facebook Page. To do this, Constant Contact will convert your email into a standalone page that they host for you at the http://myemail.constantcontact.com website. They then share that website to your Facebook Page.
When they share that page to your timeline, it appears as the subject of your email and a link to the hosted page. They create a shortened URL that begins with http://conta.cc that directs people the hosted page. Unfortunately this is one of the worst possible uses of Constant Contact because you should always direct people to a meaningful website rather than the email, and here's why...
In this case the Constant Contact page is an extra step between your customer and creating an increased engagement, and it is preventing you from making money. At first thought it seems like a perfectly reasonable idea to post your automated email to Facebook when you send it to your email list, but here are the actual steps a user goes through just to get to the final information:
1. Someone sees your shared email in the Timeline. They click it.
2. They are redirected to the Constant Contact page which gives brief information and a link back to your website, or worse yet, back to Facebook.
3. The customer needs to read the email and decide if they want to take a second step to go to another website.
Let me illustrate with an actual case that I saw. A jeweler sent an email announcing a website special. The subject of the email said "Sale! 1/2 off the entire store." The email had a link to the jeweler's website with full details of the dates and times of the sale, which made perfect sense. The post to Facebook also said "Sale! 1/2 off the entire store" but it had a link to the Constant Contact page instead of to the website.
In this case, the customer was lured in by the Facebook post but needed to read the email and then click 1 more time before they read the website with dates and times. It would have been better for the jeweler to deactivate the automated Constant Contact feature and write a manual post that linked directly to their website.
That first example might not be so bad, but this next one certainly should be avoided at all costs.
Many jewelers run contests or events through their Facebook pages, and also announce those events through email blasts. Each of these contests and events has a dedicated page or application within Facebook, which makes it easy for Facebook users to simply look deeper into your Page to find the event details.
Instead, what I've seen happening again and again is that Constant Contact is posting the store event or online contest through a typical hosted page at http://myemail.constantcontact.com. When a Facebook user clicks the link they are brought to the constantcontact.com only to have to click another link to go back to the facebook.com website.
This situation is rather absurd when you should simply be linking your status post directly to the Facebook page with the more information.
Getting users to click and leave Facebook is difficult. Getting them to click to a landing page, and then to another page is nearly impossible. In 6 months of tracking I've never seen a successful click through from a Constant Contact automated post to a jeweler's website.
The bottom line of this Daily Golden Nugget is that you should be careful about how you use automated tools that companies give you. Although things seem easy, situations like this cause you more loss of business than you would ever even know.