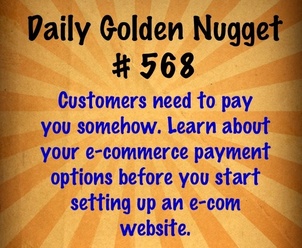 Do you think it's time to set up an e-commerce website for your jewelry store? Before you decide to dive into e-com you need to know the initial basics of how your customers will be paying you. There are some pitfalls that your website developer probably won't tell you until the last day before your website is ready.
For small websites with few products you should consider using Google Checkout or PayPal for their BuyNow or integrated shopping cart features. But if you have hundreds of products that change regularly you should set up your own merchant account and online payment system.
Some retail jewelers show their current weekly sale items online, and these items would be a perfect example of when to use a BuyNow button from Google or PayPal. The BuyNow buttons don't require any programming and should be usable by any content management system.
To set them up you would log into your Google/PayPal account and look for the BuyNow button setup. Each system has slightly different screens but they ask for the same information. They will want to know a product description and a price. They then give you the HTML code to enter into your website.
Using BuyNow buttons is good for items that don't have fluctuating prices, or for items that are on one-time special. You would have to edit the button code or create a new one every time you want to change the piece's price. Certainly this is not a good option for gold jewelry!
Other than using BuyNow buttons you could also integrate your website with the Google Checkout or PayPal shopping cart. This process requires that your website programmer create a special connection between your website and Google/PayPal. Every time someone clicks your "Add to Cart" button the product would be sent to an off-site shopping cart.
The integrated Google/PayPal carts are good for small businesses that don't want to deal with the security issues with maintaining their own website and merchant system. The drawback is that your payment system will look like Google or PayPal rather than your own website. This will not be your method of choice if you are concerned with company branding... or with really growing your online business.
If you're serious about e-commerce then you need to set up a merchant account and a payment gateway of your own. To start you will need a shopping cart program built into your website. Your programmer will help you choose the best one that works on your website.
Existing retail store owners should call their current credit card processing company and ask them to set up an online merchant account with a "payment gateway." The payment gateway software is the bridge that connects your shopping cart to your credit card merchant processing account.
If you are setting up an online store for the first time then you might want to call your bank and find out what they have to offer. You would have to go through the approval process to set up a merchant account and a payment gateway.
The most popular payment gateway is Authorize.net. As far as I know all shopping carts can connect to it. Websites come and go every 18 months or so but your payment gateway and merchant account will last a very long time. You don't want to go through the hassle of setting up a new payment gateway in 2 years when you set up a new website which is why I Authorize.net is a good choice... You can set it up once and use it forever.
So there you have it: Three ways to accept payments from customers through your website. Each one has their uses and drawbacks. Before you hire a web programmer make sure they have experience setting up an e-commerce site, this is not something you should be doing with an inexperienced programmer.