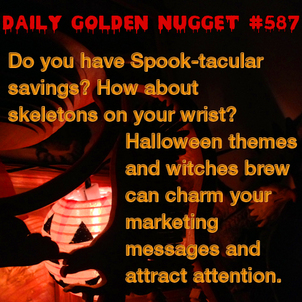 Halloween is upon us and it's time to pull out the catchy headlines for your email marketing, website headlines, and even your social media posts.
Every year during holiday season I'm always surprised by the cute and catchy ad headlines that tie into the specific holidays. I often wonder how ad writers get their inspirations to come up with cute headlines since I usually don't think of them without immersing myself in holiday kitsch.
As a long term research project, back in the Fall of 2011 I started tracking emails from more than 100 different jewelry stores both large and small. Throughout the last 12 months of tracking I've recorded several cute headlines that tie into different months and different holidays.
Here's a list of the Halloween related phrases that were recorded last year. These phrases didn't appear on websites or in email ads until October 28th. I invite you to review each of these headlines and draw your own inspiration from them. These might be cute or corny, but the holiday gives us the chance to use headlines that are different.
* Shop October's Birthstone: Opal + Get Free Shipping!
* Check Out Our Halloween Collection For Spooky Good Savings!
* Spooky Good Savings
* Shop our charming Halloween Collection today!
* Trick or Treat...
* Yikes! 88% OFF hybrid watch, ONLY $49
* You have nothing to fear...
* How could anyone find this watch horrifying?
* Treat Yourself! Free Shipping for Subscribers Only
* Free Shipping Through Halloween - Promo Code Inside
* No bones about it – $79 Skeleton Watch
* 232-year old skeleton comes back to life!
* At this time of year, you can see skeletons everywhere but none as impressive as this.
* happy halloween! 31% off sitewide! enter SPOOKY31
* Charmed Memories: Choose from Hundreds of Charms!
* Hurry, Last Day for Halloween Savings!
* vampire or werewolf? 10% off for subscribers only
* Spooky Halloween Charms and Dark Romance Style
As you can probably tell, some of the jewelry stores I tracked were e-commerce and some were non e-com. The only real difference in the marketing was whether or not the email said shop online or come into the store.
Now's your chance to look around your store and see what would lend itself to a "frightening" offer or headline that you can use in an email, or your next Facebook post.