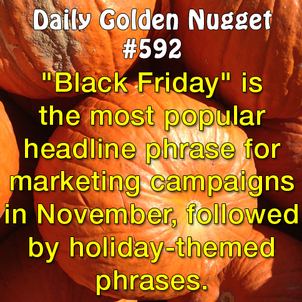 In yesterday's Daily Golden Nugget I explained that there are 4 potential days in November around which you could base some type of marketing campaign or announcement. Those days are Daylight Saving Time, Election Day, Veterans Day, and Thanksgiving. Simple email announcements, Facebook posts, or Tweets could raise awareness of your special promotion and sneak in under references to those days.
On the first hand, most retail stores--including most retail jewelers with active marketing campaigns--would rather focus their entire time and budget in November to build up the anticipation of Black Friday and the Holiday Season. There's nothing wrong with this strategy at all, and last year I spent some time tracking the headlines throughout November that focused only on the impending Holiday buying season.
Here's a review of some of the headlines I saw on websites, and the subject lines I tracked in emails that retail jewelers sent.
If you'd like to tap into the citrine birthstone here are 2 ideas to use early in the month:
* Citrine is November's Birthstone and We Have the Perfect Piece Just For You!
* The Power of Citrine - November's Birthstone
The phrase "Black Friday" was being used in 2011 as early as mid-October, and in fact I was also seeing Black Friday mentioned by mid October this year too. Here are some of the Black Friday messages I tracked throughout November 2011:
* Enjoy These Early Black Friday Savings and Specials!
* Hurry! These Early Black Friday Specials End Tomorrow
* New Early Black Friday Savings and Specials Inside!
* Enjoy These Early Black Friday Specials Before They're Gone!
* Black Friday Specials Revealed Today!
And finally, here's a list of various creative email subject lines and headlines that tied into the holiday theme:
* Celebrate The Season, Shop Our Holiday Sale
* Be inspired by our CHRISTMAS COLLECTION
* perfect styles for stockings starting at $4.99
* Create an Heirloom This Holiday Season
* The Season's Hottest Trends, Now 20% Off
* Gifts Galore...Over 200 New Items for Holiday
* Christmas is coming!
* Find the Perfect Gift With Up to 60% off Storewide!
* Celebrate The Season, Shop Our Holiday Sale
* We Have Many Wonderful Ideas for the Perfect Holiday Gift!
* Revealed! What She Really Wants This Holiday Season
* Naughty or Nice - Save 20% on Black and White Jewelry
Carefully review these and swipe them for your own marketing this year, or use them to spark your own creative ideas. Each of these headlines will work as a Tweet, or a headline for a Facebook or Google+ post.
I'd love to hear about the headlines you come up with for your marketing. Share them with me to my Twitter account @matthewperosi