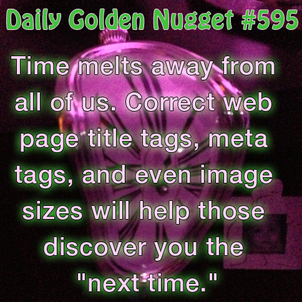 Thinking of sending out any last minute promotions in honor of Daylight Savings Time? Today is the day to do it, and get it done before mid-afternoon. After that there's going to be a major drop in the number of people who are using desktop computers.
This is the "Fall Back" weekend! From November 1st through December 31st every year there are only 3 times when people unplug from the internet. This weekend is one of those times. Can you guess the other two?
Throughout the day you could post to Facebook and Google+, or Tweet out a few messages. You can promote a quick "Fall Back into Savings" or any headline with the word "Time." For the best impact you need to share a link from your website, however, before you start sharing new links from your website to Facebook or Google+ I should tell you about the basic requirements for that sharing technique to work optimally.
The first requirement is a good Page Title. The page title appears in 3 very important places throughout the web, and if you do this wrong you might as well hang a We're Closed for Business sign on your door. The first place the page title appears is in the top of the browser window when someone is reading your page. It also appears in the browser Tab if you are using the tab feature on your browser.
The second place your page title will appear is in the Search Engine Results Pages for Google and Bing. These are the words that appear as blue and underlined on the SERP, and it's what everyone reads. Many times the search keywords will be shown in bold to help the user zero in on the choices.
Those first two appearances might already be familiar to you, but the third place might not. Facebook and Google+ both read the page title and use it as the headline of a shared link. It's that page title that people see in their FB News Feed and in the G+ Stream. When you consider how fast the feeds on social networks fly by it becomes even more important for you to write page titles that have, what I call, a "Grabby Headline" that will, well, grab someone's attention.
Grabby headlines could be something shocking, but generally speaking a shocking headline is only really good for a newsletter headline or a blog post. You don't want to use a title with "shock value" on the regular pages of your website, especially if all you are doing is announcing a "Fall Back Into Savings" headline.
Good page title should include a 67 character or less topic headline of the page. That topic headline should include the keyword phrase that the page focuses on.
The second requirement is a good Meta Description for your page. The meta description is a 150 character or less summary about your web page. You really need to put thought into this description. Anyone can write a long description to fully summarize a page, but it takes a lot of effort to find the best words to fit into the 150 character limit.
The meta description will appear in the SERP, right under the page title. A meta description needs to convince people that what they are looking for can actually be found on that page without misleading them at all. The meta description is also pulled into Facebook and Google+ as the snippet description for the page you are sharing. Of course you could edit that snippet before posting your shared link, but you won't have to if you've taken the time to edit it directly on your website.
The third thing to consider before sharing links to the social networks is the fact that both Google+ and Facebook have become very visual networks. On the desktop versions and within the smartphone apps both of these networks heavily encourage the use of shared photos. After all they are worth 1000 words, which certainly beats out 150 characters any day of the week!
In order for FB and G+ to share an image you actually need to include an image on your webpage. For the best image sharing impact you should include perfectly square images on your web pages. Facebook tends to crop photos in a very inconvenient way, but if you square them up they will display fully in the News Feed.
So there you have it, three ways to set up your webpages so they have optimal chances for viewing in the social networks.
Enjoy the extra hour this weekend. Unplug from the desktop, but take the smartphone with you.