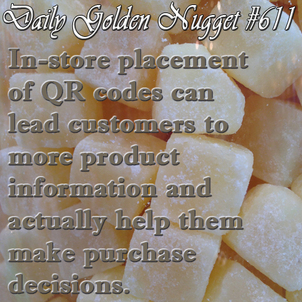 Here's an idea that will help you during the holiday season, and it shouldn't take too much time to set up.
There are occasions when customers will browse through your jewelry store on their own, without help from a sales person. Instead of letting them look around randomly, this is a good opportunity to invite those customers to find out more information by scanning the few QR codes you've placed inside your showcases.
Two years ago I mentioned QR codes in Daily Golden Nugget #2, but at the time very few people knew about them and most of my readers were also clueless. QR codes are square dot-like bar codes which are popular enough now that you can't get through a single day without noticing them.
It's time to start using these QR codes for in-store placement. If used correctly you can lead your customers to a web page with a lot more information about the specific jewelry items. Customers with smartphones can scan the QR code for quick access to a web page that you set up.
Some large retail chain stores, like Best Buy, have marked every product price tag with a QR code. Customers who want to read product reviews or product comparisons simply scan the QR for immediate access to the information. The product reviews on Best Buy's website are a very important part of the decision making process for new customers.
The typical store layout of a jewelry store does not easily lend itself to displaying QR codes for every style. This would make your showcases look like a disaster. Instead you should consider a few strategically placed QR codes in each showcase, particularly in the "tower" displays, at a distance from the large main sections where people tend to wander off to when not being served.
These few QR's would link a smartphone to a specific page which describes a suite of items, or perhaps a designer line. Depending on your own choice, you could also take the time to provide additional photos and a detailed description for a specific item, perhaps even a customer review. Then place the QR code in your showcase next to that item.
Generating QR codes is easier than ever and your will find many options and directions if you search Google for "how to make a qr code." Once you make the QR you will have to print it out and place it in your showcase somehow. I suggest printing the codes on card stock or index paper and just cutting them out. Keep yourself organized by including the product SKU printed below the barcode, you may also want to include a brief description so the customer knows what the code refers to.
Give it a try, but don't go overboard too much. Your showcases might look a little cluttered if you put more than 3 QR codes in each, but judge for yourself when you see what it looks like.